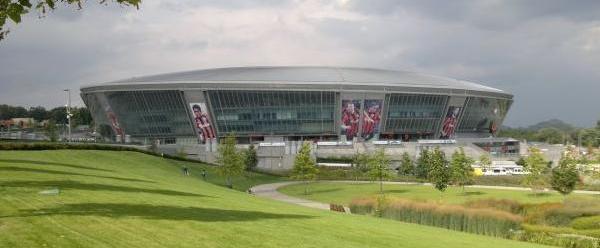 While the Internet is steadily filling up with Euro 2012 team previews, we could not help ourselves and do a preview on the venues. We have of course already published our Euro 2012 Venue Guide, and we also have the individual entries of all 8 stadiums in our database, so there is little reason to go over all the technical details again. What we will do instead is analyse how these stadiums fit in the historical context of European Championship stadiums.
We do this by taking you on a trip down memory lane, starting in 1996. There had been European Championships before of course, but Euro 1996 was the first with 16 teams and around that time the Euros really took off commercially.
No one needs to be told that Euro 1996 was held in England, which meant that no new stadiums had to get built specifically for the Euros. After all, it had only been five years that England had started a massive regeneration of its stadiums resulting in many reasonably modern venues. Eight of them were chosen ranging from the old Wembley Stadium and Old Trafford to the then still smaller St James' Park and Nottingham's City Ground.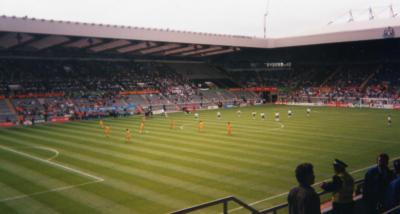 What strikes though is that attendances were far from spectacular during the tournament. Whereas we are now used to full stadiums in the Premier League, many seats were left unsold during the Euros.
This was still the case during Euro 2000, the tournament co-hosted by the Netherlands and Belgium. And just like four years earlier few investments had been required to bring the playing venues to an adequate level.
The construction or renovation of Dutch stadiums such as the Amsterdam ArenA and De Kuip had already been initiated by the clubs themselves, though one can argue that realisation of the GelreDome got the final push with the Euros looming (the stadium had for long been a desire of Vitesse's ambitious chairman though).
The Belgian stadiums needed a bit more of an upgrade with both the Jan Breydel Stadion in Bruges and the Stade du Pays de Charleroi needing expansions to reach the 30,000 capacity threshold. Still, required works were generally limited and the only planned new stadium (in the city of Antwerp) never came off the ground.
Euro 2004 in Portugal was a completely different story though. Korea and Japan had set an example two years earlier on how a major tournament could spur investment in stadium infrastructure, and one of the reasons Portugal and not Spain got awarded Euro 2004 was to create legacy.
This legacy was created by building nine new stadiums and extensively renovating a tenth. Ten venues was more than the previous eight despite the same number of matches, which resulted in such architectural beauties as Estádio Municipal de Braga and Estádio Municipal de Aveiro only hosting two matches.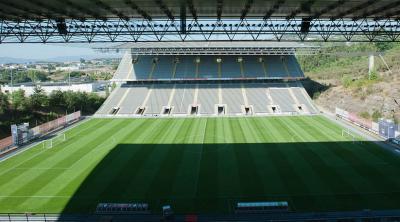 One could call the Championships a success with generally well-filled stands, however after the tournament it turned out that building nine new stadiums had been far too ambitious for reasons we discussed in a previous article.
The result was that while stadiums such as Estádio da Luz and Estádio do Drãgao found good use, various others were far too large for the small crowds their tenants attracted, and football is hardly played anymore at Estádio Algarve and Estádio Municipal de Leiria as the clubs that used to occupy the stadiums decided they would be better off at a smaller one.
Austria and Switzerland clearly took note of this and decided to go for a more modest approach when planning for the Euro 2008 tournament. This resulted in six out of eight venues having the minimum requirement of 30,000 seats and few architectural frivolities. This still meant building two new stadiums, the Stade de Suisse in Bern and the Wörthersee Stadion in Klagenfurt, and expanding or upgrading three more.
As we like charts here at stadiumguide.com, we've put all this information into one: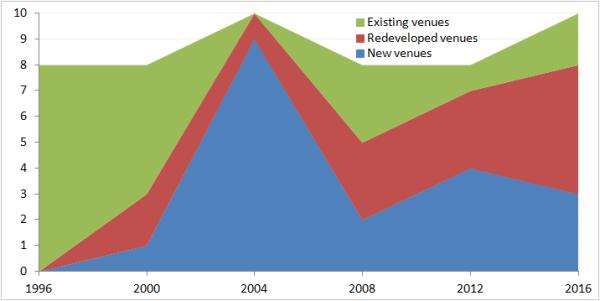 The difference between a new and redeveloped stadium can be very small. If a stadium gets rebuilt from scratch, we tend to classify it as a new stadium, but there is some room for debate here. Most existing stadiums still need at least a minor upgrade for a major tournament, but we have left these upgrades out of consideration.
Anyway, when we look at Euro 2012 we see that quite a bit of work has been put into getting to eight proper playing venues. Basically, the Donbass Arena was the only existing stadium ready for use and the rest had to get built or redeveloped.
Of course, when the tournament got awarded to Poland and Ukraine the idea was that it would create legacy just like in Portugal. But then better. The bid was chosen in 2007 just before the economic crisis hit the continent and significantly investing in stadiums did not seem unreasonable. In hindsight Poland may actually have been an excellent choice as their economy has kept growing even during the worst crisis years.
There are more parallels with Portugal, as the soberness of the Euro 2008 venues has been replaced with more aesthetically pleasing designs. The amber-tinted exterior of the Arena Gdańsk lights up spectacularly in the sunlight and Warsaw's red-and-white Stadion Narodowy rises up majestically over the Vistula river.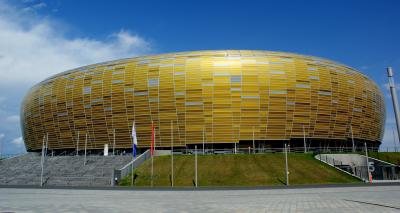 Then there are Wrocław's Stadion Miejski in the shape of a Chinese lantern, Kiev's Olimpiyskiy's spectacular new roof, and the Metalist Stadium's 24 iron spider legs. Possibly most stunning of all, though already completed a few years earlier, is the UFO-shaped Donbass Arena.
The two remaining stadiums are Stadion Miejski in Poznań, which has all the ingredients to create an intimidating atmosphere with its steep blue three-tiered stands, and the Arena  Lviv, which fulfils all the requirements of what a modern arena should look like.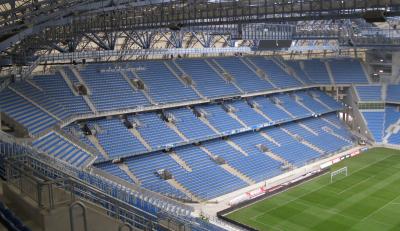 The only point of critique that could possibly be made is that two of them, Olimpiyskiy and Metalist Stadium, come with running tracks, which increases the distance between fans and the pitch. But that's it.
What we also see is that the average capacity of the venues has increased significantly in comparison with previous tournaments. England 1996 had an average capacity of 45,000, but this dropped to 38,000 for the two following tournaments, and even to 34,000 for Euro 2008. The Polish and Ukrainian stadiums now approach the English again with an average capacity of 43,000.
The next chart also shows the number of matches per venue. These decreased in 2004 due to Portugal's 10 stadiums, but will increase again in 2016, which we will discuss in a moment.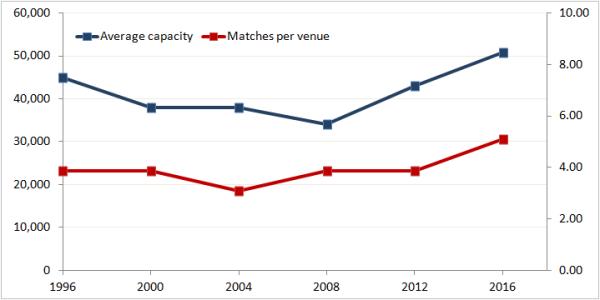 There is, however, one thing we have not touched upon yet, and that is money. Because building spectacular shiny stadiums is all well, they do come at a price. And boy, have the Polish and Ukrainians paid for their venues.
When we talk about the waste of money of Portugal's white elephants we tend to forget that they were not extremely expensive. We don't have exact numbers, but estimate that the six smaller stadiums on average only cost €60 million (in present-day €). Even the three biggest venues only cost around €135 million.
In contrast, just Euro 2012's centrepiece stadiums Olimpiyskiy and Stadion Narodowy cost more together than the combined ten stadiums of Euro 2004. And all of Euro 2012's new smaller stadiums were more expensive than Euro 2004's centrepiece Estádio da Luz.
Our estimate is that on average about €250 million was paid for the Euro 2012 stadiums, and that includes the relatively limited costs of the renovation of Metalist Stadium. What's more, most of these bills have been footed by local or national governments.
This makes sense, of course, it was them and not the clubs that bid for the tournament, but there is always the unwanted consequence that in order to recoup the costs of building the stadium extravagant rents are asked to the clubs, something which happened in Portugal and earlier in Italy after the 1990 World Cup.
Still, fundamentals look a lot stronger in Poland and Ukraine than in Portugal, and early signs indicate that the new stadiums have already been a success in terms of attracting more people to the stadiums. Most of the Polish clubs have grown toward average attendances nearing the 20,000, and Stadion Narodowy seems to be turning into the large concert venue the city desperately needed.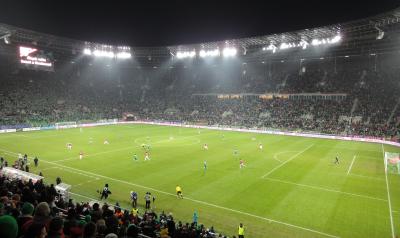 Early enthusiasm is of course something different than consistently higher attendances, but FC Shakhtar has proved that sustaining them is not an unrealistic expectation. They again averaged in the mid 30,000s this season. FC Metalist's attendances have also been consistently good, and even FC Dynamo's reluctant move to the Olimpiyskiy seems to become a reasonable success. Only FC Karpaty Lviv's attendances have been lagging, partly due to the team's awful results this season.
What helps is that the Euro stadiums are not the only new stadiums that have been built in Poland and Ukraine recently. Other new stadiums have been constructed in Warsaw (Legia), Krakow (both Wisła and Cracovia), Lubin, Kielce, Gdynia, Dnipropetrovsk, and Odessa.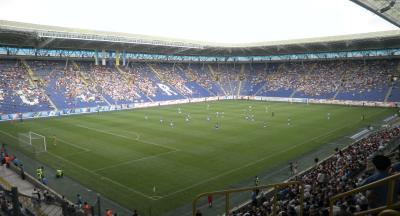 There is one thing we have not touched on yet in this preview, which is the future, more precisely France 2016. The first thing to remember is the decision of UEFA to ruin the tournament by expanding it to 24 teams. This means 20 more matches and hence more stadiums are needed.
In the current economical climate few cities are however keen on investing large amounts of money in a football stadium, which has resulted in various candidates dropping out. For the moment it seems that France 2016 will have 10 venues, though the future of Parc des Princes is still somewhat unsure.
Though France is a mature football market it still hardly has any existing stadiums ready-to-use for the tournament (only Stade de France and Lille's new stadium). Which means that France will be building three new stadiums and redeveloping five more, hence France 2016 will be more similar to Euro 2012 than Euro 1996 or 2000.
There is no lack of ambition either with an average capacity of the venues that will be higher than 50,000 seats. But there will be more matches for each venue too, and most of the venues will likely find a good purpose after the tournament.
Despite this article previewing the Euro venues, we have of course done very little previewing, nor predicting. But it is hard to predict football venues, hence all we can say is that we expect the tournament to be a success, the fans to enjoy the stadiums, and that we cannot wait for the first kick-off.