The Silesian Metropolis is Poland's industrial heart but also boasts a lot of football tradition with some of Poland's most successful clubs. Top that with the magnificent city of Krakow, a short journey east, and you've got a perfect football trip.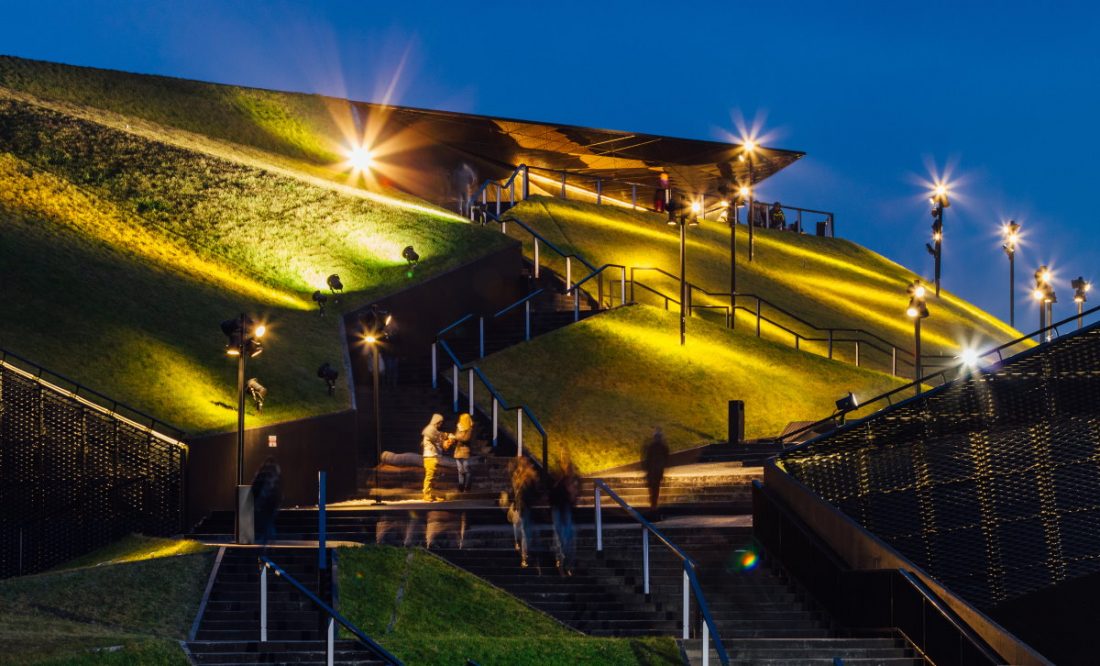 Silesia + Krakow Football – in numbers
No. of major clubs in Silesian Metropolis*: 9
No. of major clubs in wider Silesian Metropolis region: 12
No. of major clubs in Krakow & surroundings: 5
Average stadium capacity Silesian Metropolis (excl. Stadion Slaski): 9,109
Largest stadium: Stadion Slaski (54,378 seats)
Smallest stadium: Stadion GKS Szombierki (1,000 seats)
Inhabitants Silesian Metropolis: 2.25 mln
Inhabitants per club: 250K
Inhabitants per stadium seat (excl. Sladion Slaski): 27.4
* Clubs in the top two leagues or that have recently or regularly played in the highest division in the past.
---
Which stadiums to pick
The Silesian Metropolis was once Poland's football powerhouse with Gornik Zabrze and Ruch Chorzow amongst Poland's most successful clubs, though the last title of either was won in the 1980s. The same is true for Katowice and the two Bytom clubs, who a few decades ago celebrated multiple successes, but nowadays find themselves down the leagues, which is typical for Polish football, often due to financial difficulties clubs run into.
On the other hand, Piast Gliwice has been on the rise in recent years, and Podbeskidzie is somewhat of a bright light too. Wisla Krakow, one of the other big Polish clubs along with Legia from the capital, has celebrated successes more recently, and the last decade has also been kind on Cracovia.
Stadion Slaski is the stand-out stadium in the region, but hosts relatively little football with no permanent occupant. A good few clubs have rebuilt their stadiums into modern all-seaters in recent years including both Krakow clubs, Gornik, Piast, Podbeskidzie, and Tychy.
However, there are still a good few old-fashioned bowl-shaped ramshackle grounds left, often with heavily reduced capacity and closed off sections behind the goals, that will appeal to those looking for a throwback to the past.
---
Silesian Metropolis Stadiums
---
Club: none | Opening: 1956 | Capacity: 54,378 seats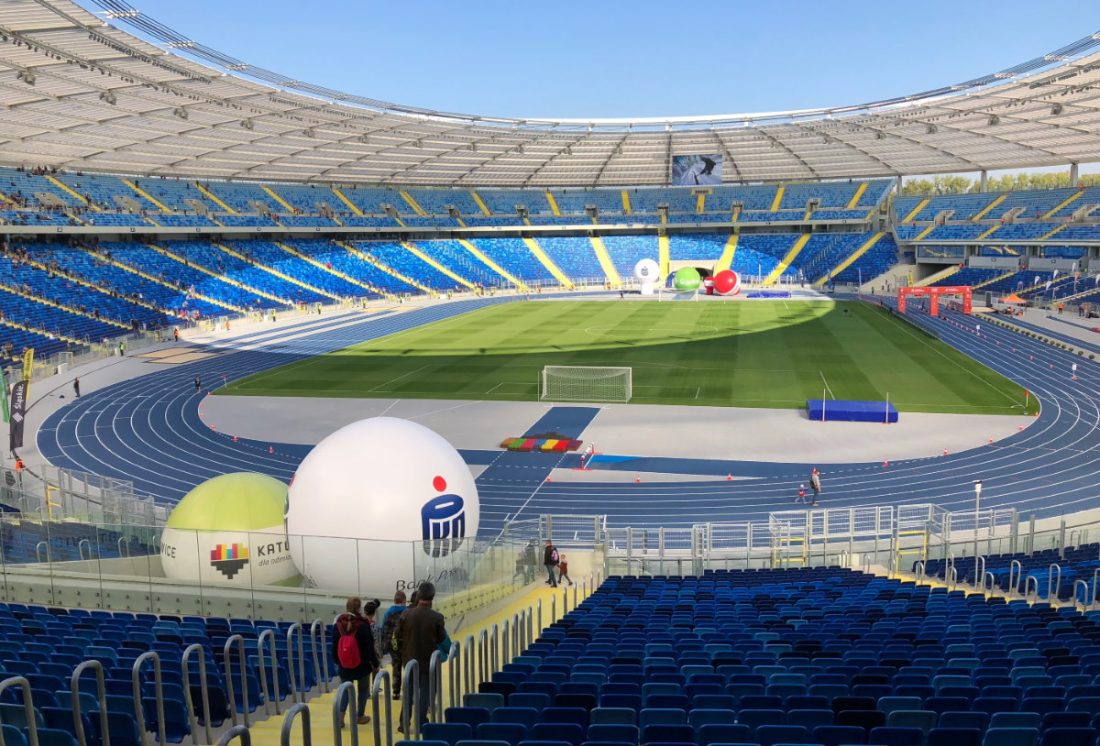 ---
Club: Gornik Zabrze | Opening: 1934 | Capacity: 24,413 seats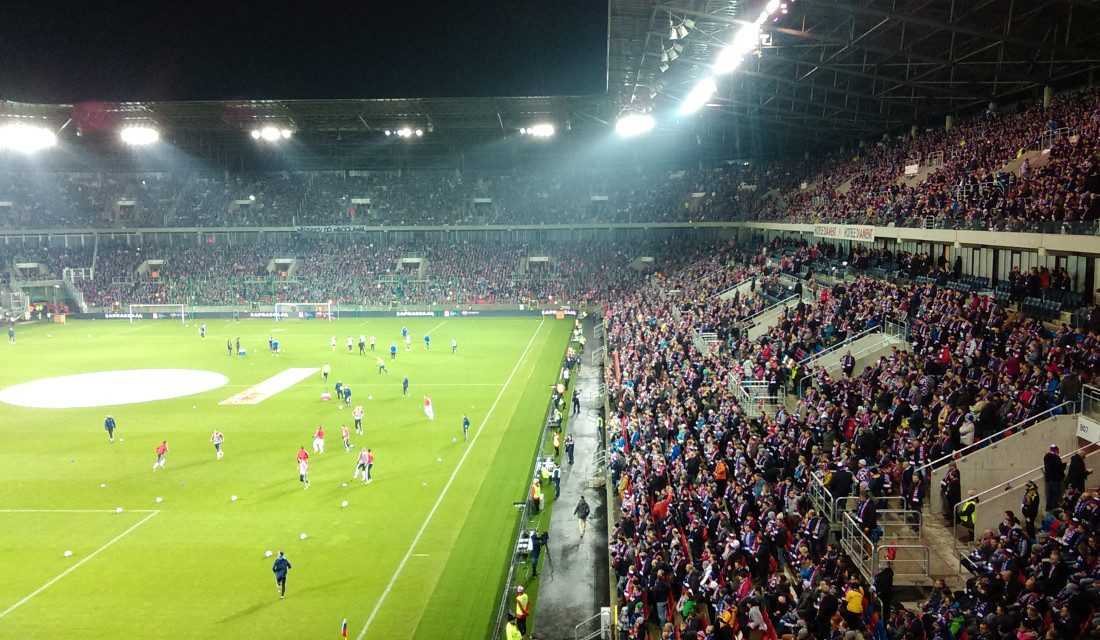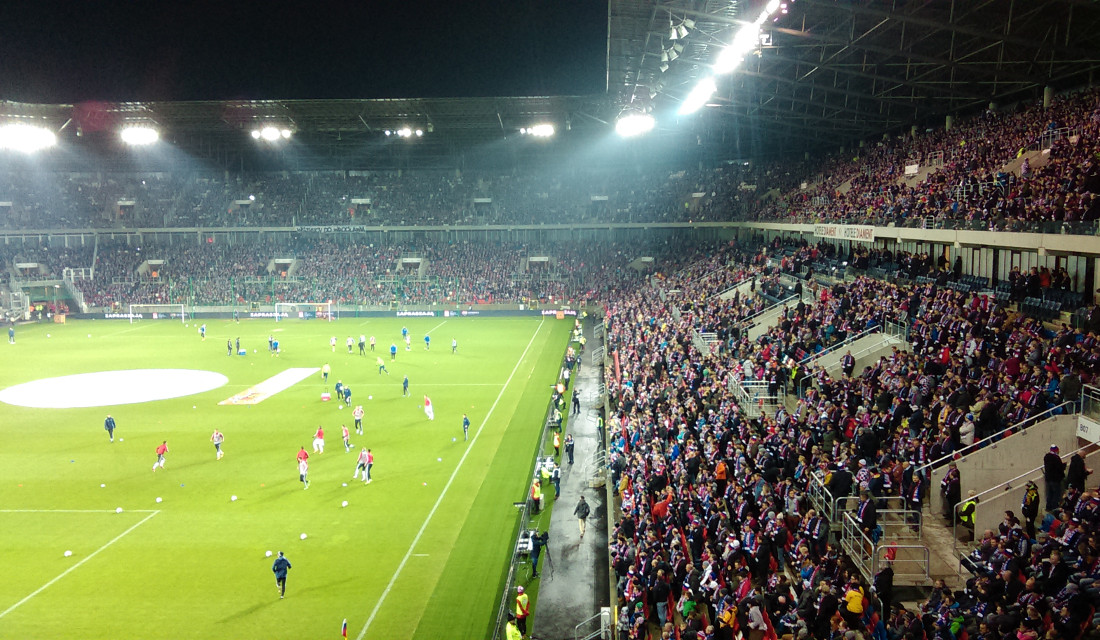 ---
Club: Ruch Chorzow | Opening: 1935 | Capacity: 9,300 seats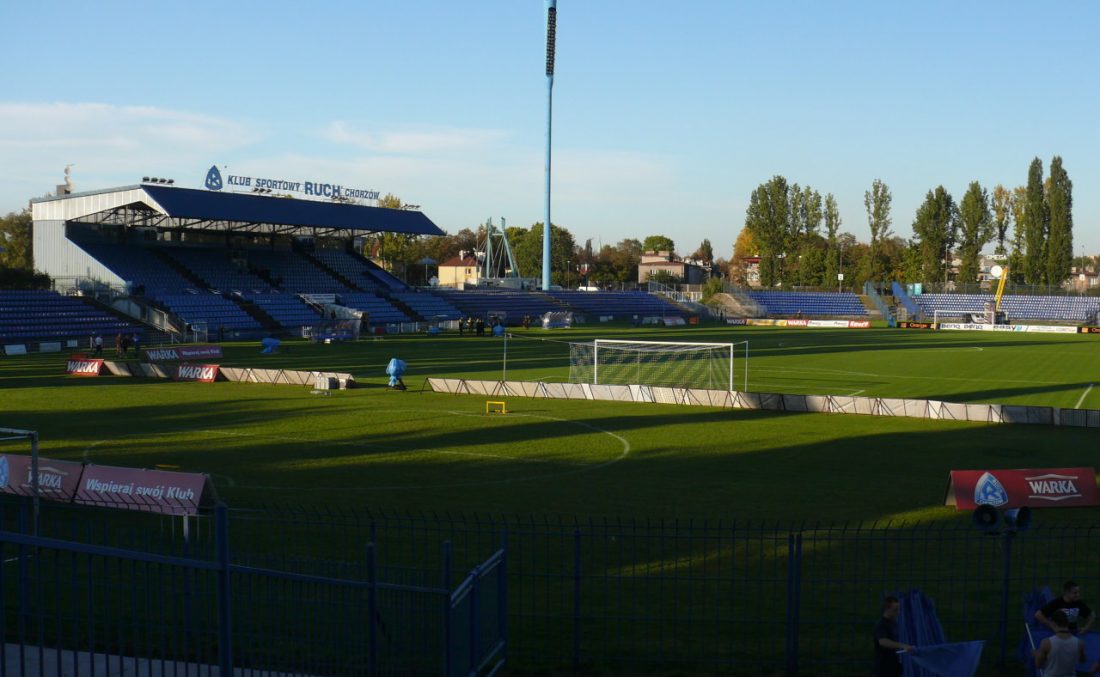 ---
Club: Piast Gliwice | Opening: 2011 | Capacity: 9,913 seats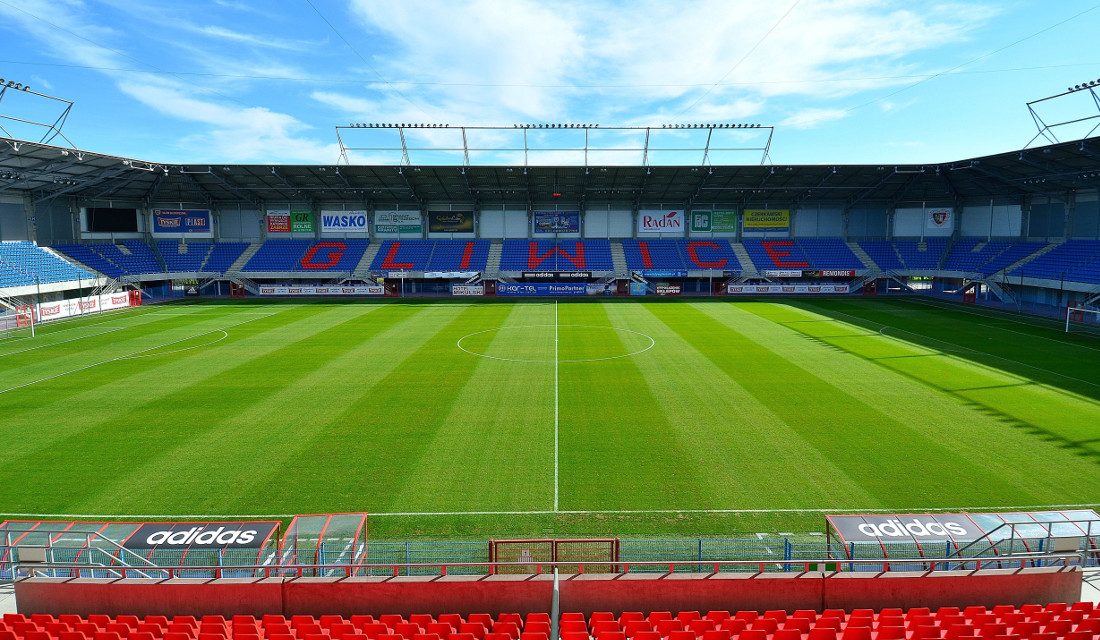 ---
Silesia + Krakow football – getting around
Katowice is the largest city and hub of the Silesian Metropolis. It boasts a rather extensive tram network that connects with nearby Chorzow and cities further away including Bytom and Sosnowiec, though catching a (regional) train is an alternative.
The western part of the metropolis including Gliwice and Zabrze is a bit more isolated and not directly connected by tram, but can be easily reached by train. The same is true for the cities a bit further out south, including Tychy, Bielsko-Biela, and Rybnik. Jaworzno and Jastrzebie-Zdroj are somewhat more challenging as without a train station require a bus journey in.
In nearly all cases, the stadium is at max. 30 minutes walking from the nearest train station, though local buses are around if you prefer to avoid the walk.
Krakow's two major stadiums also lie conveniently at walking distance of the historic centre as does Garbania's ground. Hutnik's Suche Stawy is easy to reach as well by tram, though the journey to Niepolomice, east of Krakow, is a proper trek and requires a bus ride.
Mind that while Krakow lies less than 100 kilometres from the Silesian Metropolis, it is a slow train journey with the quickest connection still taking more than 1.5 hours to get to Katowice.
---
Club: GKS Katowice | Opening: 1955 | Capacity: 7,455 seats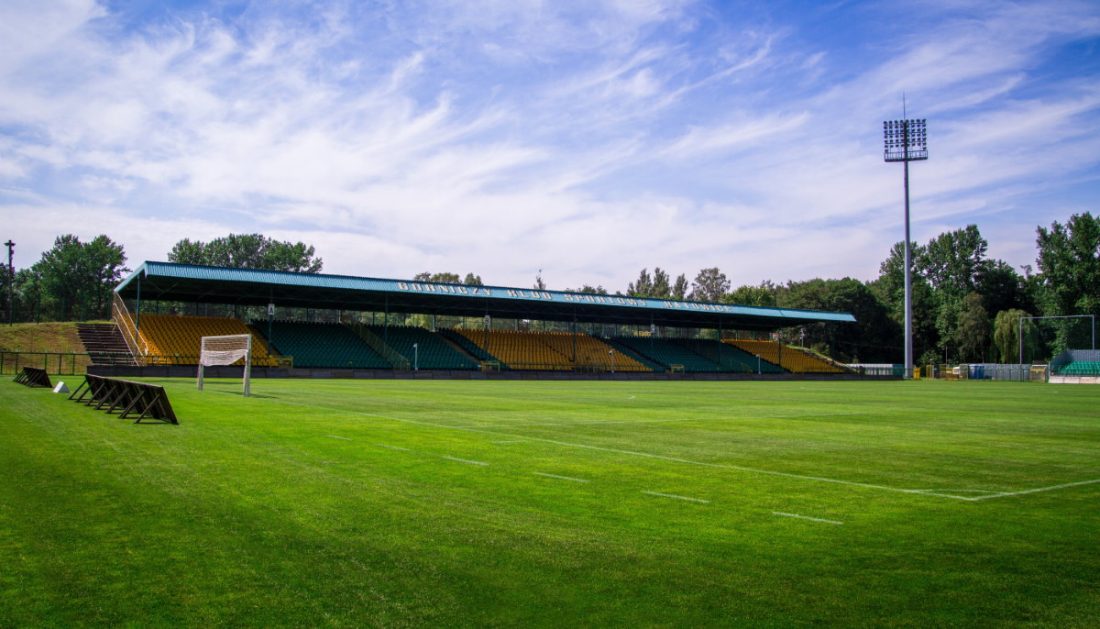 ---
Club: GKS Tychy | Opening: 2015 | Capacity: 15,150 seats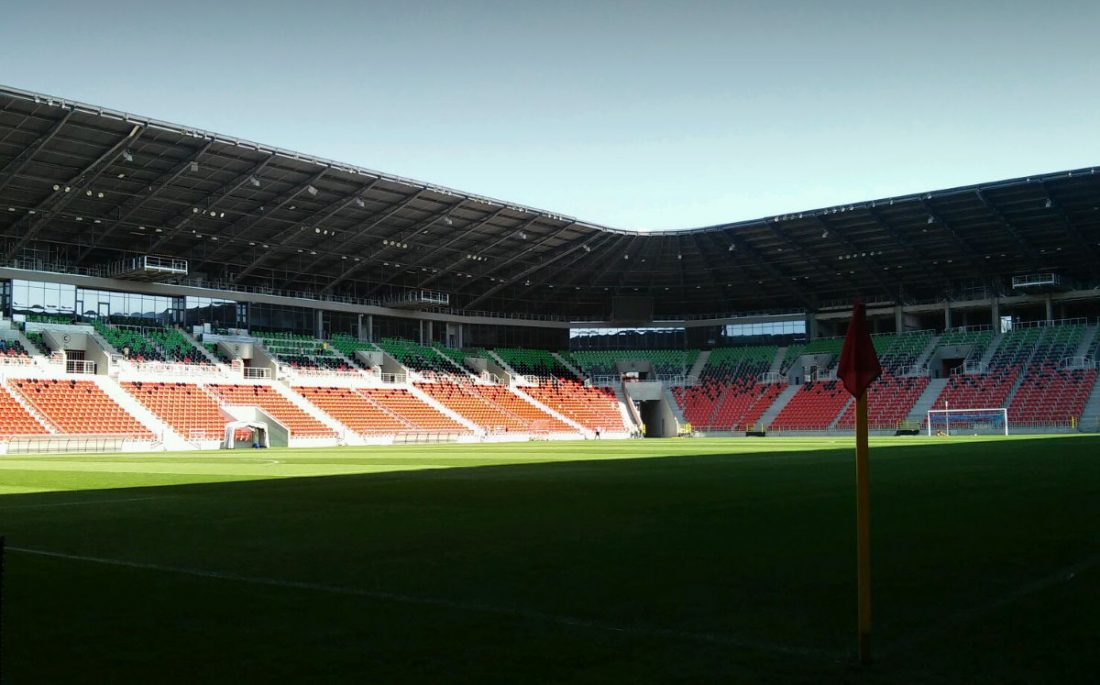 ---
Stadion Edwarda Szymkowiaka
Club: Polonia Bytom | Opening: 1929 | Capacity: 2,000 seats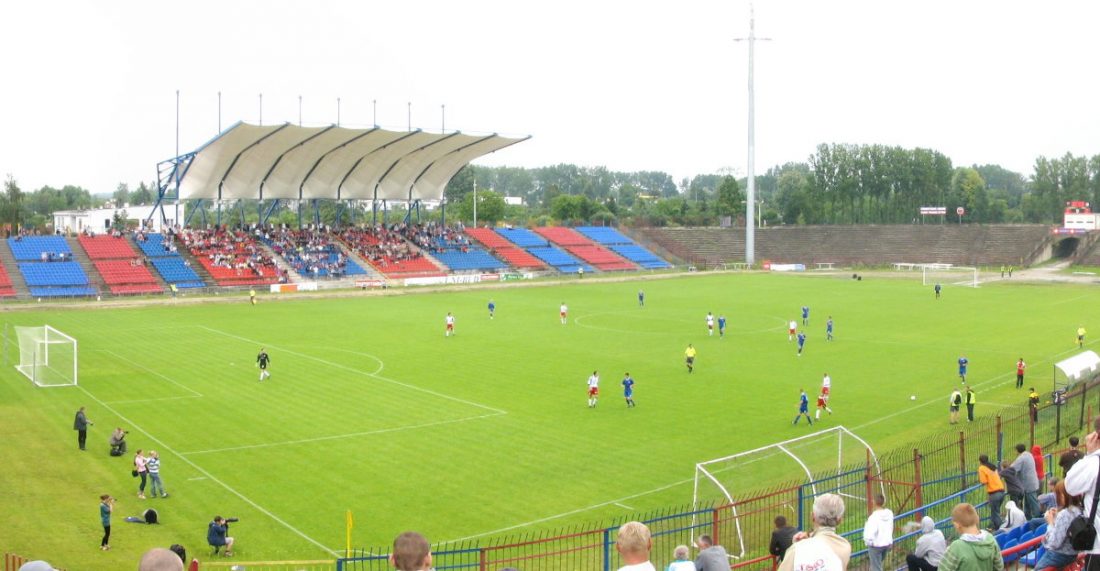 ---
Silesia + Krakow football – eat, drink & sleep
The Silesian Metropolis, a major industrial centre, is not known for its picturesque historic city centres, which are so common elsewhere in Poland. That said, the (small) city centres of Gliwice, Rybnik, and Bielsko Biala all have a certain charm and are worth a stroll through or a quick drink on the way to the match.
Katowice is the largest city of the region and has the most big city feel including the best selection of bars and restaurants. It also has the best transport connections to the rest of the region and Poland so will for most be the most convenient base.
None of the stadiums sits in the middle of a particularly interesting area, though are often just a quick walk away from a city centre. That said, Park Slaski next to Stadion Slaski is worth a stroll if you happen to be there on a sunny day
Of course, for a longer stay Krakow is far superior and will be the preferred choice to stay for most.
---
Stadion Ludowy
Club: Zaglebie Sosnowiec | Opening: 1956 | Capacity: 5,750 seats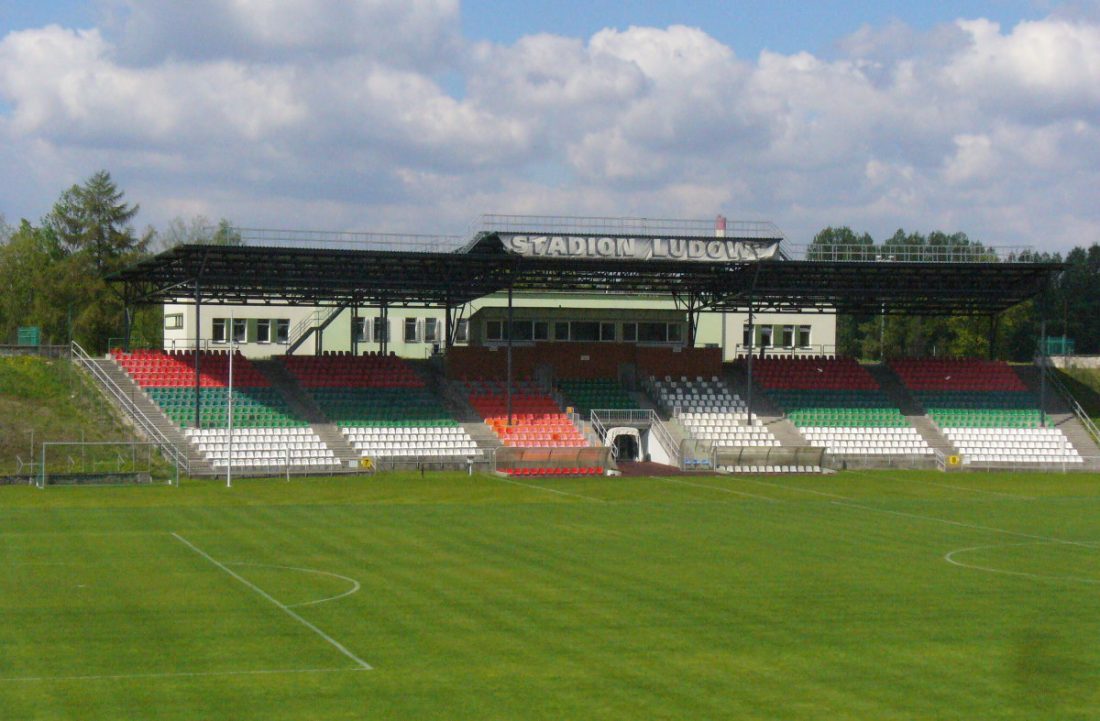 ---
Stadion GKS Szombierki
Club: GKS Szombierki Bytom | Opening: 1968 | Capacity: 1,000 seats
---
Stadion Miejski w Jaworznie
Club: Szczakowianka Jaworzno | Opening: 2002 | Capacity: 7,000 seats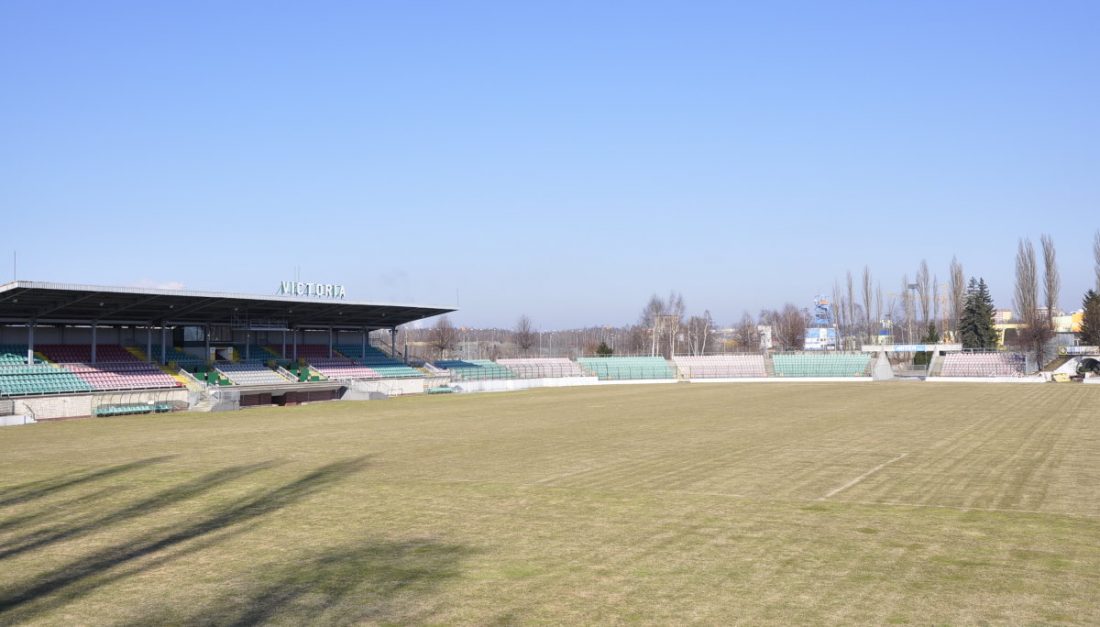 ---
Wider Silesian Metropolis Area Stadiums
---
Club: TS Podbeskidzie | Opening: 2015 | Capacity: 15,316 seats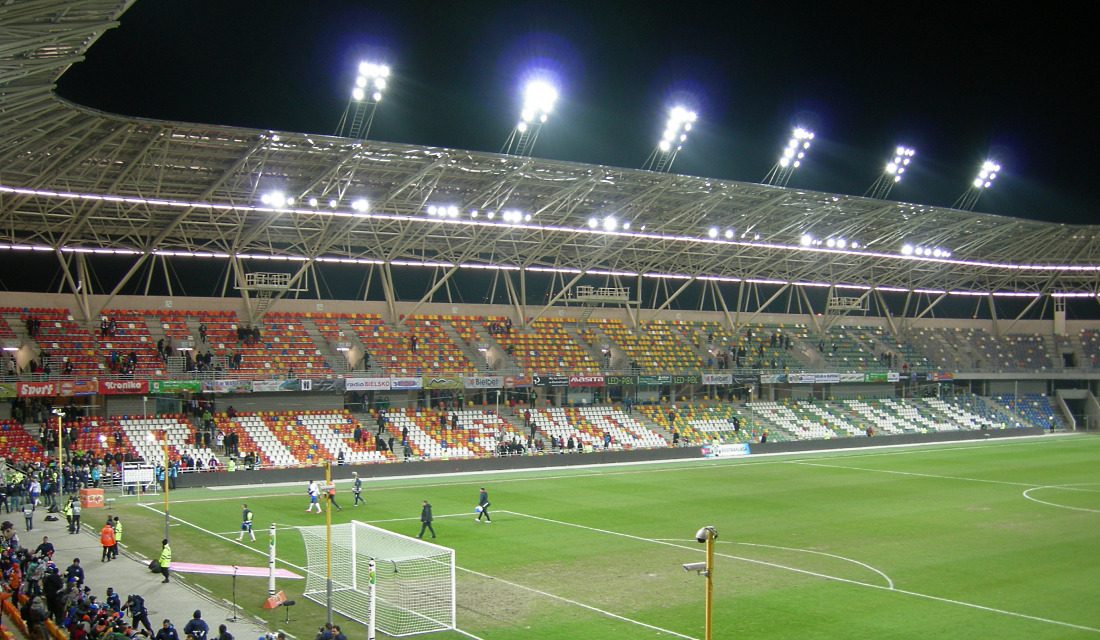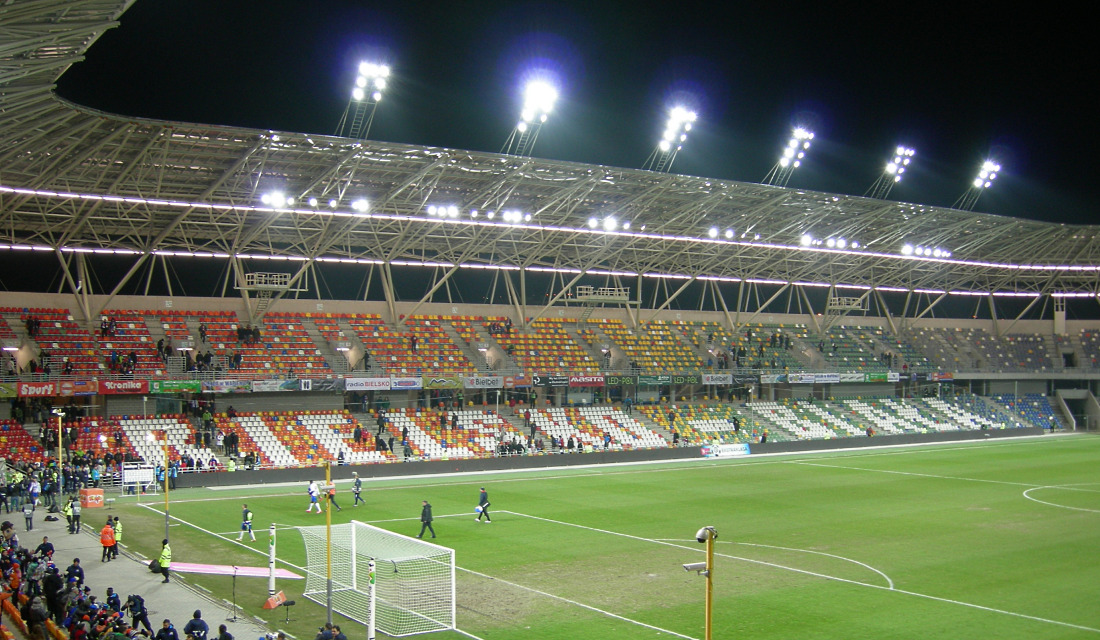 ---
Stadion Miejski w Jastrzębiu-Zdroju
Club: GKS Jastrzebie | Opening: N/A | Capacity: 5,500 seats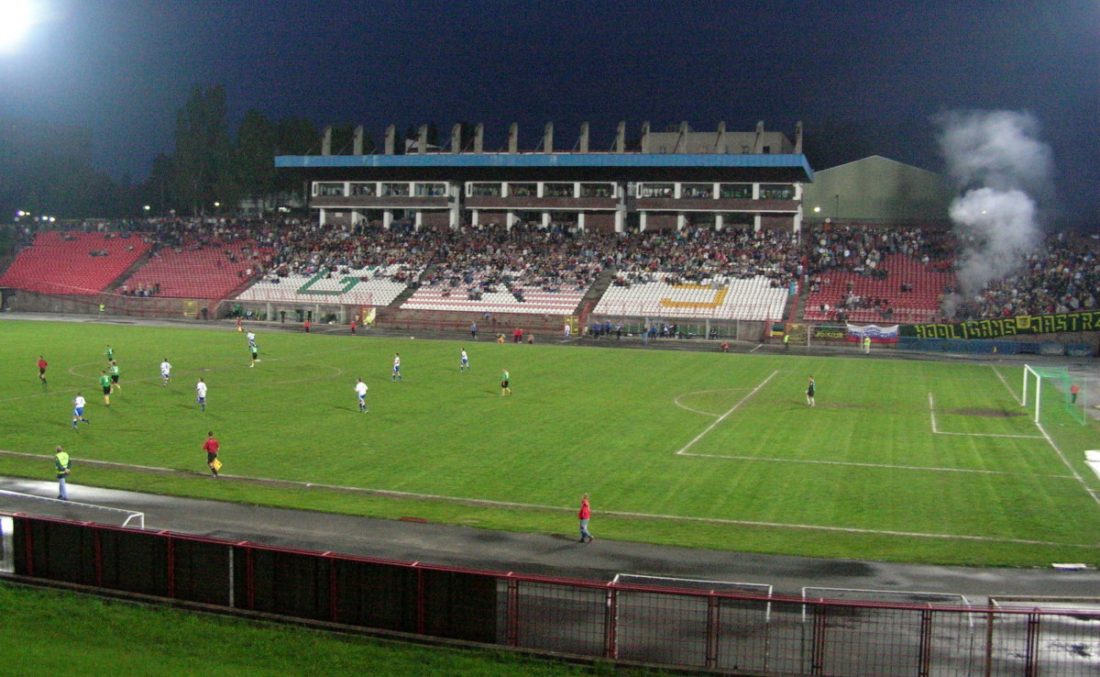 ---
Stadion MOSiR Rybnik
Club: ROW 1964 Rybnik | Opening: 1939 | Capacity: 10,304 seats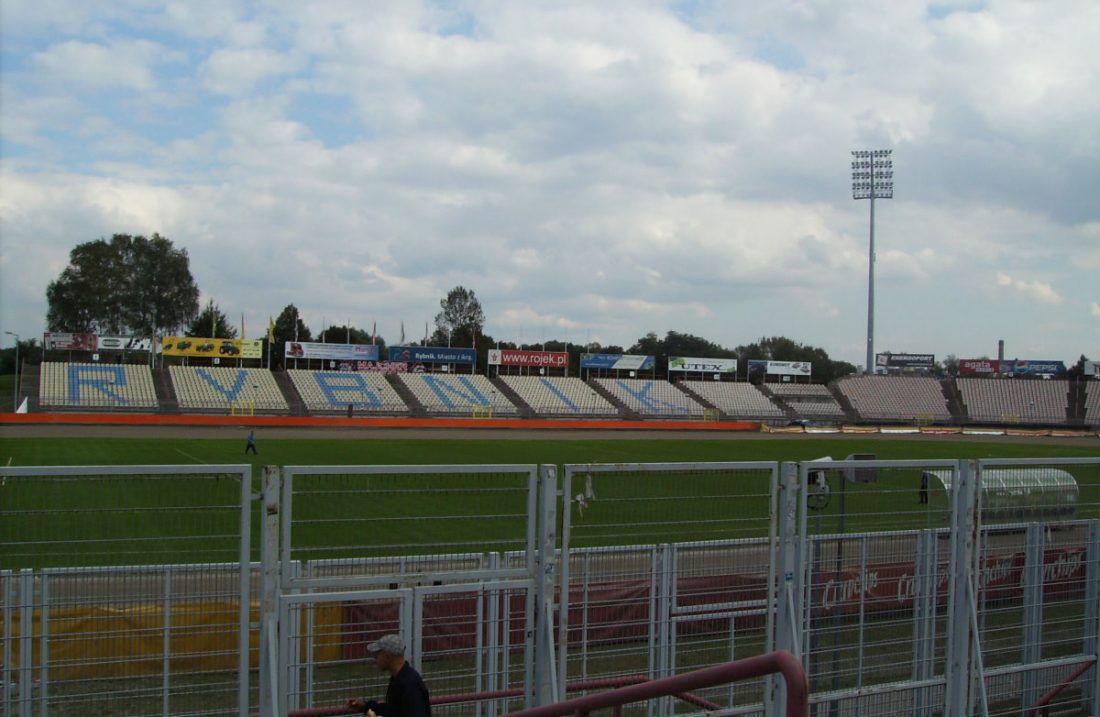 ---
Krakow Stadiums
---
Club: Wislaw Krakow | Opening: 1953 | Capacity: 32,804 seats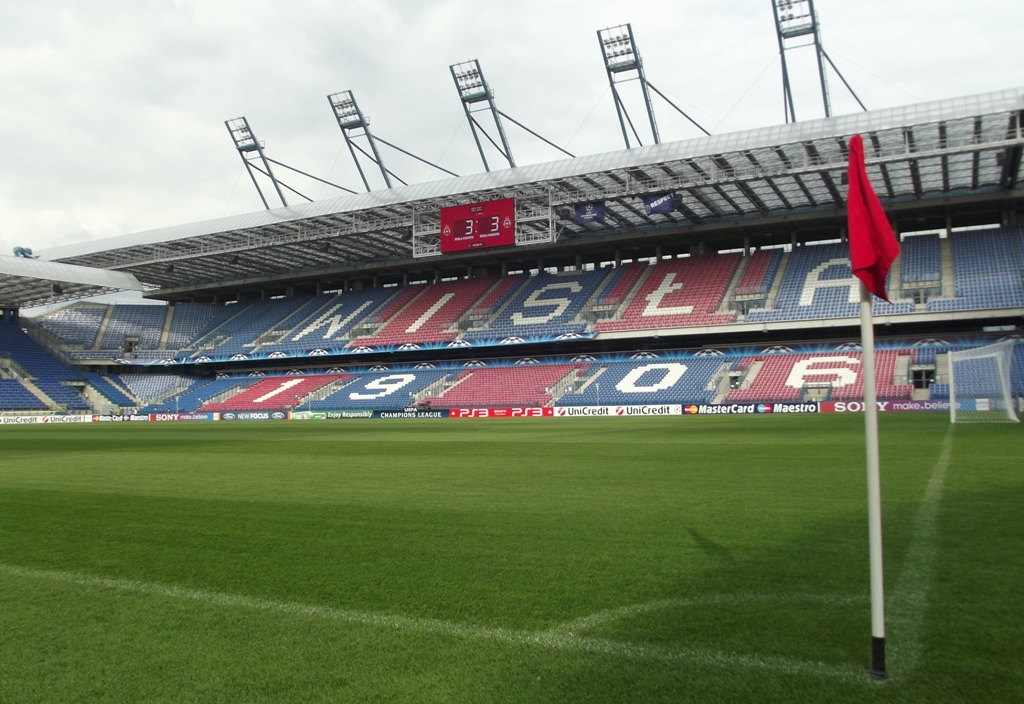 ---
Club: MKS Cracovia | Opening: 1912 | Capacity: 15,016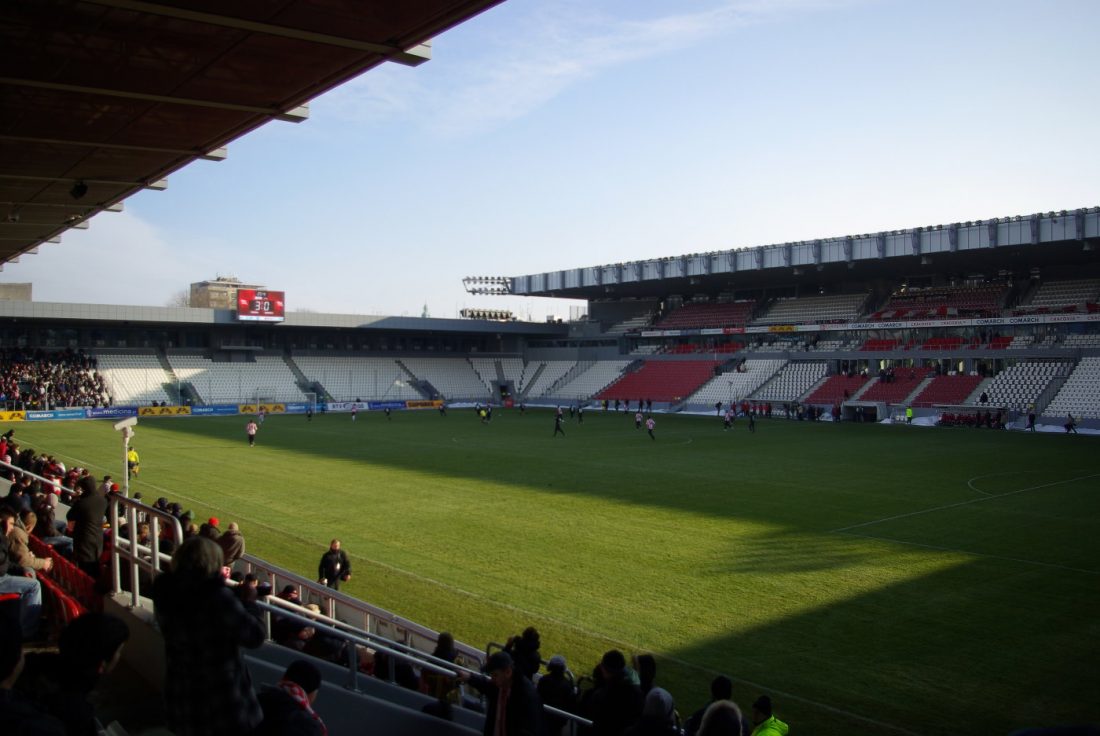 ---
Stadion Garbarni w Krakowie
Club: Garbania Krakow | Opening: 1990 | Capacity: 1,000 seats
---
Stadion Miejski w Niepolomicach
Club: Puszcza Niepolomice | Opening: N/A | Capacity: 2,000 seats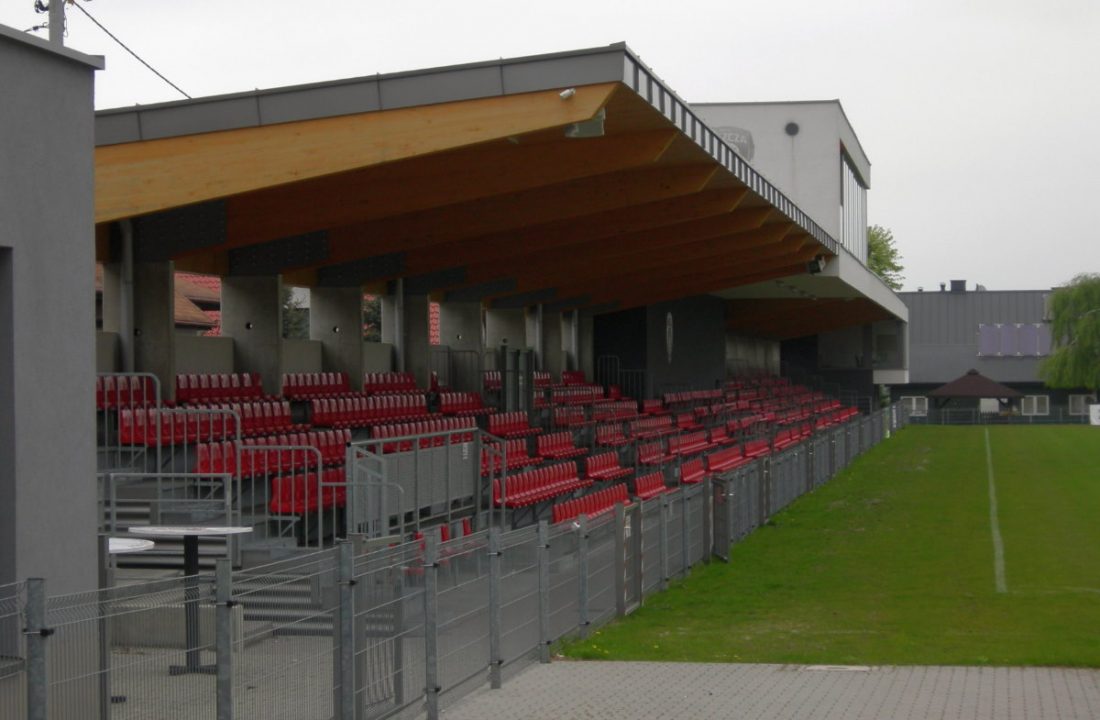 ---
Stadion Suche Stawy
Club: Hutnik Krakow | Opening: 1950 | Capacity: 6,000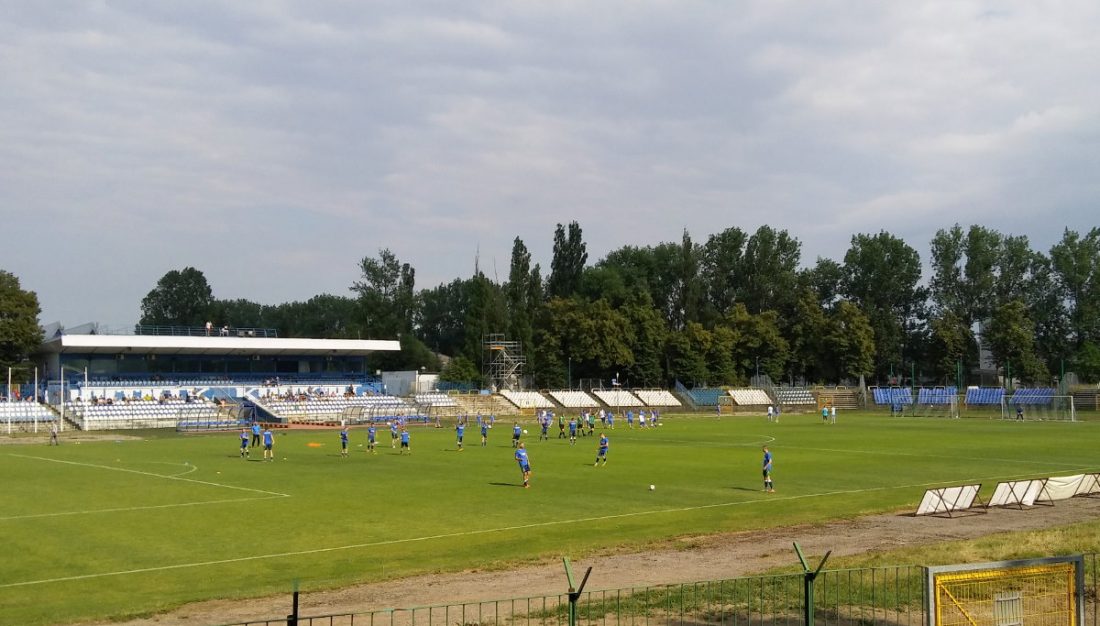 ---
Photo credits: Max Bashyrov, Uostofchuadnego, Geo573, Beemwej, Lukasz Bien, Zygmunt Put, Maciej300888, Adas17