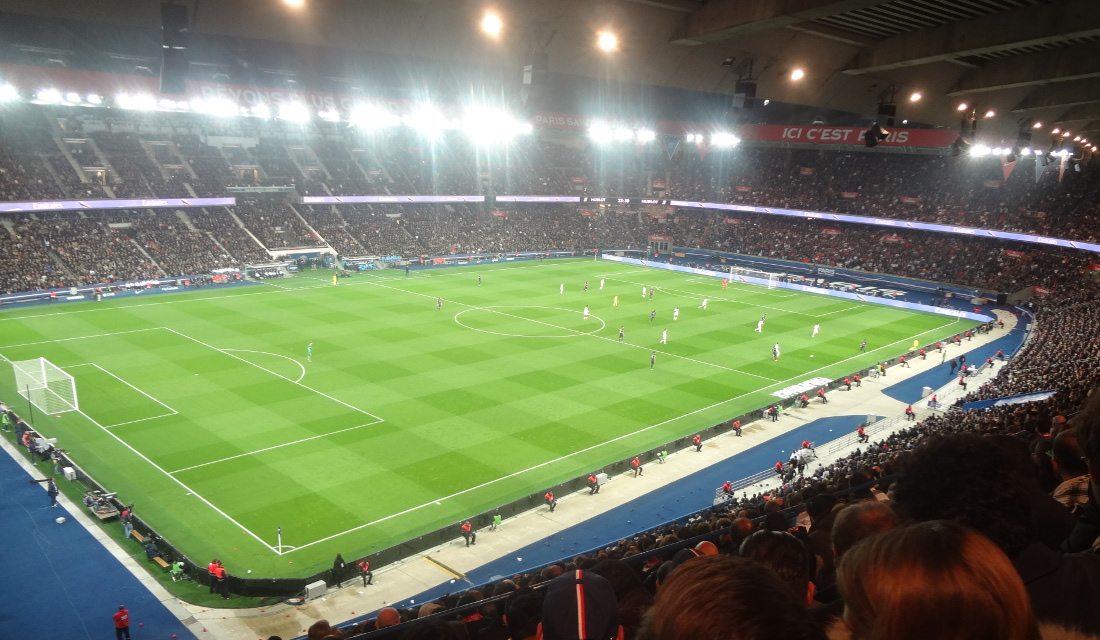 Arguably the first new stadium to be built in the modern era, but four decades later its age is beginning to show. While the atmosphere may not be what it used to be, a packed Parc des Princes is still an experience.
Key facts
Club: Paris Saint-Germain FC | Opening: 1972 | Capacity: 48,527 seats
History and description
Parc de Princes was built to provide the city of Paris with a modern venue for important rugby and football matches. The stadium replaced the old Vélodrome, that had stood in its place since 1897.
Parc des Princes was officially opened on 4 June 1972 by French president Georges Pompidou. The first match was the Coupe de France final between Marseille and Bastia (2-1).
The stadium, designed by architect Roger Taillibert, was lauded for its avant garde design and received several architectural prices. Its most striking feature were the 50 concrete columns that support the ring-shaped roof.
One year after the opening, in 1973, newly founded Paris Saint-Germain moved into the stadium.
In the following decades, Parc des Princes regularly hosted matches of the French national team, Coupe de France finals, and it was the playing venue of several European Cup finals.
The first of these finals was the European Cup final between Bayern München and Leeds United (2-0) in 1975, which was followed by the Cup Winners' Cup final between Anderlecht and Austria Wien (4-0) in 1978, and the European Cup final between Liverpool and Real Madrid (1-0) in 1981.
In later years, Parc des Princes would host the Cup Winners' Cup final between Real Zaragoza and Arsenal (2-1) in 1995, and the first ever single-leg UEFA Cup final between Inter and Lazio (3-0) in 1998.
Since the opening of Stade de France in 1998, however, the stadium has seen the number of international matches reduced to just one.
In 1984, Parc des Princes was the principal playing venue of the Euro 1984 championships, hosting two group matches and the final between France and Spain (2-0).
Fourteen years later, the stadium was one of the playing venues of the 1998 World Cup, this time hosting four group matches, a round of 16 match, and the match for third place between Croatia and the Netherlands (2-1).
While still one of France's most modern stadiums, PSG's new owners have recently contemplated a large expansion or rebuilding of the stadium. However, as Parc des Princes was selected as one of the playing venues of the Euro 2016 tournament and works would not be finished in time, it was instead decided to only refurbish the stadium for the Euros and reinvestigate the option to redevelop after the tournament.
During Euro 2016, Parc des Princes hosted four first round group matches and the round of 16 match between Wales and Northern Ireland (1-0).
How to get to Parc des Princes
Parc de Princes is built on top of the Parisian ring road Périphérique. It lies approximately 4 kilometres south-west of the Eiffel Tower, and less than 1 kilometre south of the Bois de Boulogne and the Roland Garros tennis complex.
If coming from the southern section of the Périphérique, take exit D910/Boulogne (in the tunnel). Turn left at the end of the ramp (you will already see the stadium) onto the Avenue de la Porte de Saint-Cloud and then the first right onto the Rue du Commandant Guilbaud.
If coming from the north, take the exit toward Boulogne/Avenue de la Porte de Saint-Cloud, and then turn right on top of the ramp following the same directions as above.
Metro stop Porte de Saint-Cloud on line 9 lies a 5-minute walk away from the stadium. Line 9 passes right through the Parisian city centre (on the north bank of the river Seine), and connects with multiple other lines.
Alternatively, one can take line 10 and get off at stop Porte d'Auteuil, which is a slightly longer walk. Line 10 connects the stadium with various stops on Paris' south bank, if that is where you are coming from.
Porte de Saint-Cloud station is also served by buses 22, 62 and 72, whereas Porte d'Auteuil is served by buses 32 and 52. All buses run through the city centre on different routes.
Address: 24 Rue du Commandant Guilbaud, 75781 Paris Cedex 16
Eat, drink, and sleep near Parc des Princes
Parc des Princes is located in a typical dense Parisian neighbourhood. This means that if you walk a few blocks around the area, you will always bump into a bar or brasserie on a street corner.
There are quite a few hotels in the area of Parc des Princes, and staying close to the stadium might not be a bad idea as you've got two metro lines close that can bring you to the centre.
Of course, as you are in Paris, don't expect the hotels to come cheap. Hotel Boileau, a Holiday Inn, a Mercure Hotel, and Hotel B Paris Boulogne all get good reviews, but you will pay at least €100.00 per night for a double room.
Somewhat cheaper, but still acceptable, are Hôtal Printania, Acropolis Hotel, Timhotel Paris Boulogne, Hôtel Villa Sorel, and Hôtel de Paris. Click here for all hotels near Parc des Princes.
Of course, with good transport connections to the stadium, you can just as well stay in any other part of Paris. You can find all options here.
Paris Saint-Germain Tickets
Tickets for PSG games can be bought online, by phone 32 75, or at the PSG service point at Parc des Princes.
Paris Saint-Germain have seen a steep rise in attendances since the 2011-12 season, and increasingly sell out. However, for most matches tickets will be easily available if bought in advance.
Ticket prices depend on the opponent, but for a regular match typically range from €35.00 for a seat in one of the corners to €100.00 for a good seat at the main stand, though seats at the main stand also go for €55.00. Prices get increased for high-profile matches.
If sold out or if you want to book tickets much in advance, you can also buy your tickets through viagogo, which is the official ticket marketplace of PSG. Prices are rather similar to what you pay on the official website.
Photos of Parc des Princes
Relevant Internet links
Psg.fr – Official website of Paris Saint-Germain FC.
Leparcdesprinces.fr – Official website of the Parc des Princes.
Parisinfo.com – Official website of the Paris tourism office.
RATP.fr – Paris public transport maps, timetables, and fare information.