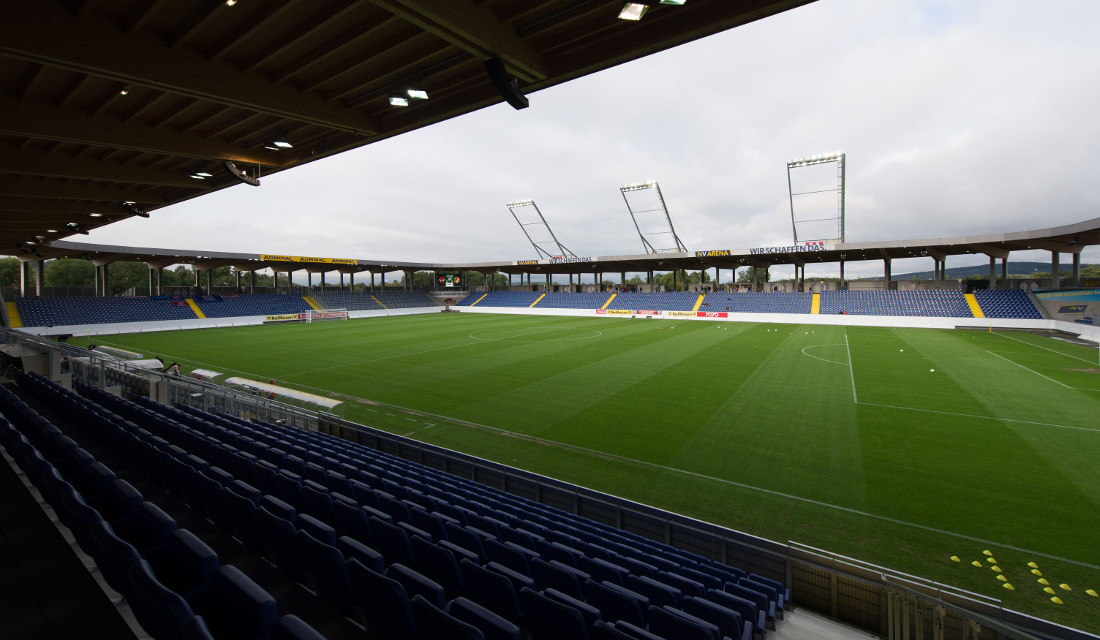 Key facts
Club: SNK St. Pölten | Opening: 2012 | Capacity: 8,000 seats
History and description
The NV Arena replaced St. Polten's old Voithplatz, which had been the home of the club and its predecessors since 1951. The Voithplatz was a very simple ground consisting of a small seater stand and bleachers on earth mounds, and with St. Polten's increasing successes a more comfortable stadium was needed.
First plans for the new stadium were presented in 2006, but it took until early 2011 for building works to start. Construction took a little over a year and the new NV Arena opened on 7 July 2012 with a tournament including St. Polten, Rapid Wien, and Sparta Prague.
The NV Arena came at a cost of €18 million. The stadium is easily expandable to a capacity of 13,000 seats.
How to get to the NV Arena
The NV Arena is located in the north of the small city of St. Polten at a little over 3 kilometres from St. Polten's city centre and main railway station.
The walk from the city centre takes 30 to 40 minutes, but it is quicker to catch bus 7 from the railway station for the 10-minute ride. Buses go every half an hour but there are a few extra services on matchdays. Get off at stop Bimbo-Binder Promenade or Ratzersdorfer See.
Bus 6 is an alternative. Get off at stop St. Pölten Landessportschule, from where it's a small walk to the stadium.
Regular trains connect Vienna with St. Polten. The journey from Wien Hauptbahnhof to St Polten takes about half an hour.
There is furthermore an S-Bahn (commuter rail) station close to the NV Arena with direct connection to Vienna's Franz-Josefs station, but service is infrequent and the journey takes over 2 hours so it's quicker to go through St. Polten's main railway station.
Address: Bimbo Binder Promenade 9, 3100 St. Pölten
St. Polten Tickets
Tickets for St. Polten games can be bought online through Oeticket.com, or at one of the Oeticket sales points, which includes various in St. Polten's city centre.
Tickets cost either €18.00 for a seat behind the goal or €24.00 for a seat at the main stand. The other long side is a family section.
Photos of the NV Arena
Relevant Internet links
Skn-stpoelten.at – Official website of SKN St. Pölten.
Stpoltentourismus.at – St. Polten tourism information.
Vor.at – Public transport journey planner.