Stadion Miejski w Wrocławiu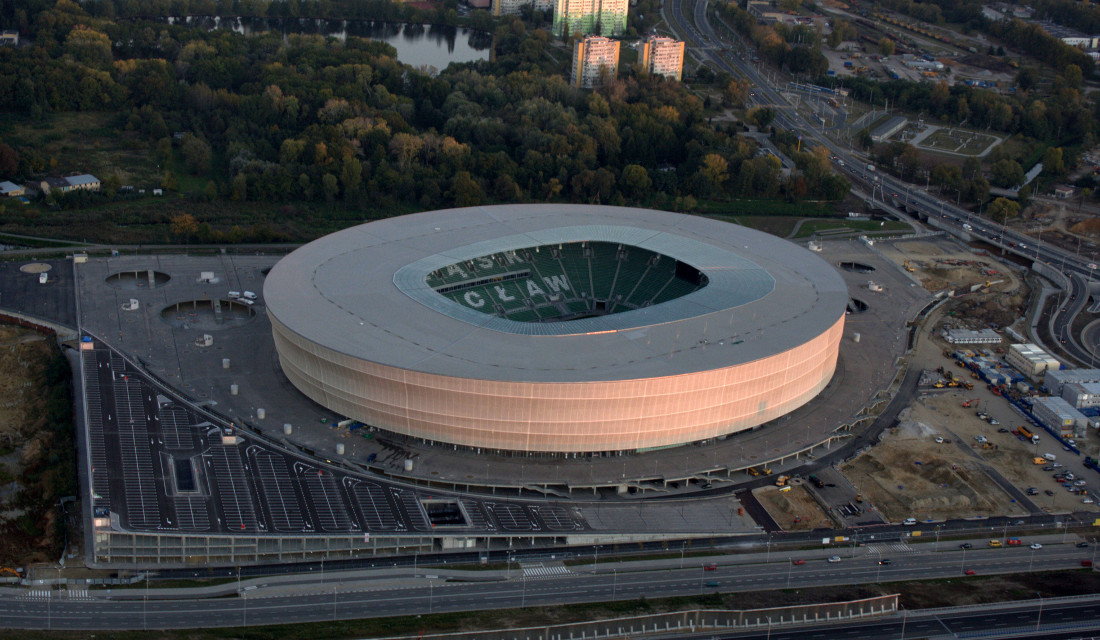 Key facts
Club: WKS Slask Wroclaw | Opening: 2011 | Capacity: 44,901 seats
History and description
Stadion Miejski w Wrocławiu (Municipal Stadium Wroclaw) was built to serve as a playing venue for the Euro 2012 tournament. Construction started in 2009 and was completed in January 2011.
Stadion Miejski was designed by JSK architects. The exterior of the stadium consists of a glass-fibre mesh, coated with Teflon. Steel rings connect the mesh to the body of the stadium.  The design makes it possible to change the colour of the outer walls.
The first event at the stadium was a boxing match, but the stadium officially opened on 19 September 2011 with a concert of George Michael. The first match played at the stadium was a Polish league match between Slask Wroclaw and Lechia Gdansk (1-0).
During Euro 2012, Stadion Miejski hosted three first round group matches.
How to get to Stadion Miejski Wroclaw
Stadion Miejski Wroclaw is located on the far north-eastern edge of Wrocław, about 8 kilometres from Wrocław's city centre and almost 9 from the city's main railway station.
From the city centre the stadium can be reached with either tram 10 or 20.  Both trams pass just south (and west) of Wrocław's central Rynek square (on Kazimierza Wielkiego). Take the trams in the direction of Leśnica. The journey takes about 20 minutes.
Tram 20 can also be caught a few blocks west from the main railway station at stop Arkady.
Address: Aleja Śląska, Wrocław
Slask Wroclaw Tickets
Tickets for Sląsk Wroclaw games can be bought at the ticket office at the stadium. Tickets are also available on the gate on the day of the match.
Polish citizens need a Fan Card (Karta Kibica) to be able to buy a ticket, whereas foreigners should be able to buy a ticket with just identification.
Tickets cost either PLN 28.00 for a seat behind the goal, or PLN 45.00 for a seat at one of the two long sides. Prices are increased for a few high-profile matches to PLN 33.00 and PLN 50.00. Tickets bought in pre-sale are PLN 5.00 cheaper.
For more information email kasy@slaskwroclaw.pl, or call +48 71 722 39 44.
Photos of Stadion Miejski Wroclaw
Relevant Internet links
Slaskwroclaw.pl – Official website of WKS Śląsk Wrocław.
Stadionwroclaw.pl – Official website of Stadion Miejski w Wrocławiu.
Wroclaw.pl – Tourist information for the city of Wrocław.
Jakdojade.pl – Public transport journey planner.