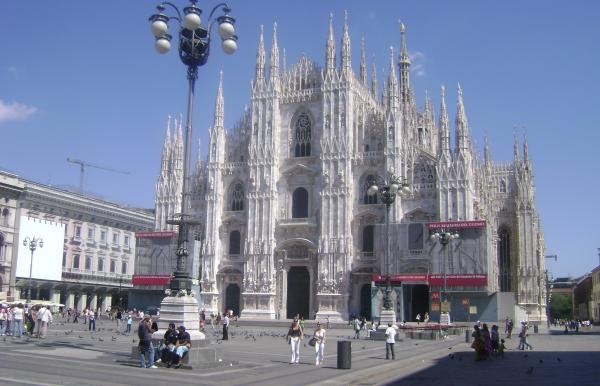 Introduction
Even though Milan is the home of two of Europe's football giants, it may not be the first destination football fans think of when planning a football trip. Of course, San Siro is a football temple that is a must-visit for any football fan, however it is being shared by both AC Milan and Inter, which means only one game per weekend.
Milan is a real football city though, one that breaths football, which culminates in the intense rivalry between working-class Inter and upper-class Milan. At least, that used to be the cultural distinction.
On top of that, there are many possibilities to visit a match just outside the city. These teams may not have the grandeur of the Milan teams, but a match at one of Italy's typical slightly dilapidated stadiums may go for a completely different experience. And many of the cities these teams are home to are well worth a visit.
Bergamo, Parma, and Verona, for example, all boast Serie A teams, are splendid cities, and can be reached by train in 60 to 90 minutes.
For Serie B football one can go to Brescia, Novara or Varese, which are all less than an hour away. And there are also various lower league teams, often with Serie A history, such as Como, Piacenza, and Cremonese.
Each of these destinations offer a completely different experience based on your preferences for stadium size, attendances, quality of football, accessibility, or attractiveness of the host city.
The clubs
AC Milan, FC Internazionale, Atalanta Bergamasca, Chievo Verona, Parma FC, Hellas Verona, Novara Calcio, Brescia Calcio, AC Piacenza, Cremonese, Como, Varese, and AlbinoLeffe.
The cities
Milan has the reputation of being Italy's business city and is therefore left out of many tourist itineraries. Which is probably fair enough if you are on a one month Euro-trip, but the city is actually a lot nicer than many people think.
While the city boasts plenty of monuments and museums for a day or two of sightseeing, it is most of all a city that needs to be lived in and enjoyed. Stroll along the hidden cobblestoned back streets, sit down in one of the lovely parks, have a drink at one of the many bars, spend serious money in the high-end shops, admire the theatre and art, or book a table at one of the posh nightclubs.
Though Milan is the second largest city of Italy, its centre is compact and can easily be navigated by foot.
The heart of Milan is undoubtedly Piazza Duomo, on which the Milanese and tourists evenly mix. The centre basically stretches out on all sides of Piazza Duomo. The other major reference point is Castello Sforzesco, which lies about a kilometre north-west of the main square.
Bergamo, Parma, and Verona are what you typically expect of an Italian city. Beautiful historic city centres, many terraces, bars and restaurants, all mixed up with the typical Italian traffic chaos.
Bergamo has a great setting with the Alps as a backdrop. It also lies closest to Milan and works well if you are short on time. Verona has the most monuments and attracts the largest tourist crowds, while Parma is a quieter and possibly more authentic alternative.
Como will be less interesting from a football point of view, but spending some time along the shores of Lake Como may more than make up for that.
Brescia, Piacenza, Novara, Cremona, and Varese are rather comparable. They are smaller cities and arguably not as spectacular as a Verona, but have lovely historic centres that are great for a visit of a few hours. They often even boast a decently-sized stadium, but the football can be dire. Make sure to pick a match against an interesting opponent.
If you are the type that is attracted by lower-league grounds, you can instead decide to pay a visit to the likes of Pavia, Monza, AlbinoLeffe (who play in Bergamo), Tritium, or even Pro Vercelli. Don't expect more than a few thousand spectators, or in some cases not more than a few hundred. Most of these cities have the odd sight or two, but few are truly spectacular (though Pavia is sure worth a visit).
While the new high-speed trains departing from Milan technically even allow day trips to Bologna, Florence, and Turin (though at a price), these are best done on a separate trip.
(zoom in for further details)
The stadiums
San Siro needs no introduction. One of Europe's largest and best-known stadiums is a must-visit for any football fan. It is the home of both AC Milan and Internazionale, which means that every weekend one of the two teams plays a home match at the stadium. Inter has tentative plans to move to its own new stadium, but this won't happen in the next few years.
If you want to see both teams in action, you either have to stay in Milan for a week, or combine a league match with a mid-week European match.
If you have to choose between Milan or Inter, there are few arguments to choose one over the other, and this will mainly be a matter of personal affection.
Both teams attract average attendances of in the 40,000s during a typical season, which can move up to almost 60,000 when they are competing for the title. Both teams only tend to sell out the derby and the match against Juventus.
Bear in mind that a typical match on a winter evening will hardly bring up the same atmosphere as the derby or a high-profile Champions League match, and that an attendance of in the 30,000s can feel rather empty in the gigantic San Siro.
Still, San Siro itself makes quite the impression, possibly even more from the outside than the inside. It has quite a unique feel with its spectacular roof and corner towers, though time has clearly had its impact and one cannot avoid the feeling that its best years lie in the past.
Of the stadiums outside of Milan, Verona's Stadio Marcantonio Bentegodi is by far the most impressive. It is a 1990 World Cup stadium and boasts almost 40,000 seats.
The problem is that Serie A team Chievo Verona hardly ever fills these seats. Having only 10,000 fans in a concrete colossus results in quite a subdued atmosphere. Serie B team Hellas Verona does a little better, but still generally does not average more than 15,000 fans a match. The only time that Chievo attracts significantly more fans is against the Milan teams and Juventus.
We can see the same trend at Atalanta Bergamasca and Parma FC, where the matches against AC Milan, Inter, and Juventus attract far more people, but still typically don't sell out. As both stadiums are a bit smaller than Verona's, they do fill up better though.
Atalanta's Stadio Atleti Azzurri d'Italia is an as typical Italian stadium as it can get. Two long sides with some cover and two uncovered curves for the ultras and away fans. Some makeshift stands have closed the distance between the curves and pitch somewhat. As with most Italian stadiums, it is a rather dilapidated affair, which is also its charm.
Parma's Stadio Ennio Tardini is slightly more intimate with the curves and main stands closer to the pitch. It has a similar capacity of 25,000 seats.
Both Atalanta and Parma tend to attract crowds of just under 15,000, but this can be a few thousand more or less depending on how well the season is going.
It can at times be hard to combine two Serie A matches in a weekend as most matches are played on Sunday afternoon. Milan and Inter do play the occasional match on Saturday evening though, which could leave the Sunday for one of the other cities.
Alternatively, one can choose to catch a Serie B match on Saturday – these are typically played on Saturday afternoon -, and go see Milan or Inter on Sunday.
Good Serie B candidates are Brescia, Novara, and Varese, though expect small crowds in reasonably large stadiums. All three do not tend to attract more than 5,000 people per match and have stadiums of four or five times that size (though Varese's capacity has been reduced due to safety measures).
Hellas Verona can be a good alternative for Chievo, but there is little reason to go see AlbinoLeffe instead of Atalanta, as the Serie B club does not attract more than a few thousand fans.
Lower league clubs Piacenza and Cremonese also generally only attract a few thousand spectators, and Como sometimes not even 1,000. Going down the list you end up with even smaller crowds, but also smaller stadiums. Serie B and lower league matches practically never sell out.
How to get in and around
Milan is an excellent destination to get to by plane as it is served by multiple low-cost airlines.
Milan has three airports. Malpensa Airport is Milan's main international airport. It used to be one of Europe's largest airports until Alitalia moved all of its intercontinental flights away to Rome. Many traditional carriers still have a flight to Malpensa though, but these days Easyjet is the largest airline at the airport.
Malpensa Airport is located north-west of Milan, about 50 kilometres from the city. A train service (Malpensa Express) connects the airport with Milan city centre. Trains run to and from Cadorna Station, which lies right in the city centre (close to Castello Sforzesco). There is some service to Milano Centrale railway station too.
Apart from the train, there is also a very regular (and cheaper) bus shuttle service between the airport and Milano Centrale.
Milan's second airport, Linate Airport, is the airport located closest to the city, right on its eastern border. It is the airport most popular with businessmen and therefore mainly served by the traditional carriers (including Alitalia). Most of the destinations are Europe's capitals.
One can get from Linate to the centre by regular bus service. Bus 73 brings you to Milano San Babila metro station, which is a 5-minute walk away from Piazza Duomo.
The third airport is Bergamo airport (Orio al Serio), which, of course, lies close to the city of Bergamo. It is the area's main low-cost airport. Ryanair is the principal airline with many connections to Western Europe, while Wizzair serves several Eastern-European destinations.
There is a bus shuttle service from the airport to Milano Centrale. Walk outside the terminal and look for the coaches. Tickets are sold at the door and the bus leaves when it's more or less full. While the airport lies only 50 kilometres from Milan, traffic can be horrendous so expect delays during rush hour.
There is no direct service from any of these airport to San Siro, so a transfer around the city centre will be necessary.
Milan has three metro lines which can bring you to most relevant places, but there is also an elaborate network of trams and buses.
San Siro is located in the west of Milan, about 5 kilometres from the centre, and a trip with public transport is therefore necessary. The best way to do this is to catch the red metro line M1 from, for example, Piazza Duomo, San Babila, Cairoli (Castello Sforzesco), or Cadorna. From Milano Centrale a change is required (take the yellow line M3 and change at Duomo).
Take line M1 in the direction of Rho Fiera (make sure to check as the line splits up in two directions), and get off at stop Lotto. From Lotto it is about a 20-minute walk to the stadium. On matchdays there tend to be shuttle buses (line 181), but plenty of people walk.
An alternative is to catch tram 16, which can be done just west of Piazza Duomo. Tram 16 used to pass right by the stadium, but due to works on a new metro line it now ends at Piazzale Segesta, again a 20-minute walk from the stadium (but also from here there are shuttle buses on matchdays).
To go outside the city, you can either rent a car (if you did not arrive by car), or use the train. Milan has a few major train stations, but the main station, Milano Centrale, will serve for practically every destination (except Varese, which is served by Cadorna and Porta Garibaldi station).
Milano Centrale lies slightly toward the north of the city centre. The walk from Piazza Duomo takes about 30 minutes, or you can catch a metro or tram.
Trains from Centrale to Bergamo leave about once an hour on Sundays. The journey takes approximately 50 minutes. The walk from Bergamo train station to Stadio Atleti Azzurri takes about 30 minutes, and is even shorter from most other city centre locations.
Trains from Centrale to Verona leave more frequently and can take anything from 80 to 120 minutes. Stadio Marcantonio Bentegodi lies just a 15-minute walk away from Verona Porta Nuova train station and only a few minutes more from Verona's historic centre.
Parma has even more frequent service, which takes from 70 to 90 minutes. It is about 20 minutes walking from the train station to the stadium, but it is a nice walk as you cross Parma's historic centre.
Como and Cremona are also easy trips with about an hour train journey and stadiums at walking distance from the train stations and city centres.
Brescia, Novara, Varese, and Piacenza require a bit more effort though. While in all cases the train journey is less than an hour, it takes a bus ride to get to the stadium. Check the individual stadium entries for more details.
You can check current train timetables at the Trenitalia website. The last train back to Milan tends to leave at some point between 10:00 pm and 11:00 pm.
How to get tickets
The first thing you always need to remember when buying tickets in Italy is to bring identification. It is without exception required. And if you happen to forget it, it is very unlikely they will let you in with an "I am a foreigner and did not know" excuse (at least not at the Milan clubs).
The introduction of the Tessera del Tifoso fan card a few years ago seemed to complicate buying a ticket in Italy, but an initial requirement to own such card was soon changed and now the only requirement is that you are not living in the same area as the away team (hence the ID you need to show).
As few matches sell out in Italy, it is usually no problem at all to buy a ticket on the gate. This is also generally possible at the Milan clubs, though you may always want to check the announcements on the official websites the week before the match in case something changes (which it sometimes does in Italy).
If you want to be sure and buy in pre-sale, there is often the possibility to buy online, though working through such website can be a bit of a challenge.
Alternatively, many clubs sell tickets through the branches of a local bank (e.g. Intesa Sanpaolo for Milan and BPM for Inter), and as there is usually at least one branch in the city centre, it does not take much effort to pop inside. However, do note that Italian banks generally have very limited opening times and do not open at all on the weekends.
Inter has recently opened a club store near Piazza Duomo (just east of the Galleria Vittorio Emanuele II), which makes it relatively easy to buy tickets in pre-sale. One can also buy them at a few book stores in Milan's city centre. Some other clubs have a pre-sale address in the city centre too, or one can buy tickets at one of the Ticketone / Lottomatica sales outlets (find an outlet here).
While in many countries it is common that clubs have a ticket office at the stadium, this is only occasionally the case in Italy (stadiums are generally owned by the city and the club offices are elsewhere). There is therefore not much point to head to the stadium until a few hours before kickoff.
Where to sleep
There is not much in the area around San Siro besides the stadium, and if you are not in a hurry, it is recommended to stay in Milan's city centre instead. Still, if you prefer a hotel close to the stadium, there are some decent options close to Lotto metro station and Piazzale Segesta, which means at 20-minute walking distance.
Hotel Mélia Milano, close to Lotto, gets the best reviews. Expect to pay €90.00 per night for a double room. Hotel Montebianco is an almost equal alternative, which costs slightly less (app. €70.00).
Near Piazzale Segesta, the Best Western Hotel Astoria, Hotel Nuovo Murillo, and Hotel Amendola Fiera also get good reviews and fall into the price range of €60.00 to €70.00. A single room typically costs €10.00 to €20.00 less. There are few cheaper options in the area. For all hotels near San Siro click here.
As San Siro is quick to reach by metro, it does not matter that much where exactly in the centre you pick a hotel. Mind that hotels are generally rather expansive around Piazza Duomo. Hotels are generally cheapest in the area between Piazza della Repubblica, Milano Centrale, and the Corso Buenos Aires, but single or double rooms that cost less than €50.00 a night are scarce. The area close to Centrale can be slightly dodgy at night.
Where to eat and drink
Milan is a city of eating and drinking, and options are therefore plentiful. The city centre is, of course, packed with bars and restaurants, but there is definitely more than just Piazza Duomo.
One of the more popular nightlife areas is the Navigli area south of the centre. The area consists of two canals that are lined with bars and restaurants. You'll get there by following the Via Torino and then Corso Ticinese south from Piazza Duomo.
North of the centre, close to Garibaldi station, lies the Corso Como, which is also filled with bars and clubs, often more of the high-end type. Walking there from the centre you'll pass through the Brera area, which has various smaller bars and restaurants.
There are other pockets of bars and restaurants around the centre too, for example at the back of Sempione Park on the Corso Sempione, near Cadorna Station, or in the Porta Romana area.
There are few places close to San Siro though, so you'll be wise to eat and drink before in the centre. Though of course there are plenty of stands with food, and in particular panini, around the stadium on a matchday.
One thing typical Milan is the aperitivo, which usually runs from 6:00 pm to 8:00 pm, and during which many bars serve buffets of excellent food which is free and unlimited as long as you buy a few drinks.
For many of the high-end clubs booking a table (and thus getting on the list) is a necessity to get in. Dressing up a little also definitely helps. Milan is a city of fashion, after all.
What else to see and do
Milan is no Rome, but there are plenty of monuments to keep you busy for a day (or two). The splendid Duomo should be on top of your list.
Milan's best traditional museum is the Pinacoteca di Brera, though there tend to be many exhibitions spread out over the city. Admiring Leonardo da Vinci's Last Supper is another highlight. Make sure to book a ticket in advance though.
Milan is as much San Siro as Teatro alla Scala, in both cases emotion and drama. If there is an opera or ballet running, there is no harm in giving it try, even if you are not the culture type. The tickets are affordable and the spectacle can be truly amazing. Remember Pavarotti at San Siro in 1990?
Of course, you can also return to San Siro to witness the stadium empty during a guided tour. Tours run daily about every 20 minutes and no reservations are required.
Milan's best parks are Sempione Park and the Giardini Publicci, which are both great to relax in with a gelato.
Shopping can be done in the streets around Duomo. Milan's most famous department store La Rinascente is located right on the square. If you want to spend even more money, move in north-eastern direction to the "golden triangle" (Via Montenapoleone) where all famous labels have their store. Shopping malls do not exist in Milan.
Bergamo, Parma, and Verona are all great cities to spend a day in, and if you have more time than just a weekend, you can also head into the Italian Alps, or to any of the beautiful northern lakes such as Lago di Como or Lago Maggiore. If you go to Verona, you can take a train that stops in Desenzano and spend some time along the shores of Lago di Garda.