With all Premier League stadiums added to our database, let's have a look at some figures and statistics.
Every Premier League club has its own stadium, no groundsharing like in Italy, which means we have a total of 20 stadiums. The average stadium has a capacity of 37,559 seats, with the smallest stadium being Loftus Road, and the largest, obviously, Old Trafford.
That's not to say that the capacities are equally distributed inbetween. What we see is that it is either common to have a stadium in the upper 20,000s, or to have one in the 40,000s. Only White Hart Lane and Ewood Park have a capacity of in the 30,000s, and only St. James Park and the Emirates Stadium surpass the 50,000 mark.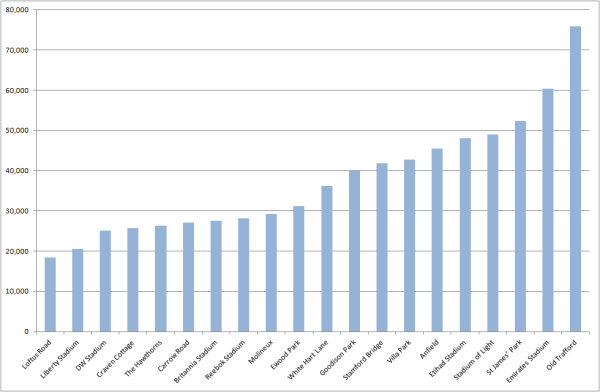 We see a similar divide in terms of age. A Premier League stadium was either opened before World War I (1914), or after 1996. With the exception of Carrow Road, which opened in 1935. Stamford Bridge is the oldest stadium, though that honour is somewhat dubious as Chelsea only moved in in 1905.  The Emirates Stadium is the most recently built.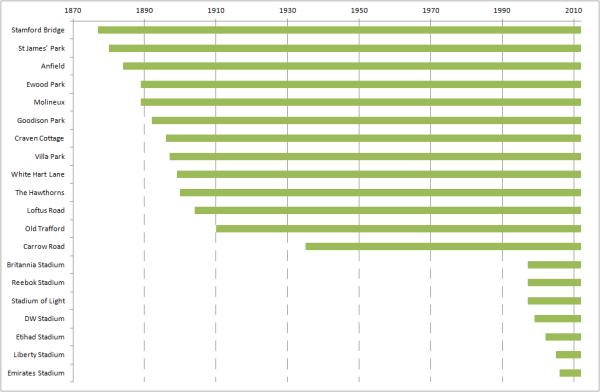 Needless to say that any of the pre-war stadiums has at least been renovated as late as 1994. However, after 2006 a bit of a drought has set in with very few activity. Quite a number of clubs with a pre-war stadium are still hoping to build a new one, e.g. London clubs Chelsea, QPR, and Spurs, but most seem to have gotten stuck in procedures, or lack the funds, and it is unlikely we are going to see any new stadiums in the next five years.
The same story goes for renovations, with Wolves the only club with activity.
The current state of the pre-war grounds is obviously very different than that of the same stadium before the 1990s. In terms of capacity for example, these stadiums have a capacity that is on average only 60% of their once maximum capacity. No wonder, as these maximum capacities were mainly made up of standing places. Old Trafford is the notable exception here, as they have with their recent expansions almost reached their previous maximum capacity again.
We also don't see that the new stadiums are any bigger than the (renovated) pre-war ones. Their average capacities are practically the same. Nor, does it seem that the newer stadiums fill up easier. Occupancy rates* don't show much difference either.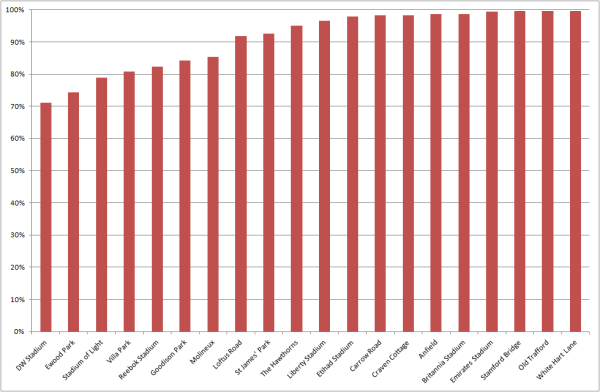 It's not unfair to say that every club from Swansea (Liberty Stadium) sells out on a bi-weekly basis, with another three teams making the 90%. Molineux had a reduced capacity for part of the season so does not really count. So only six stadiums do not meet the 90% mark, which are evenly divided between old and new stadiums.
This said, the usual caveat applies that we are working with a very small set of data, and after the summer, with three clubs replaced, the data may just turn out differently. In any case, as our database increases, we should be able to say more reliable things, as will analyses become more interesting when we can compare between countries.
* attendances from the 2011/2012 season so far (source)