In May 2010 Wolves announced a £40 million redevelopment program for Molineux Stadium. A year and a half later Wolves seem to be progressing steadily with the project.
Wolves occupied Molineux Stadium in 1889, and, after the stadium had decayed much in the 1970s and 80s, was one of the first clubs to embark on a redevelopment program in the early 90s. However, with the rise of Wolves to the Premier League in 2008, the club now seeks to further improve facilities and increase the capacity of the ground.
The redevelopment plans consist of three phases, with the third being optional depending on demand and available funding. The first phase is the rebuilding of the Stan Cullis Stand into a two-tier stand, to be completed by the start of the 2012/2013 season.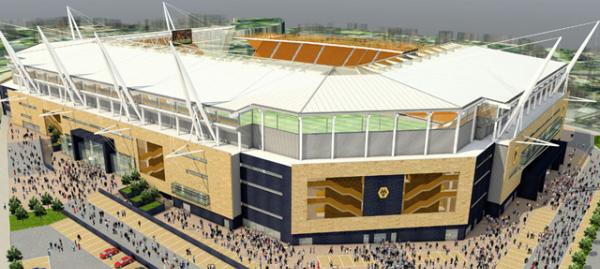 Photo: the full plan | © Wolves.co.uk
The second phase will consist of the rebuilding of the Steve Bull Stand, to be connected with the Stan Cullis Stand. After this phase, which is planned to be completed for the 2014/2015 season, the capacity will have increased to 36,000 seats. Both new stands will include extensive corporate and hospitality facilities. The Stan Cullis Stand will also house a megastore, café and museum.
The optional third phase is the rebuilding of the Jack Harris Stand, to be connected to the Steve Bull Stand. This will lift the capacity with a further 2,000 to 38,000 seats.

Photo: the full plan | © Wolves.co.uk
The Stan Cullis Stand was demolished right after the finish of the 2010/2011 season. In June 2011 construction of the new stand started, and on the 10th of September the lower tier was first opened to the fans. Adverse weather conditions set back the completion of the roof, which is now scheduled for February 2012. The exact progress can be followed with MolineuxPride's livecam.

Photo: Stan Cullis Stand redevelopment in September 2011 | © Molineuxpride.co.uk
UPDATE (22/01/2011): Wolves have decided to postpone the execution of the second phase of the project, the reconstruction of the Steve Bull Stand, and instead chosen to redevelop their training ground and academy. Though Wolves state to remain committed to the realisation of the project, it has not given any timeline on when this might be.