Cagliari debuts at Stadio Is Arenas behind closed doors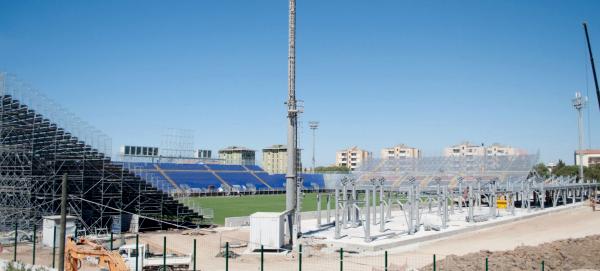 The story of Cagliari and their stadium problems is one of many chapters, and just when it seemed to have been concluded, it started all over again a few weeks ago.
It all goes back to the second half of last season, when the conflict between the club and the city of Cagliari over the construction of the new Karalis Arena escalated and Cagliari refused to play at Stadio Sant'Elia anymore. As a result, they played their last few home matches at Stadio Nereo Rocco in the city of Trieste in the far north-east of Italy.
The season therefore ended without Cagliari having a permanent home, but the club soon found a solution. It came to an agreement with the nearby city of Quartu San'Elena, located about 6 kilometres east of Cagliari, to use Stadio Is Arena for a period of three years, during which the club could then find a solution for the Karalis Arena.
The problem was, however, that Stadio Is Arenas wasn't much of a stadium, but merely a pitch with a simple concrete stand. The club therefore presented plans for the construction of a makeshift stadium with about 16,500 seats.
Works started around the end of May, which meant that Cagliari had just over three months to get the stadium completed before the start of the season, and though the club stated it had every intention to do so, it was far from sure to actually happen.
However, by the middle of August works had progressed significantly, and Cagliari confirmed that their first home match of the season, a fixture against Atalanta, would be played at Stadio Is Arenas.
So all seemed well, until the city of Quartu last week refused to grant permission for the match as the stadium had failed several safety checks. Suddenly, Cagliari's season home opener seemed in jeopardy.
Playing in Trieste was no option as the stadium already hosted a basketball match of the Italian national team at the adjacent indoors arena. The alternatives were either postponing the match, playing behind closed doors, or playing for a limited crowd of about 5,000 fans.
Only on Friday the club finally received permission to play at Stadio Is Arenas, but behind closed doors. The following video gives a decent impression of the atmosphere at the still under-construction stadium.
Cagliari now have three weeks to get the stadium ready for their next home fixture against AS Roma, but few will be surprised if somewhere in the next weeks the story takes another twist.
Photo credits: © Wikimedia user Gigidelneri