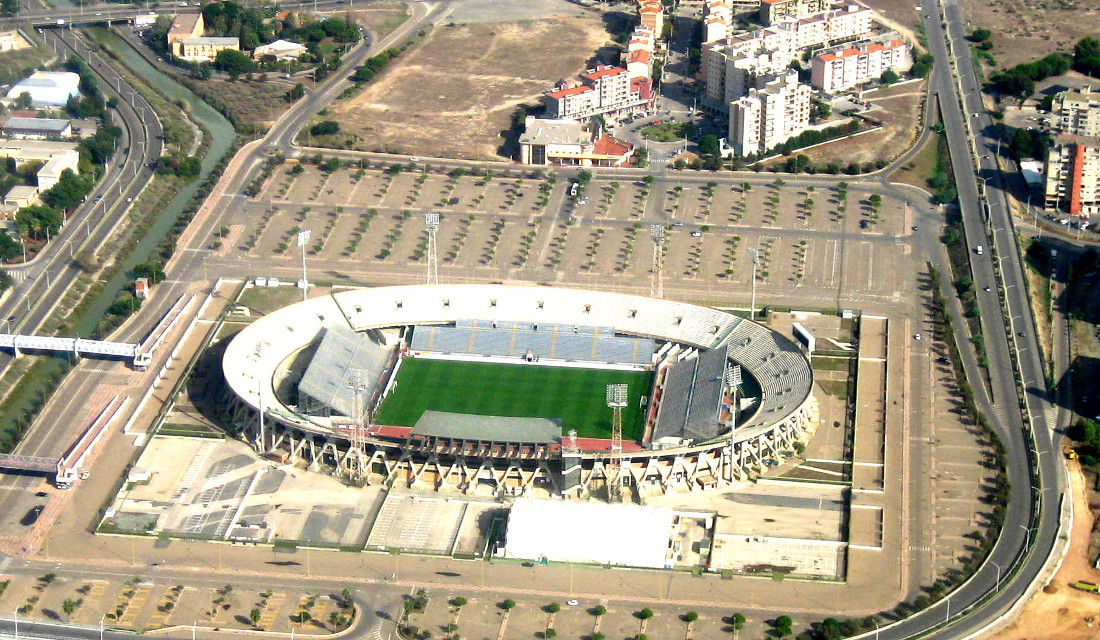 Key facts
Club: Cagliari Calcio | Opening: 1970 | Closing: 2017 | Final capacity: 23,486 seats | Max. capacity: 70,000
History and description
Stadio Sant'Elia opened in 1970. The first match played at the stadium was a Coppa Italia match between Cagliari and Massese.
The stadium could initially hold about 70,000 spectators, however this was reduced to almost 40,000 after it got renovated for the 1990 World Cup. During the World Cup, Stadio Sant'Elia hosted three group matches.
In the following decades, the state of the stadium deteriorated quickly, and in the early 2000s both curves and one of the long sides were closed and three temporary bleachers were placed on the athletics track. This almost halved the stadium's capacity to 23,486 seats.
As a result, Cagliari started exploring the possibilities to build a new stadium. Initial plans were changed a few times with the perspective of a possible Euro 2016 in Italy, but in the end the club settled on a 23,000-seater in the Elmas area near the airport.
The project, often referred to as Karalis Arena, got halted though by protests of the local aviation authority, and the club, dissatisfied with the conditions at Stadio Sant'Elia and further capacity reductions, decided to build a makeshift stadium in the nearby municipality of Quartu Sant'Elena.
This stadium, called Stadio Is Arenas, opened in September 2012, but was plagued by safety issues and was closed down again before the end of the 2012-13 season. Cagliari temporarily moved to Stadio Nereo Rocco in Trieste, but announced in the summer of 2013 to move back to Stadio Sant'Elia later that year.
Cagliari, however, kept looking for a solution to build a new stadium, and in 2015 plans were presented to replace Stadio Sant'Elia with a new stadium. They finally received the green light in 2017, and at the end of the 2016-17 season Stadio Sant'Elia got demolished and Cagliari moved to a temporary makeshift ground at the parking lot of the stadium.
Photos of Stadio Sant'Elia