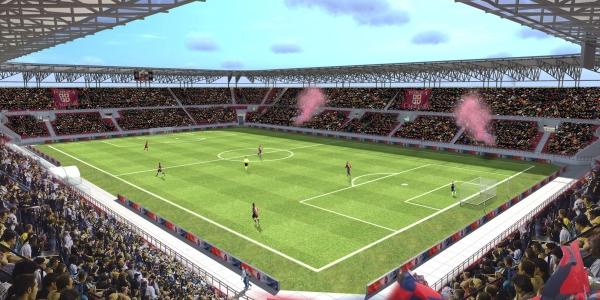 Key facts
Club: Cagliari Calcio | Capacity: 23,200 seats | Status: cancelled
Description
The Karalis Arena, also referred to as Stadio Elmas, was a planned new home of Cagliari Calcio.
Cagliari Calcio had been looking to build a new stadium since the late 2000s as its dilapidated stadium Stadio Sant'Elia, once hosting several matches at the 1990 World Cup, hardly met safety requirements and did not offer sufficient modern facilities for the current age.
Initial plans focused on a stadium with a capacity of around 25,000, but after Italy expressed its interest in hosting the Euro 2016 tournament these plans were revised upwards to a larger capacity so that the city could qualify as a playing venue. However, after the tournament was awarded to France, plans were again adjusted and the club settled on a stadium with 23,200 seats and an estimated cost of €45 million.
Definite plans and renders were presented in the summer of 2011, and a site was selected close to Cagliari's Elmas Airport in the north of the city. However, the plans were heavily opposed by the local aviation authority and a series of legal battles derailed the project.
In May 2012 Cagliario announced to move out of Stadio Sant'Elia and build a temporary makeshift stadium in a nearby town. However, this stadium quickly proved to be unsatisfactory and following safety concerns Cagliari moved back to Sant'Elia.
In 2014, the club finally ditched plans to build the Karalis Arena and instead opted to refurbish Sant'Elia.
Images of the Karalis Arena