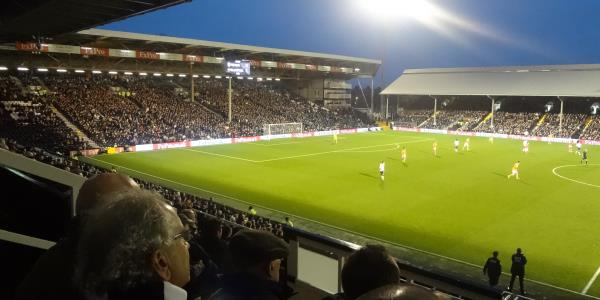 For years the English Premier League has held a solid second position if it comes to average league attendances, trailing only the German Bundesliga.
However, in our Bundesliga review we concluded that German clubs had taken a step back in attendances, which brings up the question whether this means that the Premier League is catching up, or if English clubs are showing similar declines.
These are the findings of our analysis of the attendances in the 2012-13 Premier League season:
It has been a good year for Premier League attendances with an impressive 3.8% growth to an average of 35,921 spectators per match.
Part of this growth was caused by the promoted trio of West Ham, Southampton, and Reading, who recorded significantly higher attendances than the relegated teams. Still, if we leave this effect out of account, the increase still amounts to 1.4%, which is nothing to look down on considering that many clubs already pack their grounds and have limited opportunity for growth [chart 1].
Only two clubs saw attendances decline, of which only Stoke City's decline was significant with 1.8% less fans that made their way to the Britannia Stadium.
Everton recorded the most impressive numbers with an almost double-figure increase, and the tense relegation fight boosted the attendances of Aston Villa, Wigan, and Sunderland [chart 2 and 3].
The EPL clubs sold out an incredible 95.1% of all available tickets, handily beating the Bundesliga on that metric. Four clubs sold out every single home match of the season, but Sunderland and Wigan failed to sell out at least once [chart 4 and 5].
With little free capacity to spare it is no surprise that the EPL is the least volatile football league in the world in terms of attendances. On average, attendances only moved up or down by 5% from one home match to the next [chart 6].
But even the clubs that did have some free capacity left showed relatively little up and down movements. English fans are rather non-impressed when the big teams come to town if you compare with other countries. Liverpool, Arsenal, and Man United attracted the biggest crowds away from home, but difference were relatively small [table "" not found /]

.
Take care though not to read to much in the above analysis as it is tricky to only measure over one year – for example, Man United drops below Arsenal only because – inexplicably-  they were the 18th most popular team to visit Anfield.
One league down, The Championship set an average attendance of 17,494 spectators per match, just beating the average of the 2. Bundesliga. Brighton topped the ranking, with Sheffield Wednesday, Derby County, and Nottingham Forest following at a decent distance [chart 7].
In conclusion, the Premier League can feel good about their season if it comes to attendances, and there is little to suggest that these numbers are unsustainable. The three promoted clubs will be a net-benefit, and while a more boring relegation fight and disappointing seasons of the likes of Everton and West Brom may dampen that effect a little, it is reasonable to expect that the medium-term average will remain around 35,000.
 If the league is going to take a stab at breaking the 40,000-mark, a further round of stadium expansion will be required though. The plans are there, and it looks that after years of relatively little action a few projects – think Swansea, West Ham – are finally getting off the ground so good times lie ahead.
Chart 1: league attendance average 2012-13 vs 2011-12 and growth percentage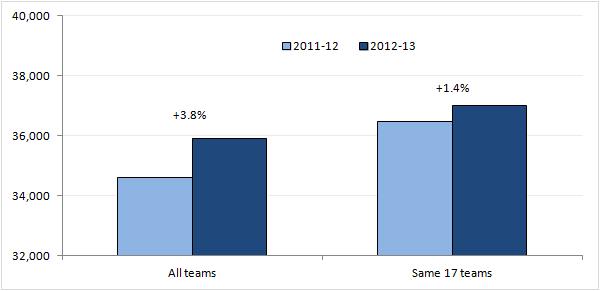 Chart 2: club average attendances and ranking 2012-13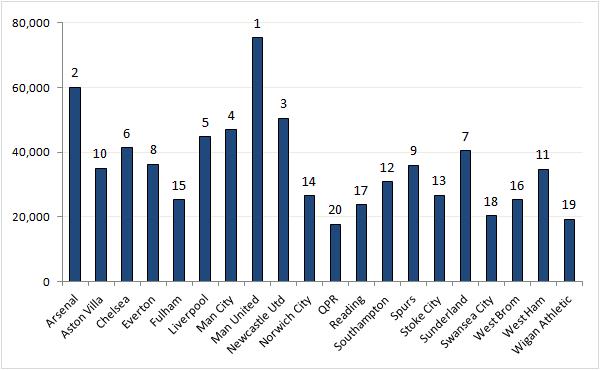 Chart 3: club average attendances 2012-13 vs 2011-12 and growth percentage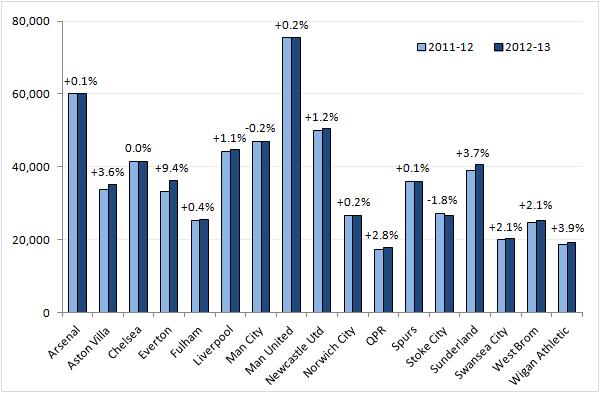 Chart 4: club fill rates 2012-13 (average attendance divided by stadium capacity)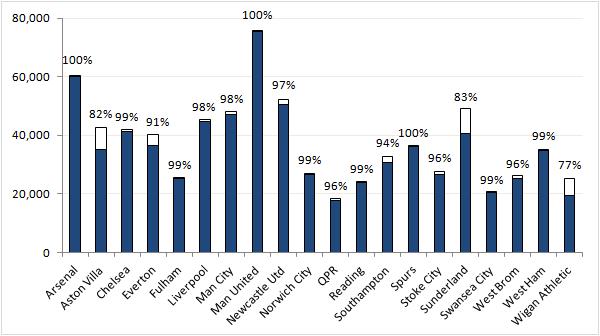 Chart 5: number of sold out matches 2012-13 vs 2011-12 (sell out = fill rate of 97% or higher)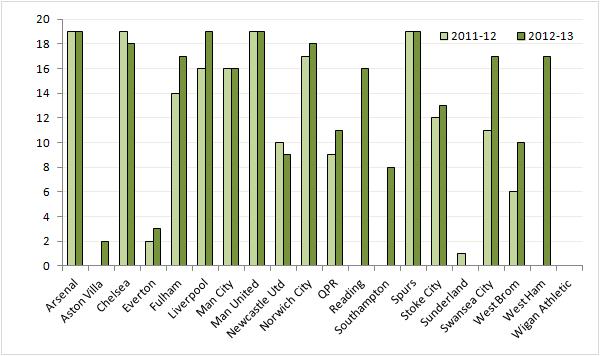 Chart 6: volatility of attendances (average attendance movement from one match to the next).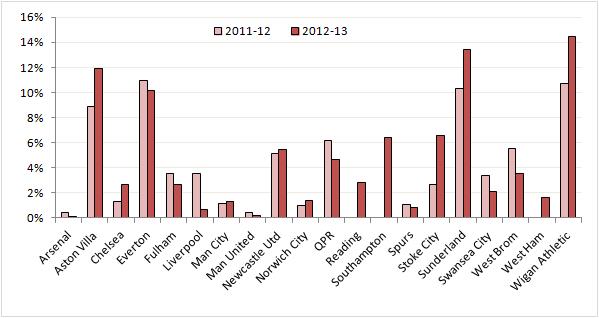 Table 1: appeal of clubs away from home (fill rate, position compared to other clubs, and extra spectator draw in absolute numbers)*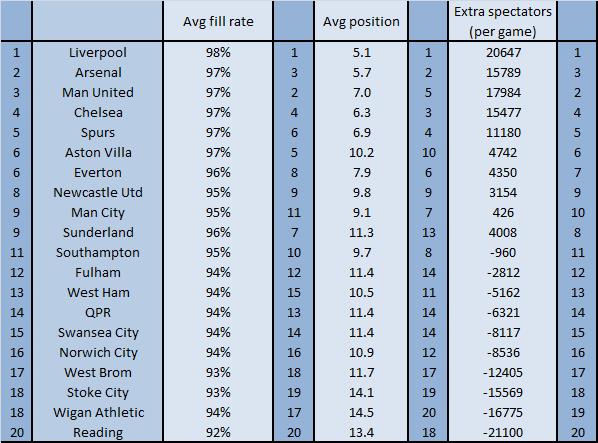 * read more about the methodology of above table here.
Chart 7: The Championship club average attendances and ranking 2012-13.