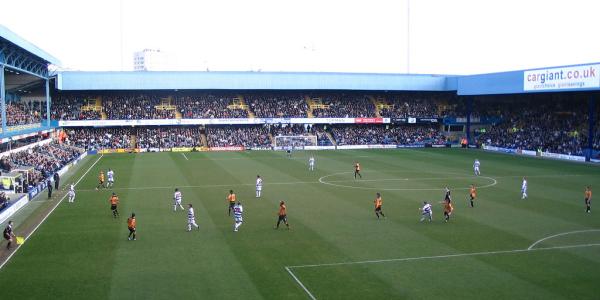 Key facts
Club: Queens Park Rangers FC | Opening: 1904 | Capacity: 18,439 seats
History and description
Loftus Road was built in 1904, but it was only in 1917 that QPR moved to the ground. QPR brought one covered seating stand from their previous ground at Park Royal, and the rest of the stadium consisted of open terraces.
Unsatisfied with their ground, QPR moved to the nearby White City Stadium in 1931, but soon moved back to Loftus Road. In 1938, a new covered terrace opened, but further changes were few in the next decades.
In the early 1960s, QPR once again moved to White City Stadium, but moved back after one season.
Loftus Road got its current shape in the late 1960s and early 1970s with the construction of the South Africa Road and Ellerslie Road stands, lifting capacity to about 35,000. In 1980 and 1981, the two stands at both ends were rebuilt.
In the 1990s, the stadium was converted into an all-seater, which reduced capacity to below 20,000 seats.
Between 2002 and 2004, Fulham played their home matches at Loftus Road while Craven Cottage got renovated.
QPR is currently investigating a move to a new stadium, which they want to built at a different location in West-London. No concrete plans have been unveiled yet.
(photos of the present Loftus Road below)
Getting there
Loftus Road is located in the Shepherd's Bush area in the west of London. The stadium lies about 2 miles west from the western edge of Hyde Park, slightly less than 2 miles from Portobello Road in Notting Hill, and about 1.5 miles from Kensington High Street.
If arriving by car from the A40, turn off at White City, turn south onto Wood Lane, and then right into South Africa Road.
The nearest metro (tube) station is White City on the Central Line. Alternatively, both Wood Lane and Shepherd's Bush Market station on the Hammersmith & City and Circle Line are a 10-minute walk away.
Shepherd's Bush station on the Central Line lies at 15 minutes walking, which is also where the closest overground metro station is.
Furthermore, bus 283 (from Barnes) to Bloemfontijn Road, and bus 72 (from Putney Heath), 95 (from Southall) and 220 (from Wandsworth) to White City all pass the stadium in the close vicinity.
Address: South Africa Road, London, W12 7PJ
Eat, drink, and sleep
Loftus Road is located in London's Shepherd Bush area, which is known for its vast variety of restaurants of all cuisines, most of all on Uxbridge Road. There are a few pubs mixed in as well, and the nearby Westfield Shopping Center is one of the largest of Europe and has over 60 eating and drinking options. Alternatively, the Notting Hill and Kensington areas are neither far away.
There are no hotels directly near the Loftus Road, but a lot of options near Shepherd Bush and Goldhawk Rd tube stations. The J West Hotel, Grantly Hotel, Ibis Shepherd Bush, and Royal London Hotel are all less than 15 minutes walking away, get good reviews, and offer rooms for less than £100.00 a night. There are many more options though, which you can find here.
Alternatively, the not-far-away Bayswater area is a favourite for tourists on a more modest budget and just a short tube ride away. The Kensington area will be convenient for those that have more money to spend.
Tickets
Tickets for QPR games can be bought online, by phone +44 (0) 8444 777 007, or at the QPR box office at Loftus Road.
Loftus Road is the smallest ground of the Premier League and therefore quickly sells out. This happened about half of the time during the 2011/12 season.
Tickets for most matches will be easily available in pre-sale though. If the match does not sell out, tickets can also be bought at the box office on the day of the match.
QPR home matches fall into three pricing categories. Tickets for category C matches, the cheapest, range in price from £25.00 to  £50.00. Tickets for category A matches, the most expensive, cost between £ 45.00 and £70.00.
For more information email boxoffice@qpr.co.uk or call +44 (0) 8444 777 007.
Stadium tours
QPR offers guided stadium tours that go by the name of Loftus Road Experience. Tours include access to the dressing rooms, players tunnel, dugouts, directors box and media areas.
Tours typically run on Thursdays, non-matchdays Saturdays, and matchdays Sundays at 11:00 am, and on matchdays-Saturdays at 10:00 am. There are no tours on matchdays with early kick-off.
Tours can be booked online or by phone +44 (0) 8444 777 007. The tour costs £15.00.
Photos
Relevant Internet links

QPR.co.uk – Official website of Queens Park Rangers FC
Visitlondon.com – Official London city guide.
Tfl.gov.uk – Website of the London Underground and other London public transport.
Journeyplanner.org – London public transport journey planner.