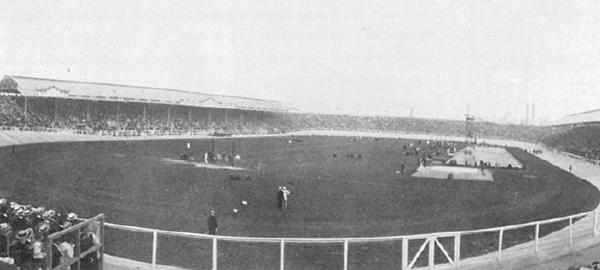 Key facts
Club: Queens Park Rangers | Opening: 1908 | Closing: 1984 | Maximum capacity: 93,000
Description
White City Stadium was for years one of the largest stadiums in Britain until it got demolished in 1984.
White City Stadium was built for the 1908 Olympic Games. It formed part of the Franco-British exhibition site, an 140-acre complex of palaces and exhibition buildings. Most of these buildings had whitewashed exteriors, hence the name White City.
The stadium got built after the city of Rome, to which the 1908 Olympics had initially been awarded, failed to meet its financial obligations and the Games were moved  to London instead. The stadium could hold a total 93,000 visitors.
During the Olympics it hosted, among others, the athletics, football, and cycling events, as well as the finish of the first modern marathon.
The stadium got hardly used in the years after the Olympics, but was taken over by the Greyhound Racing Association in 1927 and from then on mainly hosted greyhound racing and speedway, though other sports such as rugby, boxing, and athletics also found their way to the stadium.
White City Stadium hosted one game at the 1966 World Cup, which was a group match between Uruguay and France (2-1). The match was originally planned to be played at Wembley Stadium, however when Wembley's owner refused to reschedule a previously planned dog race, the match was moved to White City instead.
For short spells in the 1930s and 1960s Queens Park Rangers used the stadium as its home, being unsatisfied with the conditions at their nearby Loftus Road stadium. However both times the club moved back swiftly.
By the 1980s the stadium was almost solely used for dog races, and it got demolished in 1984 to make way for additional buildings to the BBC's adjacent White City complex. The last event at the stadium, on the 22nd of September 1984, was a greyhound race.