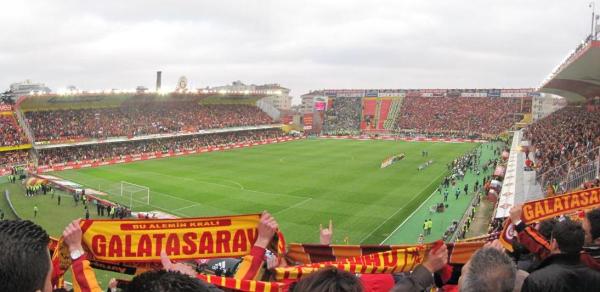 Key facts
Club: Galatasaray SK | Opening: 1964 | Closing: 2011 | Final capacity: 22,800 | Maximum capacity: 35,000
Description
Ali Sami Yen is the former stadium of Galatasaray SK, who occupied the ground between 1964 and 2011. The stadium was particularly famous for its often intimidating atmosphere.
Galatasaray had selected the site as early as 1933, but as soon as the club was ready to start construction by the early 40s the Second World War broke out and construction was halted. The limited financial possibilities of the times prevented resumption of the works, and instead only a small grandstand was built. Until the 1960s the stadium would only be used by Galatasaray as a training ground.
The construction of a proper stadium started in 1959 and was completed in 1964. The stadium officially opened on the 20th of December of that year with a match between the Turkish and Bulgarian national teams. However, the occasion ended dramatically when panic broke out at the overcrowded stands, one person died and 80 more got hurt.
In 1972 Galatasaray left the stadium due to pitch problems and played its home matches at Beşiktaş' Inönü Stadi instead. The Ali Sami Yen was neglected afterwards and it took until 1980 for the club to return to the stadium.
The record attendance of the stadium was set in 1987 during a match between Galatasaray and Eskişehirspor. A total of 35,845 spectators attended the match.
Until 1993 approximately 35,000 fans could pack into the Ali Sami Yen, but this was reduced to 22,000 with the conversion of the stadium into an all-seater. In 1997 plans were made to tear down the Ali Sami Yen and replace it with a new stadium, however due to a lack of funding these plans never materialised.
A few years later an earthquake heavily damaged the Main Stand, which was rebuilt a few years later. This slightly raised capacity, however after some FIFA required renovations this dropped again to about 22,800 seats.
After years of trying to build a new stadium in the place of the Ali Sami Yen, plans were finally approved in 2007 for the construction of a new stadium at a different location. Construction of this stadium, the Türk Telekom Arena, finished in January 2011, after which Galatasaray left the Ali Sami Yen.
Demolition of the Ali Sami Yen started in April 2011. Soon after reports came out that the stadium had been on the verge of collapse, and that, according to the company in charge of demolition, only a miracle had prevented it from collapsing and causing casualties.