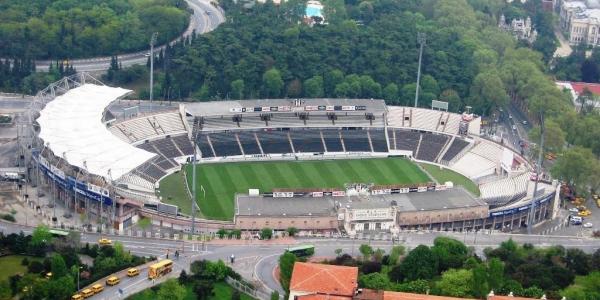 Key facts
Club: Besiktas JK | Opening: 1947 | Closing: 2013 | Final capacity: 32,086 seats
History and description
Construction of Inonu Stadi started in 1939, however works had to be postponed due to the outbreak of the Second World War and could only be resumed in 1943.
Inonu Stadi officially opened on 19 May 1947 by then president Ismet Inönü, a lifelong fan of the club. The first match was played between Besiktas and Swedish side AIK (3-2). For political reasons the stadium was renamed in 1952, but it was given its original name back in 1973.
Inonu Stadi underwent a major redevelopment in 2004 when the athletics track was removed, the pitch lowered, and capacity increased with almost 50%.
Plans for further redevelopments were presented in subsequent years, but stalled due to its status as a historical monument. Finally, in 2013, the club received the go ahead to build a new stadium in place of Inonu Stadi, leaving only the protected facade in place.
Demolition works started at the end of the 2012-13 season and by the end of summer most of the old stadium had been demolished. The new stadium, the Vodafone Arena, opened in the spring of 2016.