Every week all over the world football fans pay fortunes to see their favourite team in action. That's not to say that every fan pays an equal amount, and some will feel more hard-done by than others after their team announced another price hike. But how much do fans in each country actually pay? Who gets the best deal, and which country has fallen most victim to the commercialisation of football?
We have analysed the ticket prices in six of Europe's major leagues: England, France, Germany, Italy, Netherlands, and Spain (the leagues with the highest attendances). For each league we have included the top ten teams in the current league standings.
Common wisdom goes that it costs most to watch football in England. Our analysis shows that this is true, however, in the end it hurts the Spanish most to visit a match of their team.
An analyses of ticket prices is no easy task. There's no such thing as one price, as different sections of the stadium tend to go for different prices, and it's often the case that you have to pay more for watching Manchester United than for, say, Wigan. But at least most English clubs provide a nice table with ticket categories. In other countries that's not always the case. Or prices are determined on a per match basis. Hence, there are a lot of footnotes and caveats that apply at such analysis*.
But let's get to the data. First, the most basic analysis: the average ticket price for the cheapest and most expensive seat (for a match in the cheapest category, i.e. Wigan, and not Man Utd).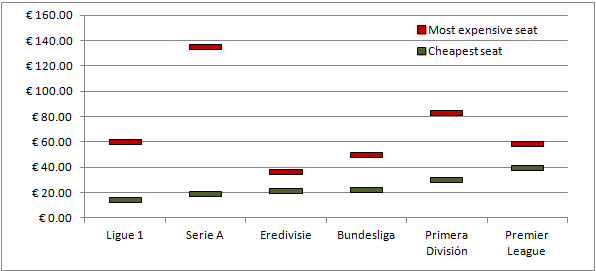 The cheapest ticket is cheapest in Ligue 1 (€14.00), followed by the Serie A (€19.00). Visiting a football match in England is most expensive (£33.00), with the Primera División (€30.00) a good second.
More interestingly perhaps is that England is also the most egalitarian in terms of ticket prices, with the most expensive seat costing only 41% more. Not that surprising considering that the view in England's modern stadiums is good from most angles. In this respect it is also not surprising that Italy has the biggest price difference, with the most expensive ticket costing more than six times the cheapest. The view from a seat at the 'curva' of one Italy's old stadiums is far inferior to that from a seat at the middle of the long end.
There is however a caveat in terms of Germany, as Germany is the only of the six countries where standing places are common. Obviously a standing place is cheaper than a seat, in the case of Germany about 60% of the price of a seat, which brings it just below the cheapest seat in Ligue 1. But you'll have to stand, of course.
That said, when we look at real ticket prices, we tend to forget that the average fan in England may just earn a lot more money than the average fan in Spain. So we have to adjust for wages. Expressed as a percentage of the average salary, a typical football fan will spend the following for seeing 20 matches a year of his favourite team.

So yes, tickets in England are most expensive in real terms, but it will cost a Spaniard a larger part of his salary (2.16%) to see 20 matches of his favourite team. Not that English fans are much better off, they still spend more than 2% of their salary on football. Cheapest is still Ligue 1, now followed by the Dutch Eredivisie. In both leagues fans don't spend more than 1% of their salary on football, though fair enough, these fans also do not get to see a Lionel Messi or Wayne Rooney.
Of course, we don't take into account discounts through season tickets or being a 'socio'. And only looking at the cheapest category does not mean much if only a few matches are classified in the this category. For example, whereas in Holland only three out of ten teams charge more for higher-profile matches, half of Spanish teams ask more, and eight out of ten German and English teams ask more.
But at the same time, the highest-profile match costs an English fan only 40% more, but a German fan already 60%, and in Spain it's not uncommon to have to pay more than double, or even triple the normal price to see Barcelona or Real Madrid.
The question of what a fair ticket price is remains, of course, always subjective. Is it reasonable to ask €90.00 to see Messi play? Does a new stadium justify ticket prices of over £50.00? Or has the football world gone crazy and is asking more than €20.00 to see 90 minutes of football just plain exploitation of the loyalty of the fan?
Photo: © Flickr user Martin Belam
Featured photo: © Flickr user Timothy Boyd
* email if you'd like to know more.