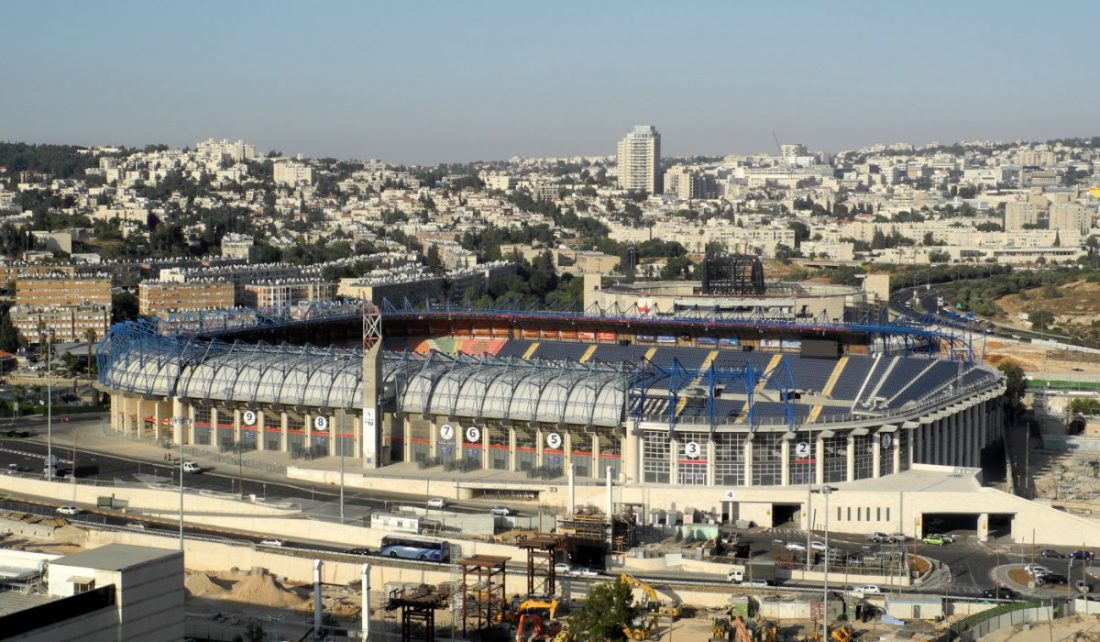 Key facts
Club: Beitar Jerusalem | Opening: 1991 | Capacity: 31,733 seats
History and description
Teddy Stadium got built in 1990 by the city of Jerusalem as the city lacked a large football stadium. It got named after mayor Teddy Kollek who had been a strong proponent of the construction of the stadium.
Upon completion, Beitar and Hapoel Jerusalem, who had previously had the small YMCA Stadium as their home, moved into the stadium.
Teddy Stadium opened on 14 September 1991 with a league match between Hapoel Jerusalem and Hapoel Tel Aviv (0-3), though the official inauguration was not until 1992.
Initially, the stadium consisted of only two stands on both sides with a capacity of 13,000 seats. In 1998, a North Stand was added raising capacity to 21,600 seats. In 2013, the stadium was completed with the construction of the South Stand. A few minor refurbishments followed in recent years.
There have been tentative plans to expand the stadium to a capacity of 50,000 seats, but these are not concrete at the moment.
Besides being the home of Beitar, the stadium is also the home of lower league clubs Hapoel Katamon Jerusalem and Beitar Nordia Jerusalem. Hapoel Jerusalem dissolved in 2019.
Teddy Stadium furthermore regularly hosts matches of the Israel national team having better facilities than the national stadium, Ramat Gan Stadium.
How to get to Teddy Stadium
Teddy Stadium is located in the Malha area on the southern edge of the city of Jerusalem. It lies about 5 kilometres away from the Old City and a similar distance from the modern city west of the Old City.
Jerusalem's high-speed railway station (with trains from Tel Aviv) and long-distance bus terminal Yitzhak Navon is located on the western edge of the city nearly 6 kilometres from the stadium.
From Yitzhak Navok take express bus 6 or 31, or regular bus 14 to get to the stadium. From the city centre take bus 17 from Shivtei Israel Street or Mordehai A'liash Street or bus 77 from King George Street.
Teddy Stadium lies right next to Malha railway stadium which used to be the last stop on the old Tel Aviv-Jerusalem line. If coming from Tel Aviv, it can still be more convenient to take the slow train (with transfer) directly to the stadium.
Beitar Jerusalem Tickets
Beitar tickets can be bought online through Leaan, or in person at the Leaan agency at 42 Frishman Street in Tel Aviv city cente.
Expect to pay from NIS 55.00 to NIS 80.00 for a ticket.
Photos of Teddy Stadium
Useful Internet links
Beitarfc.co.il – Official website of Beitar Jerusalem.
Itraveljerusalem.com – Jerusalem tourist information.
Egged.co.il – Jerusalem public transport information.