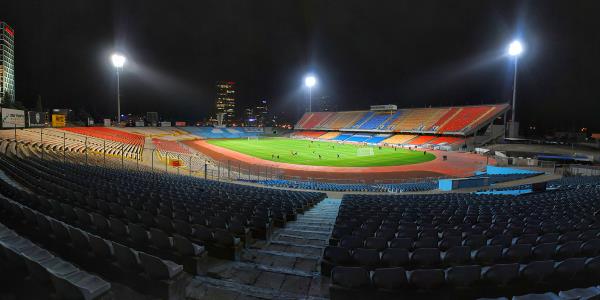 Key facts
Club: none | Opening: | Capacity: 41,583 seats
History and description
Ramat Gan Stadium is the national stadium of Israel and as such hosts the matches of the Israel national team. The stadium was built in 1950 to serve as the new national stadium of Israel and as the host venue of the 3rd Maccabiah games. 
The stadium underwent a major redevelopment in 1982 during which a new West Stand was constructed.
Further small improvements were made in the 2000s but the stadium has not been able to keep up with the standards of modern stadiums and therefore plans were made to rebuild a new stadium with a capacity 0f 55,000 seats in its place. However, little progress was made and at the moment plans are still uncertain to get realised.
Getting to Ramat Gan Stadium
Ramat Gan Stadium is located in the Ramat Gan suburb of Tel Aviv in the north-east of the city at about 5 kilometres from Rabin Square in Tel Aviv's centre and 3 kilometres from Tel Aviv Center-Savidor railway station. The stadium is located right next to HaYarkon Park, a popular venue for open-air concerts.
Ramat Gan Stadium can be reached by trains that run from Tel Aviv Center-Savidor. Trains run at least every hour but generally more often up to once every 20 minutes. The journey from Center-Savidor to Bne Brak station, which lies right next to the stadium, takes 8 minutes.
Address: Ramat Gan Stadium, Ramat Gan, Tel Aviv
Photos of Ramat Gan Stadium
Relevant Internet links

Visit-Tel-Aviv.com – Tel Aviv tourist information.
Rail.co.il – Israel train information and journey planner.