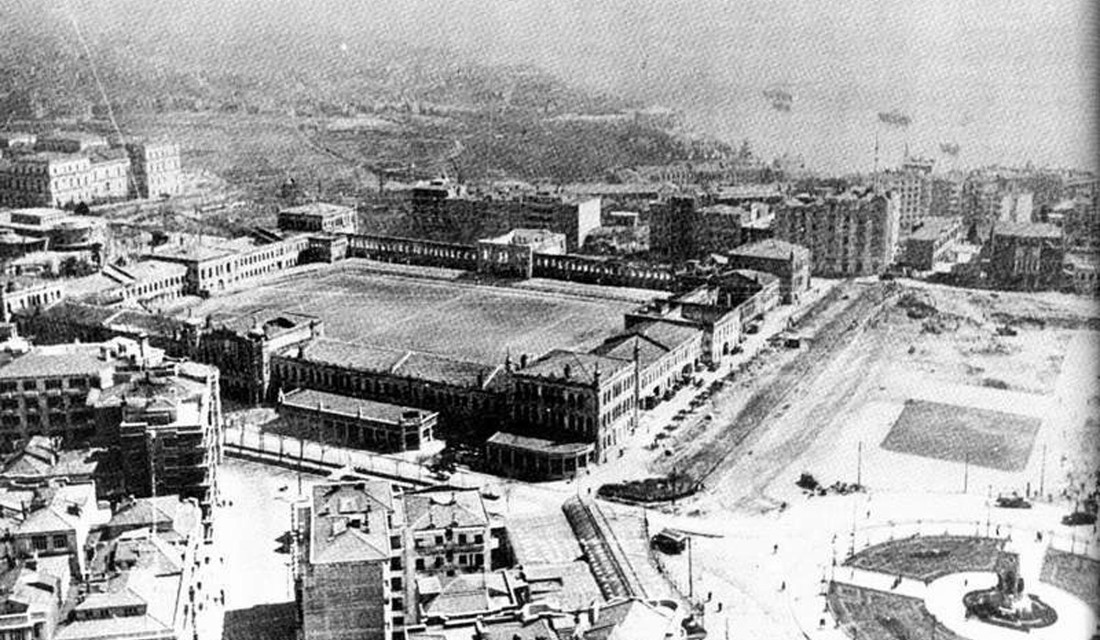 Key facts
Clubs: various | Opening: 1921 | Closing: 1940 | Final capacity: 8,000 – 10,000
Description
Taksim Stadium was between 1921 and 1940 the principal stadium of the city of Istanbul and hosted the matches of most of the city's major clubs.
Until 1921, the city's community stadium had been the predecessor of what is now Şükrü Saracoğlu, back then a simple stadium with one covered stand.
The city therefore decided to build a new stadium in the courtyard of the Taksim Military Barracks, a massive and architecturally fine building that had been built in the early 19th century and was located right on the major Taksim Square.
Wooden stands were built that could hold 8,000 to 10,000 people, and the stadium opened in 1921.
Two years later, Taksim Stadium was the site of the first match of the Turkish national team after the dissolution of the Ottoman Empire.
In 1934, a friendly between Fenerbahçe and Galatasaray led to a massive brawl on the pitch that involved the players as well as the crowd. The result was the end of friendlies between both clubs.
By then, Taksim Stadium had already become too small for the increasing crowds and Fenerbahçe had moved back to Şükrü Saracoğlu.
The city of Istanbul in turn decided to build a new stadium close to the Bosphorus river. Works on this stadium, Inönü Stadi, began in 1939, but due to the outbreak of the Second World War were only completed in 1947. It would become the permanent home of Beşiktaş JK, and was the home of Galatasaray until they moved to Ali Sami Yen in 1964.
Taksim Stadium was demolished in 1940, and then turned into a park, which is the present Taksim Gezi Parkı located next to Taksim Square.
Images of Taksim Stadium