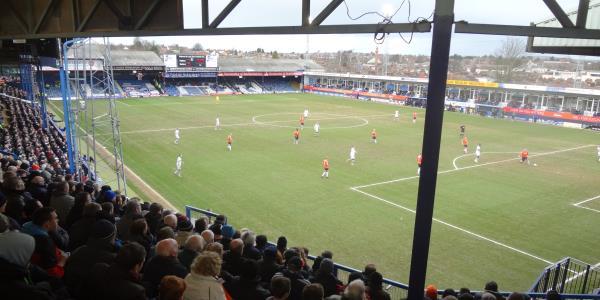 Key facts
Club: Luton Town FC | Opening: 1905 | Capacity: 10,226 seats
History and description
Luton Town moved to Kenilworth Road in 1905 about 20 years after the club was formed. The principal stand was a wooden main stand, which  burnt down in the 1920s and got replaced by the present main stand.
Kenilworth Road underwent further improvements and expansions in the 1930s when the maximum capacity of about 30,000 places was reached. Floodlights were installed in 1953, and in 1959 the record attendance of 30,069 was set in an FA Cup match versus Blackpool.
Only minor improvements were made to the ground in the next decades. In 1986, Kenilworth Road got converted into an all-seater, and in the same year the Bobbers Stand got replaced by a row of executive boxes. The Kenilworth Road Stand furthermore got its roof added.
In the 1980s, Luton Town was one of the few teams on England to play on artificial turf, which lasted until 1991 when it got banned.
The construction of the small David Preece Stand was the last development to Kenilworth Road and raised capacity back to just over 10,000 seats.
In the last two decades, Luton Town have explored various plans to build a new stadium, but plans initially came to nothing due to a lack of funding. More concrete plans however materialised in 2015, and the club now plans to move to a new stadium in Luton's town centre at the Power Court site. The new stadium will have a capacity of 17,500 seats. and the club currently hopes to move into the new ground at the start of the 2020-21 season.
How to get to Kenilworth Road
Kenilworth Road is located in a residential area just north-west of Luton town centre. The walk from Luton Central rail station takes 10 to 15 minutes. Regular trains connect Luton Central with London St Pancras International.
If arriving by car from the M1 motorway, the stadium is easiest to find from junction 11. Follow Dunstable Road for just over 2 miles toward the town centre. The stadium lies one block off Dunstable Road on the right hand side.
Address: 1 Maple Road, Luton, LU4 8AW
Luton Town Tickets
Tickets for Luton Town can be bought online, by phone +44 (0) 1582 416976, or in person at the ticket office at Kenilworth Road.
Tickets are also available at the ticket office before the start of the game.
Tickets have the same price of £18.00 for all stands. Email ticketoffice@lutontown.co.uk for more information.
Photos of Kenilworth Road
Relevant Internet links

Lutontown.co.uk – Official website of Luton Town FC.
Luton.gov.uk – Luton tourist information.