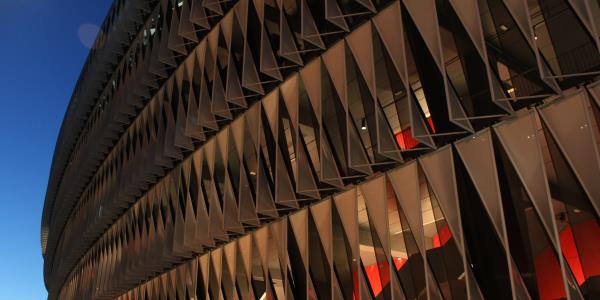 In less than a week time, two brand new arenas opened in Europe. On Monday, Athletic inaugurated their new San Mamés with a match versus Celta de Vigo, and today it was the turn to OGC Nice to unveil their new Allianz Riviera in a match against Valenciennes.
However, if we compare both situations, there are few similarities. The case of Bilbao is one that makes many football fans bemoan modern day football as the old Estadio San Mamés was one of Europe's most iconic stadiums. The oldest top-flight stadium of Spain made great fame with its patched-together stands, the arch over the main stand, and the fanatic home crowd right on the pitch. It got demolished just before it turned 100 years old.
Modern day football is not for the nostalgic though, and the case for a new stadium was easy to make. There is also not much wrong with the new San Mamés. Its exterior is outright stunning and makes for a splendid sight towering over the river Nervión. The interior ticks all boxes of what a modern stadium should look like with great sightlines, modern facilities, and the small middle tier that caters exclusively for the hospitality crowd. There are clear resemblances with the Emirates Stadium and Estádio da Luz, both examples of best practices in modern stadium design, not least because of the waving top line of the upper tier.
That said, apart from its exterior, there is little that distinguishes it from your average modern arena, and one remains with the feeling that Athletic's fans deserved something a little more unique. 
One thousand kilometres east in the south of France, Nice fans will have no such feelings. The Allianz Riviera is a magnificent new arena: an impressive exterior and roof formed of one part, excellent facilities and stands right on the pitch, and a distinctive small upper tier just to give it something of a different touch. Compared to the old, mostly uncovered, and dilapidated Stade du Ray, this is a massive leap forward.

While it is always hard to say goodbye to a stadium that has been a home for many years, few Nice fans will find it difficult to make the move. If one must find any gripes, then it is that it will take a little longer to get to the out-of-town Allianz Riviera in comparison with the central Stade du Ray. The rather odd name Allianz Riviera is something to get used to as well, but simply the result of all logical combinations with sponsor name Allianz already being taken (Brazilian Palmeiras had to resort to Allianz Parque). 
The big challenge for Nice lies in getting the Allianz Riviera to fill up. Their attendances at Stade du Ray were among the lowest of the league, but the Allianz Riviera had to have a capacity of 35,000 to be able to serve as a venue for the 2016 European Championships. Nice is a large city with a considerable amount of football tradition though, and that a new stadium can do wonders for attendances proved Lille when they moved into their new Stade Pierre Mauroy a year ago.
Athletic, on the other hand, will have no problems to pack their new San Mamés. The stadium is currently only two-thirds finished, which means a limited capacity of 35,000 for this season – about their average attendance at the old San Mamés. The new stadium will be a guaranteed sell-out in its first season and no tickets will go on public sale. In its second season, capacity will rise to 54,000, which will prove more challenging, but far from unattainable. 
Both teams got off to a good start at their new home with a 3-2 home win for Athletic and Nice beating Valenciennes with a convincing 4-0.
(Photo credits: San Mamés – Flickr user antxoa | Allianz Riviera – @villedenice)