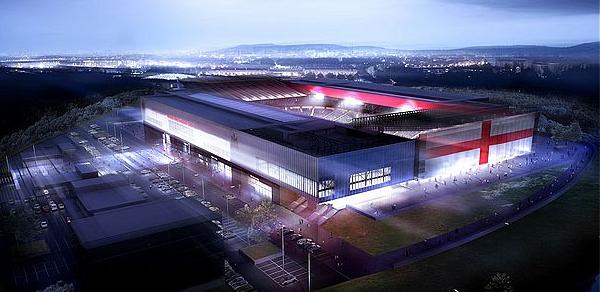 Key facts
Club: Bristol City FC | Capacity: 30,000 seats | Scheduled opening: n/a | Status: delayed
Description
Ashton Vale was a proposed new stadium of Bristol City FC, but its realisation is presently very unlikely.
Plans for a new Bristol City stadium had existed since the early 2000s and after various studies it was concluded that Ashton Vale, a site not far away from City's current home Ashton Gate Stadium, would be the best location for the new ground.
Definite plans were presented in 2007 and the club filed for planning permission in 2009. This was granted in 2010, but then progress stalled as several legal challenges were filed against the decision, mainly due to the site forming part of a green belt. Public inquiries had to decide over the fate of the stadium plans, but late 2013 the club announced that they had decided to renovate Ashton Gate instead, hereby indefinitely shelving the Ashton Vale plans.
Ashton Vale was planned to be built about a kilometre south-west of Ashton Gate close to the A370 on the tip of a former landfill. It was to have a capacity of 30,000 with the option to increase capacity later to over 40,000. The project had a budget of £92 million, of which most was to be provided by Bristol City owner Steve Lansdown with the rest coming from, amongst others, the sale of Ashton Gate and a naming rights deal.