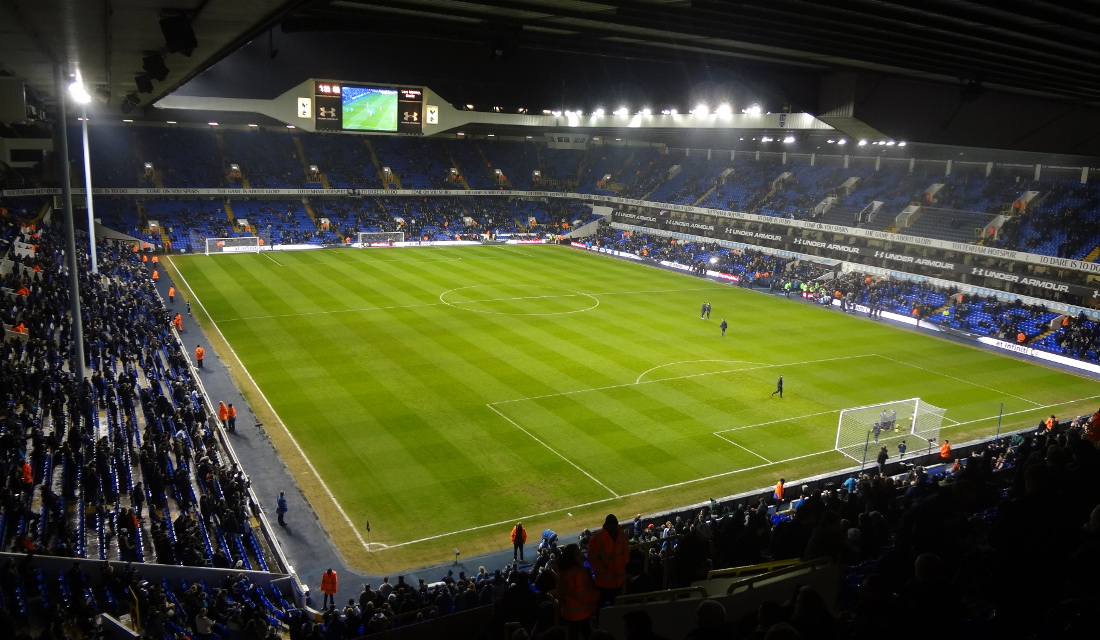 Key facts
Club: Tottenham Hotspur FC | Opening: 1899 | Capacity: 36,240 seats
History and description
Tottenham moved to White Hart Lane in 1899, bringing a few mobile stands from their previous ground to the site that had been rented from a brewery.
White Hart Lane officially opened on the 4th of September 1899 with a match between Spurs and Notts County (4-1).
The small ground was quickly expanded in the following six years: first with a covered main stand and then with wooden and banked terraces, resulting in a capacity of about 40,000 by 1905.
Redevelopments continued in the next decade when first Archibald Leitch was hired to design a new main stand, and a few years later a new covered East Stand was built. This resulted in the stadium getting its rectangular shape and a capacity increase to about 50,000 places.
White Hart Lane got further expanded in the early 1920s when two new covered terraces were built at both ends. In 1934, the East Stand got further developed and enlarged, resulting in a capacity of 80,000.
White Hart Lane welcomes a record crowd in 1938 when a total of 75,038 spectators attended a match between Tottenham and Sunderland.
The stadium remained largely unchanged for the next decades. Capacity started to slowly decline from the 1960s when parts of the terraces were converted into seating areas, though extra seats were created by linking up the West Stand with both ends.
The old West Stand was finally demolished in 1980 and replaced by a new all-seater stand, which opened in 1982. The East Stand got extensively renovated in 1989, which was followed by further refurbishments and the conversion of the stadium into an all-seater in the early 1990s.
The last change to the stadium was made in 1998 when a second tier was built on the Paxton Road Members Stand.
Capacity of White Hart Lane has remained relatively limited though, and as a result Spurs have considered various options from expanding White Hart Lane to building a new stadium, or even moving to the London Olympic Stadium.
The club is currently pursuing plans that were first presented in 2008 and involve the construction of a new stadium with a capacity of 61,000 seats adjacent to White Hart Lane. Spurs hope to move into their new stadium for the start of the 2018-19 season, though will have to play the 2017-18 season at a different ground.
(photos of the present White Hart Lane below)
How to get to White Hart Lane
White Hart Lane is located in the Tottenham area in the north of London at just over 6 miles from central London.
The stadium sits on Tottenham High Road, which is easily reached from the A406. The A406 connects with the M11 in the east and the A10 slightly west (which in turn connects with the M25 in the north). Exit the A406 toward Tottenham/Edmonton/A1010 and take the A1010 south. After a mile the stadium will show up on your left.
If coming from central London, follow the A10 north. Turn onto Tottenham High Road at Bruce Grove.
If using public transport, getting to the stadium is easiest done by train. White Hart Lane rail station is a short walk away from the stadium. The journey from Liverpool Street Station takes about 20 minutes. Northumberland Park rail station is an alternative only slightly further away from the ground, and can also be reached by train from Liverpool Street Station.
Trains to White Hart Lane Station can also be caught from Seven Sisters tube station, which is on the Victoria Line. It takes 15 minutes to get to Seven Sisters from Oxford Circus in Central London and then a further 5 minutes by train. Alternatively, one also walk from Seven Sisters (or South Tottenham overground station) to the stadium, which takes about half an hour.
Address: 748 High Road, Tottenham, London, N17 0AP
Eat, drink, and sleep near White Hart Lane
White Hart Lane is located in the Tottenham area, which did not use to be one of the best of London, but has recently regenerated somewhat. There are a few pubs and some place to eat around, but most will just get in for the match and eat and drink in central London.
There are no hotels in the area around the stadium, though one may be able to find some rental apartments. However, booking a hotel near Liverpool Street Station would only make for a short train journey, though this is not the cheapest area in London. There are more affordable options near, for example, Kings Cross St Pancras Station, from where you can quickly get to Seven Sisters station by tube. though Seven Sisters and Liverpool Street Station are easy to reach from most parts of London.
Tottenham Hotspur Tickets
Tickets for Tottenham Hotspur matches can be bought online, by phone 0844 844 0102 (from the UK) or +44 207 998 1068 (from abroad), or in person at the Ticket Office at White Hart Lane.
The Ticket Office is also opened on the day of the match until half-time. Tottenham sell out almost every league match and you are therefore advised to book tickets well in advance, especially since it is the last season at White Hart Lane.
Stubhub is Spurs' official secondary ticket marketplace and if tickets sell out through the club, you can try your luck on Stubhub, though expect to pay more than face value.
Spurs have divided their home matches into three pricing categories. Tickets for category C matches, the cheapest, range in price from £32.00 for a lower-tier seat at one of the ends to £47.00 for a seat at the Upper West Stand. Tickets for category A matches, the most expensive, cost between £48.00 and £81.00.
There are various seats at the East Stand that have a restricted view, which are somewhat cheaper.
You can find a stadium map here.
White Hart Lane stadium tours
Tottenham Hotspur offer various types of stadium tours, of which the classic tour is most common. The tour includes the players' tunnel, dressing rooms, dugouts and directors' box, and lasts 90 to 120 minutes.
Tours typically run two to four times a day depending on the day. The first tour typically starts at 11:00am with the last running at 14:00 and tours in between on the weekends and some days of the week. Check online for the current schedule and availability. There are no tours on matchdays.
Bookings can be made online or by calling the Ticket Office +44 (0) 844 844 0102. The club allows a limited number of walk-ups, but subject to availability, and it is therefore recommended to book in advance.
The classic stadium tour costs £20.00.
Photos of White Hart Lane
Relevant Internet links
Tottenhamhotspur.com – Official website of Tottenham Hotspur FC.
Visitlondon.com – Official London city guide.
Tfl.gov.uk – Website of the London Underground and other London public transport.
Journeyplanner.org – London public transport journey planner.
Nationalrail.co.uk – Check train times and fares.