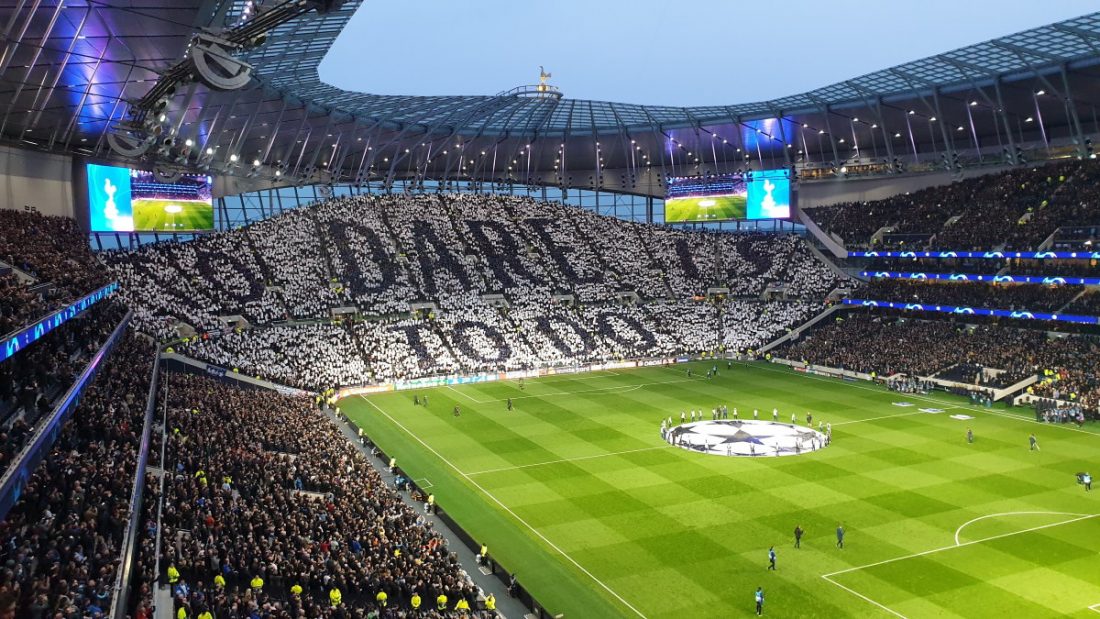 Key facts
Club: Tottenham Hotspur | Opening: 2019 | Capacity: 62,303 seats 
History & description
Tottenham Hotspur Stadium is the recently opened new stadium of Tottenham Hotspur that replaced their old ground White Hart Lane.
For years the club had been looking for ways to increase revenue by either refurbishing White Hart Lane, building a brand new stadium, or moving to an already existing stadium, which at different points in time was either Wembley Stadium or London Olympic Stadium.
However, after losing out on the Olympic Stadium, the club fully committed to plans that were first presented in 2008 and were often referred to as the Northumberland Development Project. These plans included a wider regeneration project besides the brand new stadium that was to be built in place of the old White Hart Lane. 
Following various delays, construction of the new stadium finally started in early 2016 adjacent to the old White Hart Lane so that Spurs could finished the 2016-17 at their old ground, which got demolished following the completion of the season. The club then moved to Wembley Stadium for what was thought to be a season but ended up taking close to two seasons due to more delays.
Tottenham Hotspur Stadium officially opened on 4 April 2019 with a league match between Spurs and Crystal Palace (2-0) with the first goal being scored by Son Heung-Min. Earlier already an under 18s and Legends match had been played at the stadium.
The stadium stands out by its single-tier home stand behind the goal with a capacity of 17,000 seats, and its retractable pitch that hosts a synthetic NFL pitch underneath. 
Apart from Spurs' home games, the stadium will host at least two regular season NFL games per year. 
How to get to Tottenham Hotspur Stadium
Tottenham Hotspur Stadium is located in the Tottenham area in the north of London.
The nearest underground station, Tottenham Hale station, is relatively far away, but with an approximate 30-minute walk still just at walking distance. The walk from Seven Sisters station along Tottenham High Road takes a few minutes longer but is easier to navigate, or take a bus up Tottenham High Road. Both stations are on the Victoria line that connects with central London.
Easier is taking the overground rail though, with trains running from Liverpool Street station in central London to White Hart Lane station, which lies a short walk from the stadium. The journey takes about half an hour.
Instead of an overground TFL train, you can also catch a national rail train from Liverpool Street station to Northumberland Park station, which lies on the other side of the stadium.
Expect queuing at all above stations after the match and it can be quicker to walk to a station further away. Spurs furthermore run shuttle buses from Wood Green station on the Piccadilly Line and Alexandra Palace.
Address: 782 High Rd, Tottenham, London N17 0BX
Eat, drink, and sleep near Tottenham Hotspur stadium
Tottenham Hotspur Stadium is located in the Tottenham area of London, which used to have a somewhat bad reputation, but has improved a lot in recent years.
There is a good amount of pubs and (fast food) restaurants in the area around the stadium, and of course plenty of options inside the stadium as well.
There are few hotels located directly near the stadium, but some apartment rentals to choose from if you wish to stay near the stadium. Most people will decide to stay elsewhere in London though and travel in for the match.
Click here for an overview of hotels and apartment rentals near Tottenham Hotspur Stadium and here for hotels elsewhere in London.
Tottenham Hotspur tickets
Tottenham Hotspur tickets can be bought online.
Tickets will first go on sale for club members and if they remain available after, on general sale. At the moment, regular league matches are unlikely to go on general sale due to high demand and becoming a club member may therefore be necessary to get tickets.
Tottemham Hotspur Stadium tours
Tottenham Hotspur organise stadium tours that last app. 90 minutes. The tour includes the changing rooms, players' tunnel and players' bench.
Tours are guided and run multiple times a day, typically between 10:30 am and 4:00 pm.
Click here for the latest schedule and bookings. The tour costs £30.00
Photos of Tottenham Hotspur Stadium
Photo credits: Bluejam & Hzh
Useful Internet links
Tottenhamhotspur.com – Official website of Tottenham Hotspur.
Visitlondon.com – Official London city guide.
Tfl.gov.uk – Website of London public transport.
Journeyplanner.org – London area public transport journey planner.
Nationalrail.co.uk – Check train times and fares.