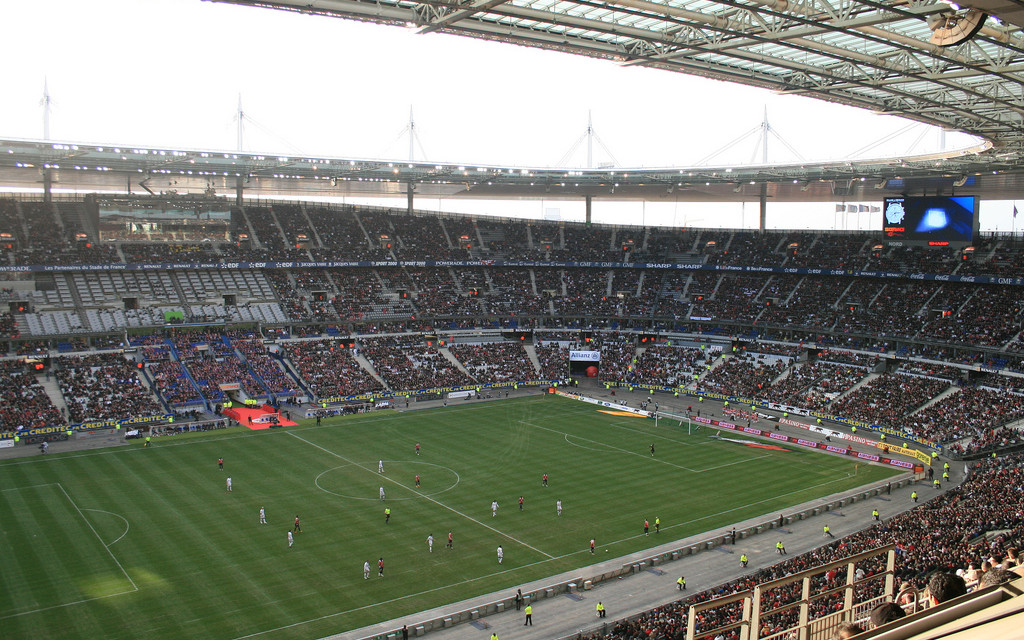 Key facts
Club: none | Opening: 1998 | Capacity: 80,000 seats
History and description
Stade de France is the largest stadium in France and the stadium where the French national team plays its most important home matches.
Stade de France got built to serve as the centrepiece of the 1998 World Cup. At that time no stadium in France had a capacity of over 45,000 and the tournament needed a 70,000+ stadium.
Construction of the stadium began in 1995 and after 31 months, on the 28th of January 1998, it officially opened with a friendly match between the national teams of France and Spain. Zinedine Zidane scored the first and only goal of the match.
During the 1998 World Cup, Stade de France hosted nine matches, among which the opening match between Brazil and Scotland (2-1), the semi-final between France and Croatia (2-1), and the final between France and Brazil (3-0).
The stadium has also hosted two Champions League finals, the first in 2000 between Real Madrid and Valencia (3-0), and the second in 2006 between Barcelona and Arsenal (2-1).
In 2016, Stade de France once again hosted the final of a major tournament when the European Championships were played in France. On top of the final between Portugal and France (1-), it hosted four first round group matches, one round of 16 match, and the quarter final between France and Iceland (5-2).
In 2015, Stade de France was the site of a terrorist attack when three suicide bombers detonated bomb vests outside the stadium during a France vs Germany friendly international. One suicide bomber had tried to enter the stadium, but his suicide vest was discovered during security checks. He then blew himself up, killing one bystander. The other two suicide bombers did not kill any innocents.
How to get to Stade de France
Stade de France is located in the Parisian suburb Saint-Denis, approximately 3 kilometres north of the city limits of Paris, 5 kilometres north of Montmartre, and 8 kilometres from the Louvre museum.
Two motorways run directly past the stadium, the A1 (which connects with the centre of Paris and the Peripherique further south) and the A86. From the A1 take exit 2 Stade de France and from the A86 take exit 9 Saint-Denis – La Plaine Stade de France.
To reach the stadium by public transport you can either take the metro or the RER (metro extension). Both RER lines B and D can be taken from station Châtelet (10-minute ride) and Gare de Nord (5-minute ride). If you take line B, get off at station La Plaine Stade de France. If line D, get off at Stade de France Saint Denis.
Metro line 13 connects the stadium with stations Montparnasse (25 mins), Invalides (20 mins) and Saint-Lazare (15 mins). Get off at stop Saint-Denis Porte de Paris.
Tram line 1 furthermore connects the stadium with Paris' eastern suburbs.
Address: Stade de France, 93216 Saint-Denis
Eat, drink, and sleep near Stade de France
The area around Stade de France is certainly not a highlight of France. It is a mix of the typical residential suburb, low-rise office parks, and industrial estates, and there is little entertainment around.
It is a short metro ride from Paris' city centre to the stadium though, so focus your eating and drinking on the many options available in the centre.
If you do wish to stay as close as possible to the stadium, e.g. to avoid the queuing for public transport after a match, then there are few hotels around, many of the typical mid-level chain type.
There is a Novotel right opposite the stadium. It gets decent reviews, though expect to pay at least €100.00. There is also an almost similarly priced Ibis Hotel near metro station La Plaine, and the Adagio Access hotel near station Stade de France.
For those on a budget, Hotel Campanile is the most affordable option, though this means a bit of a walk in return. If you have more money to spend, then the Courtyard by Marriott will likely have your preference. For all hotels near Stade de France click here.
If you prefer to stay in Paris' city centre but want to have easy transport connections to the stadium, then staying near Gare du Nord is an option. Remember that areas around large railway stations tend to get slightly dodgy at night, in which case you might also want to consider a hotel at walking distance toward the Montmartre area. Staying near Gare Saint-Lazare also gives you easy transport options, but hotels tend to be pricier in this area. More options in Paris' city centre here.
France National Team Tickets
No club team currently occupies the Stade de France as Paris Saint-Germain play their home matches at the Parc des Princes. Ticket for matches of the French national team can be bought online on the Stade de France website (which also sells rugby tickets), and the website of the French Football Federation.
Stade de France stadium tours
Stade de France offers guided stadium tours that include visits to the presidential lodge, changing rooms, players' tunnel, and a museum that is dedicated to the construction of the stadium and the events that have been held  over the years. The tour lasts about 60 minutes and a further 30 minutes can be spend at the museum.
Tours run every day of the week with some variation depending on the season. French language tours typically run five to six times a day between 10:30 am and 4:00 pm, while English language tours tend to run twice a day at 11:00 am and 2:00 pm. Check the Stade de France website for an up-to-date schedule. There are no tours on the day of an event and the day before an event.
The tour costs €15.00. Reservations can be made through the website of the Stade de France or by phone +33 (0) 892 700 900, but aren't necessary as tickets are sold on a walk-up basis.
Photos of Stade de France
Relevant Internet links
Stadedefrance.com – Official website of the Stade de France.
Parisinfo.com – Official website of the Paris tourism office.
RATP.fr – Paris public transport maps, timetables, and fare information.