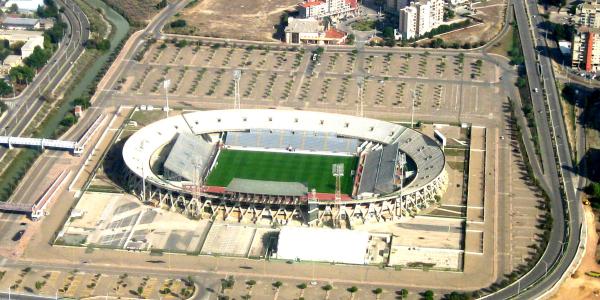 Key facts
Club: none | Opening: 1970 | Capacity: 23,486 seats
History and description
Stadio Sant'Elia was for years the home stadium of Cagliari Calcio, but currently stands empty after the club left in 2012 for the nearby Is Arenas.
Stadio Sant'Elia opened in 1970. The first match played at the stadium was a Coppa Italia match between Cagliari and Massese. It could hold about 70,000 spectators at that time, however this was reduced to almost 40,000 after it got renovated for the 1990 World Cup. During the World Cup it hosted three group matches.
In the following decades the state of the stadium deteriorated significantly, and in the early 2000s both curves and one of the long sides were closed and three temporary bleachers were placed on the athletic track. This almost halved the stadium's capacity to 23,486 seats.
As a result, Cagliari started exploring the possibilities to build a new stadium. Initial plans were changed a few times with the perspective of a possible Euro 2016 in Italy, but in the end the club settled on a 23,000-seater in the Elmas area near the airport.
The project, often referred to as Karalis Arena, got halted though by protests of the local aviation authority and current prospects look bleak.
Stadio Sant'Elia, in the meantime, further deteriorated and safety measures brought down capacity to a mere 14,250 seats. Conflicts between Cagliari and the city government, owner of the stadium, finally led to Cagliari moving away from Sant'Elia to a temporary makeshift stadium in the nearby municipality of Quartu.
Cagliari will stay at the Is Arenas for at least three years and in the meantime hopes to find a solution for the Karalis Arena. The city of Cagliari is currently looking for a new purpose for Stadio Sant'Elia.
Getting there
Stadio Sant'Elia is located in the south-east of the city of Cagliari, a few hundred metres from the Mediterranean coast and about 2.5 kilometres from Cagliari's city centre.
Bus line PQ brings you from the centre close to the stadium. Take the bus on the Via Roma and get off at stop Viale Poetta. The journey takes only 10 minutes.
Address: Via Vespucci, Cagliari
Relevant Internet links

Visitacagliari.it – Tourist information for the city of Cagliari.
Ctmcagliari.it – Information about Cagliari public transport.