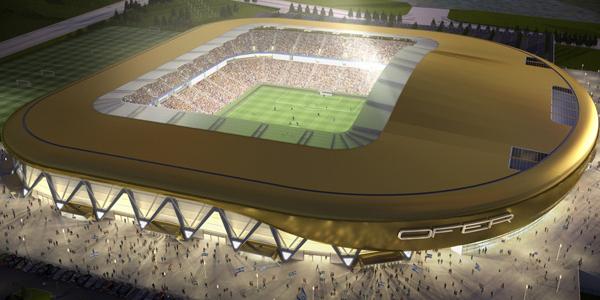 Key facts
Club: Hapoel FC & Maccabi FC | Capacity: 30,000 seats | Sched. opening: 2013 | Status: under construction
Description
Sammy Ofer Stadium is the currently under construction new home for Hapoel Haifa FC and Maccabi Haifa FC.
The first stone of the Sammy Ofer Stadium was laid in June 2010 and soon after a start was made with the foundation works. These had been completed by early 2012 and works had started on erecting the stands. The stadium is expected to be completed in the spring of 2013.
Sammy Ofter Stadium will have a capacity of 30,000 seats, which is more than double the amount of Hapoel's and Maccabi's current Kiryat Eliezer Stadium.
The stadium is named after wealthy businessman Sammy Ofer, who has provided a significant part of the funding (US$20 million) in exchange for the naming rights.
The architects that designed the stadium are KSS Group. The costs are budgeted at US$135 million.
The stadium is being built in the south of the city of Haifa at just over 6 kilometres from Haifa city centre and at only a few hundred metres from the Mediterranean Sea coast.