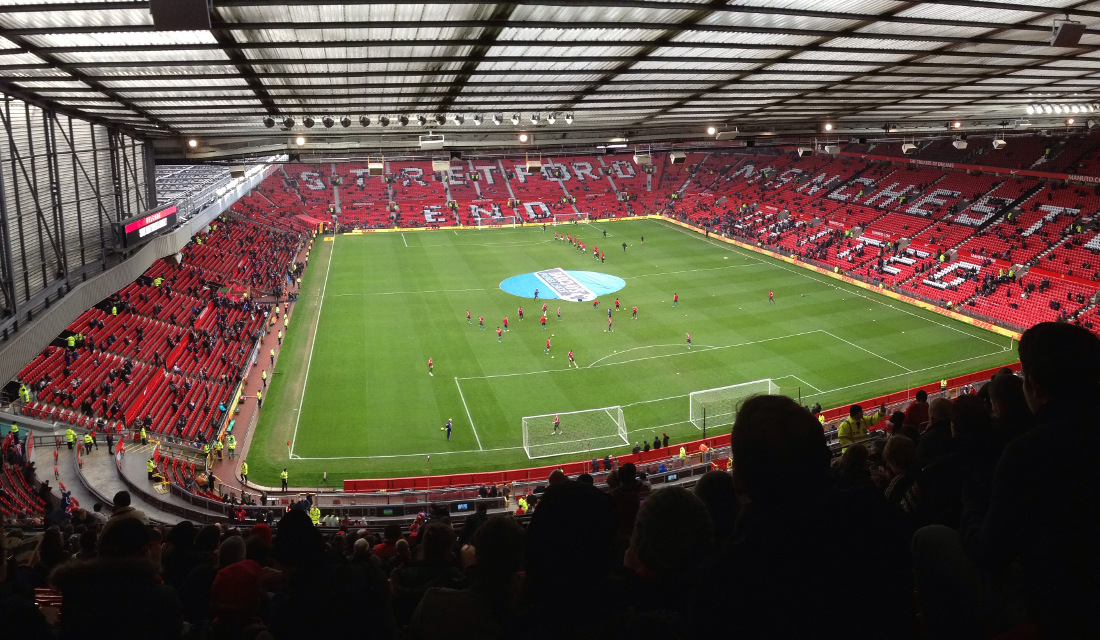 Key facts
Club: Manchester United FC | Opening: 1910 | Capacity: 75,811 seats
History and description
In the first decade of the 20th century, Manchester United played their home matches at a 50,000-stadium at Bank Street, when then president Davies began planning for a new stadium with double that capacity. A site was chosen near Trafford Park industrial estate, and architect Archibald Leitch was appointed to design the stadium.
Old Trafford officially opened on 19 February 1910 with a match between Manchester and Liverpool (3-4). The stadium at that time consisted of one covered seating stand and open terraces on the other three sides. Capacity was slightly over 80,000.
Few changes were made to the stadium until the construction of a roof over the United Road terrace in 1934.
In 1939, Old Trafford recorded its highest attendance of 76,962 during an FA Cup semi-final match between Wolves and Grimsby Town.
Due to its proximity to Trafford Park industrial estate, Old Trafford got heavily damaged by German air raids during World War 2. It took eight years to rebuilt the stadium, the delays being caused by limited post-war resources, and during that time United played at Maine Road, the ground of rivals Manchester City.
In 1949, Man United moved back to a reconstructed, though smaller, Old Trafford. Incremental improvements and expansions were made in the following decades, which culminated in the complete renovation of the United Road (North) Stand in the 1960s. This stand also held the first private boxes to be constructed at a British ground.
Old Trafford was one of the playing venues of the 1966 World Cup, during which it hosted three group matches. In those years, the capacity of the stadium fluctuated around 60,000.
Old Trafford got gradually further improved in the 1970s and 1980s, including new and better cover, increased seating areas, and improved executive facilities. At the same time, however, the rise of hooliganism also resulted in the installation of security fences separating the stands from the pitch.
In the early 1990s, plans were made to convert the stadium into an all-seater. This involved the demolition and replacement of the famous Stretford End terraces and the placement of seats in the lower-tiers of the other stands.
Old Trafford got selected to be one of the playing venues of the 1996 European Championships, and as a result a new North Stand opened in 1995. By the start of Euro 1996 the stadium could hold about 56,000 fans.
During the Euro 1996 tournament, Old Trafford hosted three group matches, a quarter-final, and the semi-final between the Czech Republic and France (0-0).
In the years following, second tiers were added to the East and West Stand, raising capacity to 68,000 seats.
In 2006, the stadium reached its current capacity when stands got built in the upper-tier corners on both sides of the North Stand.
Old Trafford hosted its only European final in 2003, when the Champions League final between Milan and Juventus (0-0) was played at the stadium.
In 2011, the stadium's North Stand got renamed Sir Alex Ferguson Stand in honour of the club's long-time manager.
Old Trafford's South Stand remains the only two-tiered stand of the stadium, but expansion possibilities are limited due to the railway line that runs behind the stand. While Man United has indicated that a further expansion to 95,000 seats remains a possibility, no concrete plans exist at the moment.
(photos of the present Old Trafford below)
How to get to Old Trafford
Old Trafford is located just over 2 miles south-west from Manchester's city centre and just under 3 miles from Manchester Piccadilly Station.
If arriving by car from the M60, take junction 7&8 and turn onto Chester Road (A56) northbound. Follow Chester Road for about 2 miles and turn left onto Sir Matt Busby Way (access closed on matchdays).
If using public transport, the stadium is best reached by Metrolink overground metro. From Piccadilly Station it is a 15-minute journey to Old Trafford station, which lies a 5-minute walk away from the stadium.
On matchdays a special train service is provided from most Manchester city centre stations to Old Trafford Stadium rail station.
Address: Sir Matt Busby Way, Old Trafford, Manchester, M16 0RA
Eat, drink, and sleep near Old Trafford
Old Trafford is located in an area that is a mix of residential housing and offices and light industry. The area lacks excitement, though there are a good few hotels around if you wish to stay close to the stadium.
Hotel Football Manchester, backed by a number of former United players such as Gary Neville and Ryan Giggs, lies right next to the stadium and gets great reviews. Chesters Hotel, Victoria Warehouse Hotel, and Premier Inn are also at short walking distance and somewhat cheaper.
There are also various hotels a little further north around the quays, which includes such chains as Ibis Budget, Ramada, and Holiday Inn Express. For an overview of all hotels near Old Trafford click here. There are naturally also many options in Manchester's city centre, a short Metrolink journey away, though these hotels tend to be a little more expensive.
The few pubs close to the stadium fill up quickly on matchdays, which is good for the atmosphere, but if you want to sit down for some food, it may be wiser to do so in the centre. In particular the Deangate Locks and Castlefield area are perfectly situated on the Metrolink.
Manchester United Tickets
Tickets for Manchester United games can only be bought online.
Match tickets for league games tend only to go on sale for club members. The cheapest membership in combination with a ticket costs £20.00 per year. Even though Manchester United almost always play for a full house, tickets for games against lower-profile teams will often be easily available for club members if bought in advance, especially for seats at the upper tiers.
Ticket prices range from £31.00 for a lower-tier seat behind one of the goals to £53.00 for a central seat at the Sir Alex Ferguson or South Stand.
You can find a seating plan here. Call +44 (0) 161 868 8000 for more information.
Old Trafford stadium tours
Manchester United organise guided stadium tours that include the dugouts, players tunnel, and the Manchester United Museum. The tour lasts about 70 minutes, which does not include time spent in the museum.
Tours run seven days a week except matchdays and only run until 1:00 pm the day before a European home match. Tours run about every 30 minutes between 10:00 am and 4:30 pm, but opening times and frequency depend on the season. The museum is opened from 9:00 am to 5:00 pm, but closes on weekend matchdays and three hours before a non-weekend match.
Pre-booking of tours is not required, but highly recommended as limited places are available and tours particularly sell out the day before and after a home game. Bookings can be made online.
The tour costs £18.00. For more information call +44 (0) 161 826 1326 or email toursenquiry@manutd.co.uk.
Photos of Old Trafford
Relevant Internet links
Manutd.com – Official website of Manchester United FC.
Visitmanchester.com – Official tourism website for Greater Manchester.
Metrolink.co.uk – Information on the Metrolink transport system.
TfGM.com – Manchester public transport maps, timetables, and fare information.