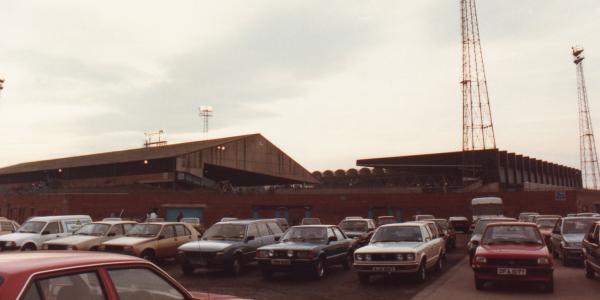 Key facts
Club: Manchester City | Opening: 1923 | Closing: 2003 | Final capacity: 35,150 | Maximum capacity: 85,000
Description
Maine Road was for 80 years the home of Manchester City until the club moved to the Etihad Stadium in 2003.
In the early decades of the 20th century Manchester City played their home matches at Hyde Road, but after the ground got severely damaged in a fire, plans were made to move to a bigger ground.
Maine Road opened on the 25th of August 1923 with a match between Manchester City and Sheffield United (2-1). The stadium could hold about 85,000 spectators at that time, which made it the largest stadium in England after Wembley Stadium.
The record attendance was achieved in 1934 when 84,569 spectators visited an FA Cup match between City and Stoke. Just after the Second World War the club shared Maine Road with local rivals Manchester United after Old Trafford had gotten damaged during an air-raid.
In the late 1950s the Main Stand got redeveloped and renamed The Kippax Stand. Further smaller improvements were made in the years following and in the 1970s a new North Stand was constructed.
In the 1990s City followed the Taylor Report requirements in redeveloping the ground into an all-seater, which included the construction of two new stands. The first to be completed was the Platt Lane Stand in 1993, which was followed one year later by the demolition and reconstruction of the Kippax Stand, which was turned from a terrace into a new three-tier all-seater stand.
Plans for further redevelopments were made, but abandoned after the club relegated in 1996. The club eventually decided to move away from Maine Road when the City of Manchester Stadium got available after the 2002 Commonwealth Games.
The final capacity of the stadium was 35,150 seats. The last match at Maine Road was played on the 11th of May 2003. The match ended in a 0-1 defeat of Manchester City against the visitors Southampton.
The stadium got finally demolished in late 2003 and subsequently replaced with a housing development. Maine Road was located in the Moss Side area south of Manchester's city centre.