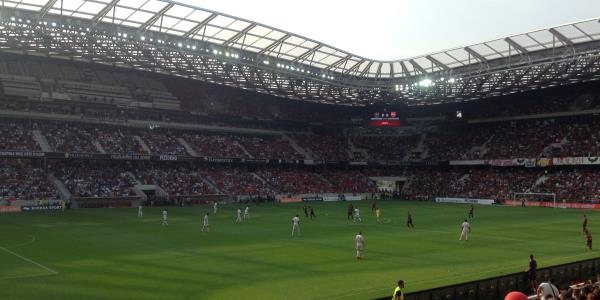 Key facts
Club: OGC Nice | Opening: 2013 | Capacity: 35,624 seats
Description
The Allianz Riviera, earlier referred to as Nice Eco Stadium and Grand Stade de Nice, is the recently opened new stadium of OGC Nice.
Nice had long tried to build a new stadium to replace their dilapidated Stade du Ray. Earlier projects were abandoned in 2002 and 2006, and it was only after France got awarded the Euro 2016 organisation that significant progress was made.
Definite plans of the stadium were presented in the middle of 2010, and one year later, in August 2011, construction started. The stadium, designed by Wilmotte & Associés, cost an estimated €245 million, part publicly and part privately financed. In 2012, Nice announced a naming rights deal with insurance firm Allianz, resulting in the name Allianz Riviera.
The Allianz Riviera officially opened on the 22nd of September 2013 with a league match between Nice and Valenciennes (4-0).
Getting there
The Allianz Riviera is located in the western suburbs of the city of Nice at about 10 kilometres from Nice's city centre, and about 5 kilometres from Nice International airport. 
The stadium lies right on the A8 motorway, which runs north of the city of Nice all along the French Riviera. Take exit 52 to get directly to the stadium, though other parking areas are easier reached via exit 51.
If coming from central Nice, it is easier to take the Route de Grenoble north from the Promenade des Anglais near Nice International Airport.
If using public transport, one can reach the stadium with special matchday service 95, which runs from Hôpital St Roch in Nice's city centre. The journey takes about 50 minutes. The route of regular line 9/10 is furthermore extended so that it serves the stadium, though the journey takes about 75 minutes.
Alternatively, one can take a train from Nice's main rail station to Saint-Augustin station, from where shuttle buses run to the stadium. 
Finally, one can catch a commuter train to Digne and get off at station Saint-Isodore, from where it is a 10-minute walk to the Allianz Riviera. Trains only run a few times a day, but extra trains may run on event days.
Address: Boulevard des Jardiniers , 06206 Nice
Eat, drink, and sleep
The Allianz Riviera is located on the edge of Nice in a semi-rural area which is a mix of farms, housing, and some offices and light industry. There is little around in terms of entertainment, though if you have some time to spare and need something to eat or drink, you will find a few places around rail station Saint-Isidore. Otherwise, eating and drinking is better done in central Nice.
There are two hotels near the Allianz Riviera, both in the vicinity of Saint-Isidore: Servitel Nice Saint Isidore gets the better reviews, while the Kyriad Nice is a little more affordable. Both are a 10-minute walk away from the Allianz Riviera, and will likely most of all appeal to those arriving by car.
Otherwise, there are various options near Nice Côte d'Azur Airport, which is not too far away, and many more in Nice's pleasant city centre.
Tickets
Tickets for Nice games can be bought online, at the club store at the Place Masséna in Nice's city centre, or via the Francebillet and Ticketnet sales outlets.
Ticket prices typically range from €10.00 for a seat behind the goal to €50.00 for a central seat at the main stand. Prices can get increased for a few high-profile matches.
Photos
Relevant Internet links

Ogcnice.com – Official website of OGC Nice.
Allianz-riviera.fr – Official website of the Allianz Riviera.
Nicetourisme.com – Website of the Nice tourist office.
Lignesdazur.com – Nice public transport information.