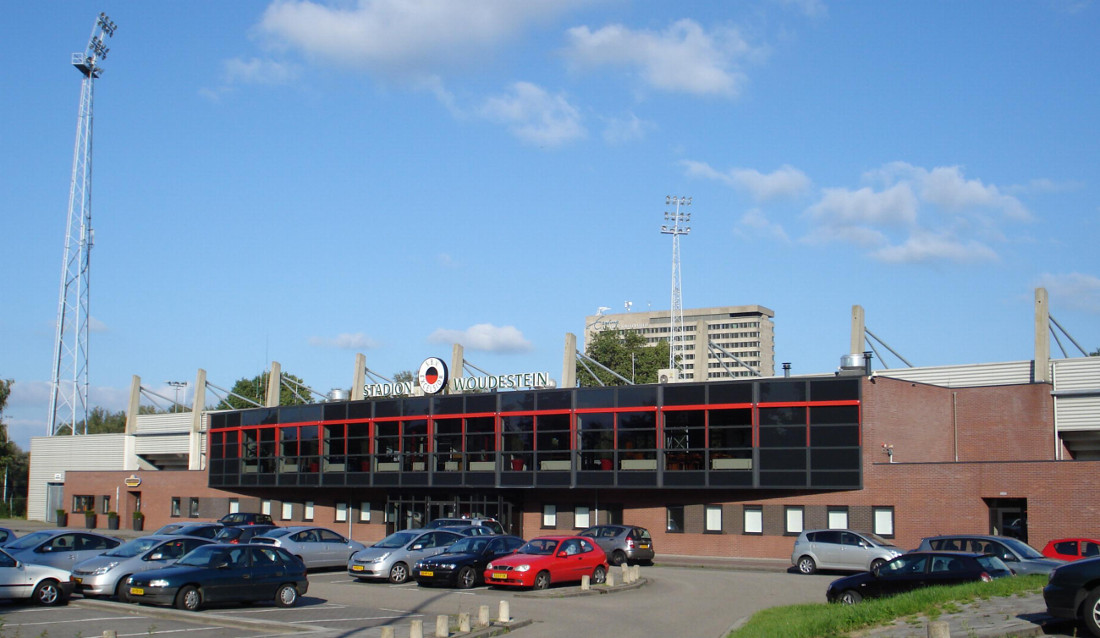 Key facts
Club: SVB Excelsior | Opening: 1902 | Capacity: 4,400 seats
History and description
Stadion Woudestein, since 2017 called Van Donge & De Roo Stadion, has been the home of Excelsior since their foundation in 1902, albeit with a few interruptions in the early 20th century.
Woudestein became the permanent home of Excelsior in 1939, after it had undergone an extensive renovation. In the following 5 years though, the club was unable to use the ground as anti-aircraft guns were stationed there during World War 2.
The stadium underwent renovations in 1958 and 1973, though all this time remained of modest size with a maximum capacity of about 11,000 places.
By the 1990s, it had become severely outdated though, and the club looked into sharing a ground with Sparta Rotterdam. These plans fell through though, and instead they decided to renovate Woudestein.
Two new stands were built, including a new main stand with business seats, resulting in a capacity of 3,500 seats. Stadion Woudestein officially reopened on 31 July 2000 with a friendly match against Feyenoord.
in 2010, one of the stands was named after Robin van Persie, who played in the club's youth academy. In the same year the club also switched to an artificial pitch.
In 2016, following Excelsior's promotion to the Eredivisie and their first two successful seasons in the top flight, the club decided to expand the stadium by filling two out of four corners and upgrade the hospitality facilities. This raised capacity to the current 4,400 seats.
In 2017, Stadion Woudestein got renamed Van Donge & De Roo Stadion following a 10-year naming rights sponsorship deal.
How to get to Stadion Woudestein
Stadion Woudestein is located toward the east of Rotterdam, on the north bank of the river Meuse at about 3 kilometres from Rotterdam city centre and 4 kilometres from the main railway station.
The stadium lies right next to the Erasmus University campus in a mainly residential area.
From Rotterdam's main railway station the stadium can be reached with tram 21. Take the tram in the direction of De Esch, and get off at stop Woudestein. The tram can also be taken at the Coolsingel and Blaak avenues in the city centre. Trams leave every 10 to 20 minutes for the 15-minute ride.
Address: Honingerdijk 110, 3062 NX Rotterdam
Excelsior Tickets
Tickets for Excelsior matches can be bought online, or at the ticket office at the stadium.
For a few matches Excelsior requires possession of a Club Card to be able to buy tickets.
If tickets remain available, these can also be bought on the gate on the day of the match. Excelsior rarely sells out in the Eerste Divisie.
Tickets cost either €22.00 for a seat at the main stand or €17.00 for all other stands. For more information email ticketing@sbvexcelsior.nl.
Photos of Stadion Woudestein
Relevant Internet links
Sbvexcelsior.nl – Official website of SBV Excelsior.
Rotterdam.info – Website of the Rotterdam tourist board.
RET.nl – Rotterdam public transport information.
9292ov.nl – Public transport journey planner.