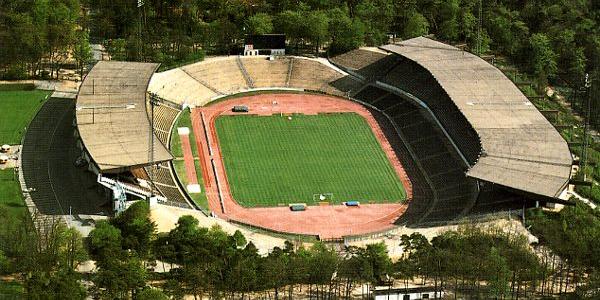 Key facts
Club: Eintracht Frankfurt | Opening: 1925 | Closing: 2002 | Final capacity: 51,146 | Maximum capacity: 87,000
Description
The Waldstadion officially opened on the 21st of May 1925. The first football match at the stadium took place a few weeks later when 1. FC Nürnberg and FSV Frankfurt played for the German title (1-0).
The stadium could initially hold about 37,000 spectators, mostly standing, and formed part of a larger sport complex. It counted as one of the most modern of the country and the city of Frankfurt therefore applied to organise the 1936 Olympics. After intervention of the national government these were moved to Berlin though.
The stadium got expanded between 1936 and 1938 to a capacity of 54,000. While the Waldstadion did not serve as Eintracht's permanent home in those years, the club did move to the stadium for occasional high-profile matches.
In 1953 Eintracht played FC Kaiserslautern for the German title, and while the stadium could only hold 54,000 people, a total of 68,000 tickets were sold and many thousands of people more obtained illegal entry. Chaos ensued and more than 200 people got hurt.
As a result the city of Frankfurt decided to almost completely rebuilt the stadium. Works lasted about 19 months and on the 14th of May 1955 the Waldstadion reopened. It could then hold a total of 87,000 spectators of which 61,000 standing.
In reality only 81,000 people were allowed into the stadium and this record attendance was set on the 23rd of May 1959 when Eintracht played FK Primasens for the German title. After the creation of the Bundesliga in 1963, Eintracht made the Waldstadion its permanent home.
In 1968 the city of Frankfurt applied to become a host city of the 1974 World Cup. As a result the stadium had to get thoroughly renovated, partly fitted with cover, and standing areas had to get converted into seats to reach the minimum requirement of 50% seats. Capacity got therefore reduced to 61,000 places.
During the 1974 World Cup the stadium hosted the opening match between Brazil and Yugoslavia (0-0), a further two matches in the first group stage, and two matches in the second group stage, among which the decider between West Germany and Poland (1-0).
Few changes were made in the years following. In 1988 the Waldstadion was again one of the selected playing venues during the European Championships that were played that year. It hosted two group matches during the tournament.
By the late 1990s the Waldstadion had significantly aged and capacity had been reduced to 51,146  (30,546 seats) due to safety measures. The upcoming 2006 World Cup therefore provided the perfect incentive to build a new stadium.
The last match at the old stadium got played in May 2002 and in the three years following the stadium got gradually demolished and replaced by the new Commerzbank Arena, which opened in May 2005.