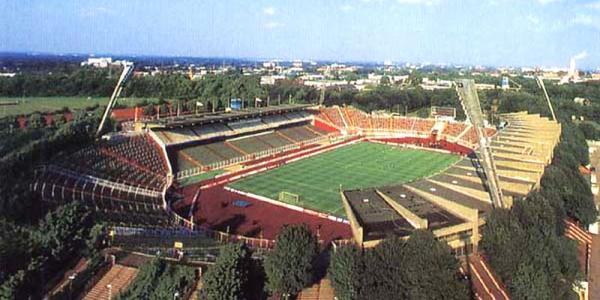 Key facts
Club: Hamburger SV | Opening: 1953 | Closing: 1998 | Final capacity: 61,000 | Maximum capacity: 76,000
Description
The Volksparkstadion was for almost half a century the home of Hamburger SV until it got demolished in 1998 and replaced by the Hamburg Arena (currently called Imtech Arena).
In the first half of the 20th century Hamburger SV and its predecessors played their home matches at the Rothenbaum-Sportplatz, but occasionally moved to the larger Altonaer Stadion, which was located in the Altonaer Volkspark.
After the Second World War criticism on the Altonaer Stadion and its poor sightlines slowly grew, and in 1951 the city of Hamburg decided to build a new stadium in its place.
The Volksparkstadion officially opened two years later on the 12th of July 1953. The new stadium could hold a total of 76,000 spectators.
It took a further decade though for HSV to make the definite move from the Rothenbaum-Sportplatz to the Volksparkstadion. The smaller Rothenbaum-Sportplatz, capacity 28,000, had then finally proved to be too small for the rising Hamburg club.
The Volksparkstadion received a first refurbishment in the early 1970s in order to make the stadium ready for the 1974 World Cup. The main changes constituted of increased and improved seating areas and additional cover. The changes also led to a reduction of capacity to 61,000 places.
During the 1974 World Cup the stadium hosted three matches in the first group stage.
The practically unchanged Volksparkstadium was again a playing venue at the 1988 European Championships. The stadium hosted the semi-final between West Germany and Holland that ended in a 1-2 defeat for the hosts.
The stadium had already began to significantly age though, and when a new generation of stadiums started to get built in the mid 1990s, HSV did not want to get left behind.
In 1998 the city of Hamburg sold the stadium to HSV for one symbolic Deutschmark and soon after the club started demolishing the old stadium and replace it with new stands.
The demolition and construction was done gradually so that HSV could keep playing its home matches at the stadium. The completed Hamburg Arena opened in August 2000.