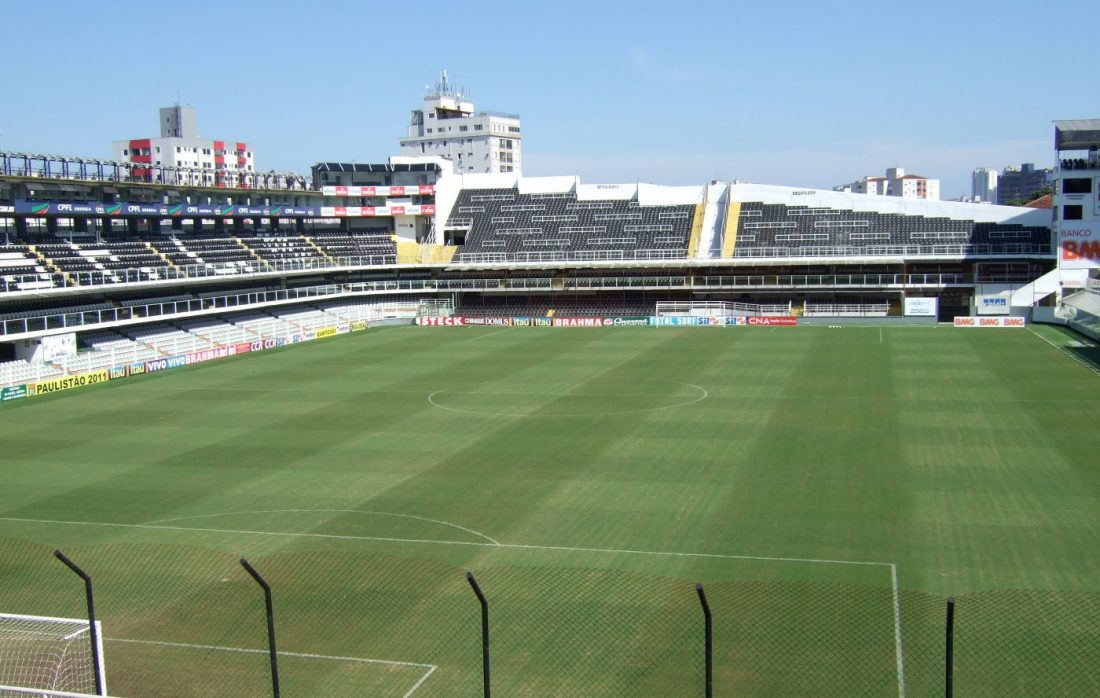 Key facts
Club: Santos FC | Opening: 1916 | Capacity: 15,800
History and description
In the first decades of the 20th century Santos shared a small ground with several other teams, but after a series of conflicts they decided to buy a plot of land in the Vila Belmiro area.
Praça de Esportes da Vila Belmiro officially opened on 12 October 1916. The first football match, a state championship match between Santos and Iparinga (2-1), was played ten days later.
In 1933, the stadium got renamed Estádio Urbano Caldeira after an ex-player and coach who dedicated large parts of his life to the development of the club. Many people kept referring to the stadium as Vila Belmiro though.
Over the following decades, Vila Belmiro underwent several renovations, but always remained a rather modest affair. The record attendance was set in 1964 when 32,989 spectators visited a match between Santos and Corinthians. The match was never finished though as a stand collapsed and injured over a hundred fans.
In 1996, the stadium was temporarily closed to be able to install a new pitch and drainage system. In the following years incremental changes were made to improve the seating areas, and in 1999 new floodlights were installed.
How to get to Estadio Urbano Caldeira
Estádio Urbano Caldeira is located in the Vila Belmiro area of Santos, just over 2 kilometres south of the city centre and main bus station. The city's beaches lie a further 2 kilometres south.
The walk from the centre should take no more than half an hour. Alternatively, you can catch bus 23 which brings you to within a block of the stadium. Staying on the bus brings you to the city's southern beaches.
Address: Rua Princesa Isabel s/n, Vila Belmiro, Santos
Santos Tickets
Tickets for Santos matches can be bought online via Futebolcard.com, and from a few days before the match at the ticket windows of the stadium or at one of the other sales points.
Most of these sales points lie in the south of the city, and include Alexi Calçados at the Avenida Ana Costa 549 (Shopping Parque Balneário near the southern beaches), Hotel Praiano at the Avenida Barão de Penedo 39 (also near the southern beaches), and the Santos Mania store at the Avenida Washington Luiz 446.
If tickets remain available, these can also be bought at the stadium on the day of the match. Despite Vila Belmiro's limited capacity, it rarely sells out for league matches. Santos occasionally play a home match in São Paulo, which in most cases is Pacaembu.
Ticket prices depend on the match, but generally range somewhere between R$ 40.00 and R$ 100.00.
Photos of Estadio Urbano Caldeira
Useful Internet links
Santosfc.com.br – Official website of Santos FC.
Turismosantos.com.br – Tourism information for the city of Santos.