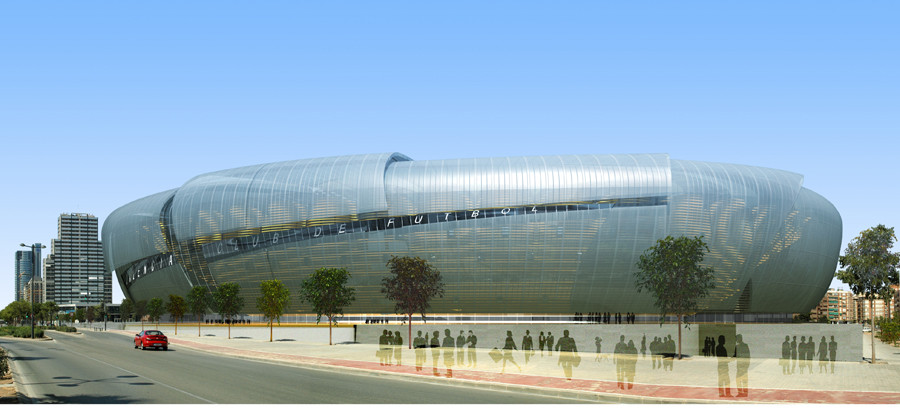 Key facts
Club: Valencia CF | Capacity: 65,000 seats | Scheduled opening: n/a | Status: on hold
Description
Nuevo Mestalla, or Nou Mestalla, is the planned new stadium of Valencia CF. The project was presented at the end of 2006 and building works started in August 2007. However, in February 2009 works were halted due to funding difficulties and have yet to resume.
The stadium, designed by architecture firm Arup, would initially have a capacity of 74,000 seats. One of its most characteristic features was its exterior consisting of 22,500 overlapping aluminium elements that are said to represent Valencia's districts and the river Turia.
Nuevo Mestalla is being built at a site towards the north of Valencia, not far from Palacio de Congresos. It lies in an area with many new developments, about 2.5 kilometres from Valencia's city centre and 4 kilometres from Valencia's current stadium Estadio Mestalla.
In December 2011, the club announced that an agreement had been reached with main creditor Bankia, and that works on a somewhat scaled-back stadium were to resume in 2012 and expected to finish two years later. However, Valencia was unable to find the necessary funding and works therefore did not resume.
In November 2013, the club and city once more presented renewed scaled back plans that reduced capacity to 65,000 seats with an expected €90 million needed to complete the stadium, but these again came to nothing.
In the years after, more alterations were presented, each time more modest, but little real progress was made. For a while, the club aimed to move into their new ground at the latest in 2022 as their current ground was scheduled to be demolished at that date, but with plans to replace the old Mestalla with apartment buildings cancelled, the urgency to move quickly has gone.
Images of Nuevo Mestalla