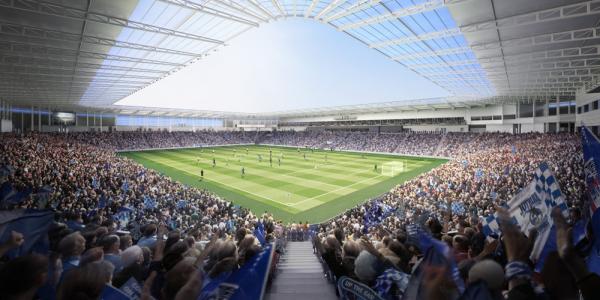 Key facts
Club: Bristol Rovers FC | Capacity: 20,000 seats | Scheduled opening: unknown | Status: in planning
Description
UWE Stadium is the planned new stadium of Bristol Rovers FC. Until 2010, the club had mainly focused on redeveloping their current stadium, the Memorial Stadium, but after these plans turned out to be not viable, attention shifted to the construction of a brand-new stadium.
The UWE Stadium will have a capacity of 20,000 seats with an easy expansion possibility to 25,000. The stadium will be partly dug into the ground using the existing topography, hereby limiting the height of the stadium and reducing the loss of seats through vomitories. The floodlights will be built into the leading edge of the roof, which has to limit light pollution.
The stadium is going to be built at a site on the University of the West of England (UWE) campus in the north of Bristol, hence the working name of UWE Stadium. The site is an undeveloped part of a 70-acre site that had earlier been purchased by UWE to accommodate teaching facilities. The site is generally well-connected as there are two rail stations nearby and it has the M32 motorway passing in the close proximity.
Plans for the new stadium were presented in July 2011, and the club received planning permission one year later. Realisation was however also conditional on planning permission being granted for the redevelopment of the site of the Memorial Stadium as funding of the new stadium was planned to come from the sale of the land to retailer Sainsbury. While permission was eventually granted, the supermarket chain subsequently pulled out, leaving the club in limbo.
With a new ownership coming into Bristol Rovers in 2016, the project is still being kept alive, but time is ticking as planning permission for the new site is running out in the summer of 2017.
Images of UWE Stadium