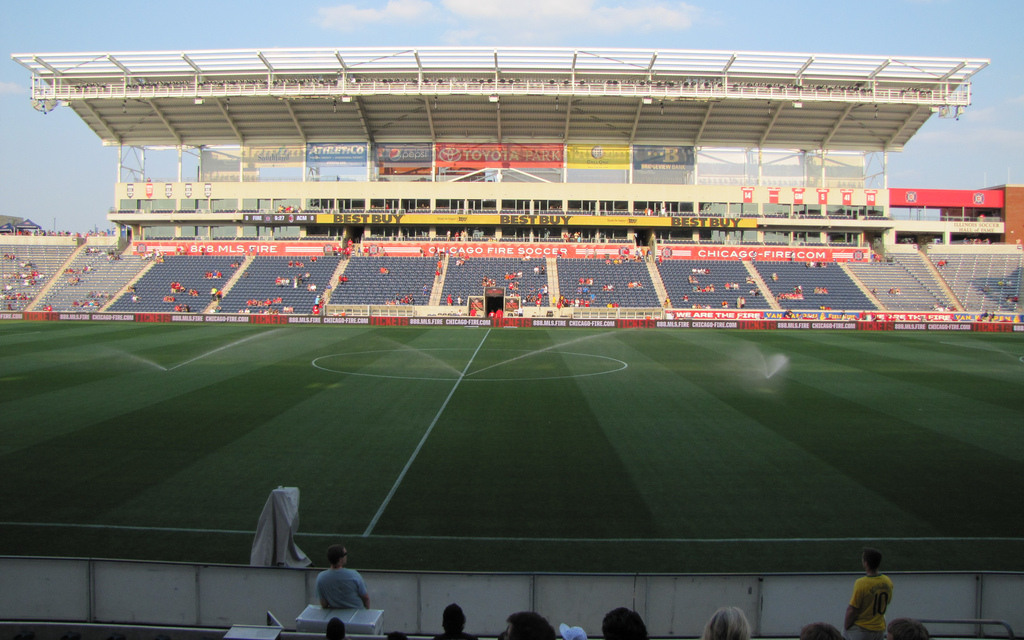 Key facts
Club: Chicago Fire | Opening: 2006 | Capacity: 20,000 seats
History and description
SeatGeek Stadium, initially called Toyota Park, was between 2006 and 2019 the home of the Chicago Fire.
The project was attracted by the village of Bridgeview to revitalise the area, but failed to accomplish this. The stadium came at a cost $98 million.
Toyota Park opened on 11 June 2006 with a match between the Chicago Fire and the New England Revolution (3-3).
It got renamed SeatGeek Stadium in 2018 following a new naming rights sponsorship deal.
Over the years, the Fire never warmed up to the stadium, far out of central Chicago, and in 2019 they reached a deal with the stadium to terminate the lease in order to move to Soldier Field in central Chicago.
SeatGeek Stadium hosts 24 executive suites and has a permanent concert stage built in. It can be relatively easily expanded to a capacity of 30,000 seats.
How to get to SeatGeek Stadium
SeatGeek Stadium is located in Bridgeview, a Chicago suburb about 14 miles south-west of downtown Chicago and close to Midway Airport.
From downtown Chicago take the I-55 south and exit for Harlem Avenue. Turn left onto Harlem Avenue and follow for about 2.5 miles until you see the stadium on the right side of the road.
From the I-55 northbound (and I-294 southbound connecting with the I-55) exit for La Grange Road South. Follow and merge left onto Archer Avenue North and shortly after right onto 79th Street. Follow for about 4 miles and turn left onto Harlem Avenue. Follow Harlem Avenue until you see the stadium on the left side of the road.
From the I-294 northbound exit for 95th Street. Turn right onto 95th Street and shortly after north on Harlem Avenue. Follow until you see the stadium.
On matchdays special shuttle buses connect the stadium with Midway CTA Orange Line station. Buses run every 20 minutes from two hours before the game and depart 30 minutes after the game. Take a train to Midway station from Chicago's downtown loop. Midway is the last station on the orange line. The journey from Adams/Wabash station in downtown takes about 23 minutes.
Address: 7000 S. Harlem Boulevard, Bridgeview, IL 60455
Photos of Toyota Park
Relevant Internet links
Seatgeekstadium.com – Official website of SeatGeek Stadium.
Explorechicago.org – The official Chicago tourism site.
Transitchicago.com – Chicago public transport information.