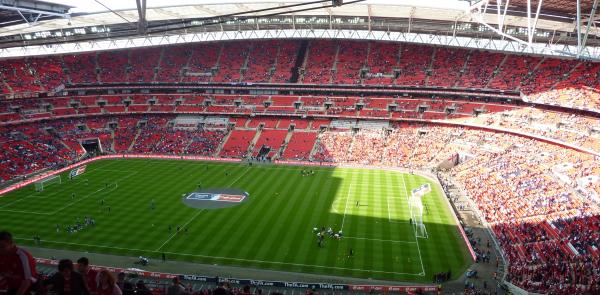 Today, UEFA made clear that the 2020 European Championships will get played at an estimated twelve different venues all over Europe. Reactions were almost entirely negative, with talk about nightmare logistics, increased costs for fans, and the over-commercialisation and lost soul of football.
I, however, kind of like the idea of a spread out tournament and find many aspects in its favour, especially considering the circumstances of these particular Euros. I will therefore try to make the case that this is actually one of UEFA's better ideas, or at least a necessary evil.
That is a little too much credit for UEFA though, because they are for a large part to blame that it has come this far. After all, they decided to expand the tournament to 24 countries, which was a terrible idea.
The reason for this is that a larger tournament needs more stadiums. In 2012, eight stadiums were sufficient for Poland and Ukraine, but ten is now the new minimum for a 24-country tournament. What's more, minimum capacities keep getting increased, with 35,000 to 40,000 seats now more or less the bottom.
This means that small and middle-sized countries are practically ruled out from hosting it. Even a Holland-Belgium combination like in 2000 would not meet the current standards, and other smaller country match-ups would find it hard to get to ten venues.
In the past, countries such as Portugal and the Poland + Ukraine combination were willing to make sizeable investments to build these new arenas, but the economic crisis has made this all but impossible. Even France is currently struggling to get sufficient venues built or redeveloped for the upcoming Euros.
This basically leaves us with England and Germany that have enough large venues ready, but England is currently aiming for bigger tournaments, and Germany was not interested. Spain and Portugal have bid together in the past, which might just work, but another frequent bidder, Italy, cannot invest in new stadiums right now. Russia is already hosting the 2018 World Cup.
The result was that UEFA was left with only three "bids" for the 2020 tournament. Actually, there was only one proper bid from Turkey, and then concrete interest from an Ireland-Scotland-Wales matchup and a Georgia-Azerbaijan combo. This did not make UEFA happy.
The Ireland-Scotland-Wales tournament would weigh heavily on three cities (Dublin, Glasgow, and Cardiff), would still require investments in new venues, and with three countries involved require significant coordination costs. Georgia and Azerbaijan are obviously not ready yet for such tournament.
That left Turkey, who were the dreamt candidate, but also bid for the Olympics in the same year. Both UEFA and IOC do not allow the host country to organise two major tournaments in one year, and Turkey did not want to give up their Olympics bid. UEFA did not want to wait, and decided to make contingency plans in spreading the tournament out over the continent.
While fans were not enthusiastic, the idea did catch on with the local FAs. It would provide a good stream of revenue, would pose little risk, and involve little organising. England quickly came out in favour and offered Wembley Stadium to host the semi-finals and final, and when Germany came on board it was pretty much a done deal.
The 12-country format has of course implications for host countries as well as fans, but few as bad as fans seem to think, and some outright positive.
Let's start with the host countries:
A spread-out tournament gives smaller countries the chance to host Euro matches. Organising the tournament was never really in the cards for Ireland, Scotland, and Wales, but the Aviva Stadium, Millennium Stadium, and Hampden Park are all perfectly fine to host a few matches.

There is fewer investment in stadiums and infrastructure required. As much as we all love the sight of those shiny new stadiums during a tournament, they do cost a lot and hardly justify the investment in the long term. Remember those stunning Portuguese stadiums, or more recently the Arena Lviv? Most are half-full at best or stand empty. Most smaller cities also do not need the large new airports that get built for the tournament. In an economic boom, some risky investments can be justified, but should we now really waste taxpayers' money on this?
It is not such a bad deal for the fans either:
The new format has been dubbed a logistical nightmare, but is this really the case? We've got multi-lane motorways and high-speed trains crossing the continent, and extensive networks of low-cost and traditional airlines. It is much easier to travel from London to Paris or Madrid than it is to travel from Kiev to Donetsk or Istanbul to Trabzon (the Eurostar alone takes 13,000 people a day from London to Paris). Europe has long adjusted to a massive amount of business travellers and tourists crossing the borders, so a few thousand more will hardly make a difference.

Fans fear that transport prices may go up, but this is not necessarily the case. Many fans fly in with charters anyway (and did so at previous tournaments) so do not count. As mentioned before, tens of thousands of people travel these routes every day so a few thousand more has relatively little effect on demand. There is often intense competition on the routes between the capitals so there is less opportunity to raise prices. What's more, frequent travellers that are flexible are often able to find creative solutions. Avoid the hours when businessmen travel, and why fly directly on Madrid if you can get to Valladolid or Zaragoza much cheaper and catch a quick train from there?

The same is true for accommodation. Prices skyrocketed in Poland and Ukraine, because there was little supply and much demand. London, Paris, and Rome have enormous supply, and a few thousand more people will therefore affect prices little. Other tourists may also stay away as we've seen during the Olympics in London. Sure, Western Europe is expensive, but a combination of Lisbon, Madrid, and Rome is likely cheaper than three weeks in London or Stockholm.

There is, of course, the type of football fan who travels with his team and gets to explore new countries this way. They may lose out, especially if they already know Europe's major capitals. It will also be harder to get together in one place and travel to the games from there. On the other hand, fans that do not like to travel get to see matches close to home, or may find catching a plane to Berlin more convenient than travelling to Aveiro, Toulouse, or Gdansk.

Another argument is that the people in a host country usually get caught by the excitement, a special sense of occasion arises, and the tournament gains in momentum and gets a magic touch. Italy 1990 is a prime example, though this momentum is usually lost rather quickly if the host nation stumbles out. It is a valid argument though, and it is likely that this special home nation feeling gets lost. We have to wait and see what it gets replaced with.

What has not been mentioned yet, but is actually a very big positive for fans, is that the venues will be much larger than in the past. The average capacity of the venues in previous tournaments has hovered between 35,000 and 45,000, and many fans complained about the small venues in Austria and Switzerland. Average capacity is expected to rise to around 50,000 for Euro 2016, but this will more likely be around 70,000 in the new format. This means 20,000 to 30,000 extra available tickets. Sure, UEFA will undoubtedly take good care of their corporate friends, but a good amount will stick with the real fans.
Overall, the concerns in terms of transport and costs are likely much exaggerated, and the spread-out format offers clear benefits in availability and accessibility. Sure, it has got massive financial benefits for UEFA and local FAs, but at the expense of the fans? Not particularly, and it will definitely be beneficial for the taxpayers.
Right now it seems that all venues get a minimum of four matches, which is decent, and that two venues relatively close to each other will be assigned to each group. The semi-final and final will likely be held in the same country, which means that the only real travelling pain is in the round of 16 and quarter-final stage.
The main problem is therefore not something very tangible, but more of a feeling. We all get that excitement when a tournament is about to begin: we get first reports from the ground, the English press publishes horror stories, we slowly start to learn about an unknown culture, get to know cities we had never heard of before, see the images of fans taking over the squares and camp sites (or are there ourselves), we admire the new and shiny stadiums, see the desire in the eyes of the home fans, and then next the pure disappointment when it is not meant to be. This will be lost, and there is a certain sadness in it.
On the other hand, we will have monumental venues like Wembley Stadium, Estadio Santiago Bernabéu, Olympiastadion, Estádio da Luz, Stade de France, and Stadio Olimpico hosting matches, which will be great. Sure, we already know these from the Champions League, but won't an England versus Germany at the Bernabéu be great?
It remains to be seen how the excitement on the ground pans out, and while it may not match that home nation feeling, it may just as well be that this feeling gets duplicated and there will be parties all over Europe's capitals. That is not that bad, is it?
(Photo credits: Flickr user Wonker)