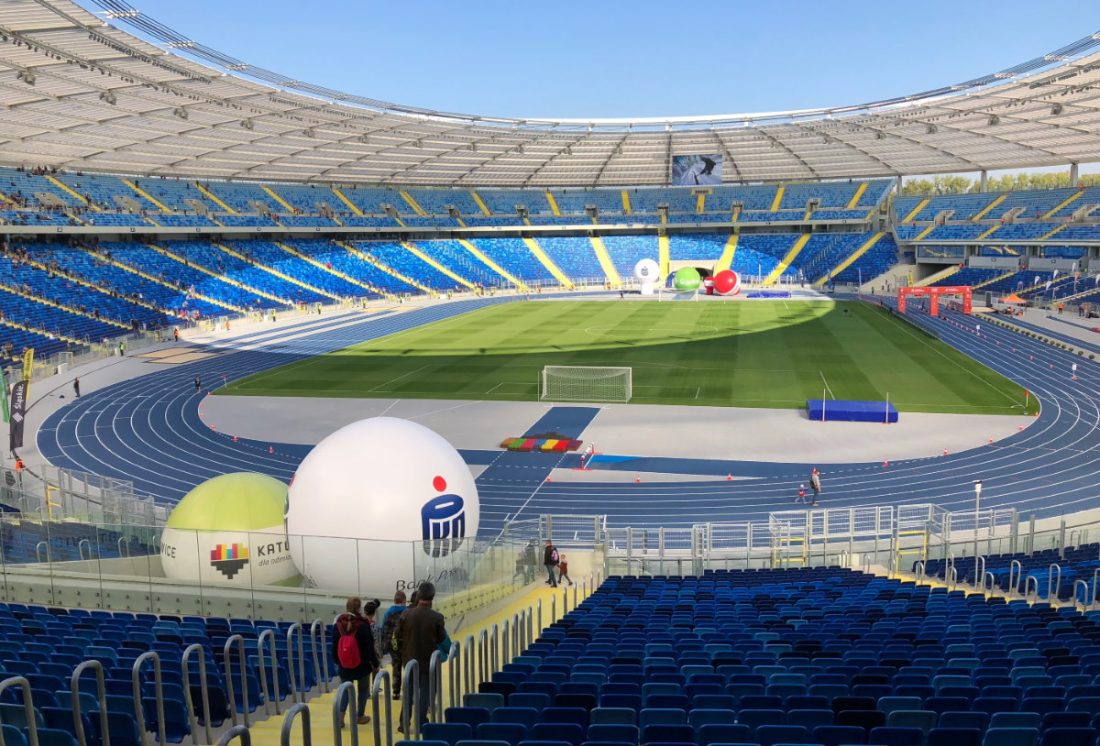 Key facts
Club: none | Opening: 1956 | Capacity: 54,378 seats
History and description
Stadion Slaski, also referred to in English as Silesian Stadium, got built in the 1950s. It officially opened on 22 July 1956 with a match between the Poland and East Germany national teams (0-0).
Stadion Slaski was a bowl-shaped stadium with a running track that could pack around 90,000 spectators, but at times recorded attendances of over 100,000. During a European match between Gornik and Austria Vienna in 1963, close to 120,000 spectators were said to have been in the stands. Other characteristic feature of the stadium was the tower in the east stand.
The stadium did not have a permanent occupant, but was often used by the Poland national team and for a long time considered to be the national stadium. It furthermore hosted the odd Cup Final and important European matches of local teams, in particular Gornik Zabrze, but also Ruch Chorzow, GKS Katowice, and Polonia Bytom.
By the 2000s, the stadium had significant aged and plans were made for an extensive refurbishment including the construction of a roof over the stands. Furthermore, the western main stand was to be partly rebuild including the addition of VIP facilities.
Construction works started in 2009, but progressed slowly and got further delayed when part of the roof structure collapsed. In the end, it took 8 years to complete the works.
Whereas in the meantime a new national stadium had been built in Warsaw, Stadion Slaski still hosts the occasional match of the national team as well as other sports and music events.
How to get to Stadion Slaski
Stadion Slaski is located in the east of the city of Chorzow bordering the city limits with Katowice. It lies about 2 kilometres from central Chorzow and about 5 kilometres from central Katowice, which is the largest hub in the region.
The walk from central Chorzow and Chorzow main railway station takes 20 to 30 minutes, or take tram 6, 11, or 19 from the Rynek market square in the centre. Get off at stop Stadion Slaski. It is a quick journey of only 5 minutes.
These three trams continue to the city centre of Katowice so if coming from that direction, catch either one of these from Katowice's Rynek market square, which is near the main railway station. The tram journey takes about 20 minutes. Katowice's railway station has much better train service to other parts of Poland.
Eat, drink, and sleep near Stadion Slaski
Chorzow is part of the Silesian Metropolis, an industrial area comprised of a number of cities furthermore including Katowice, Gliwice, Zabrze, and Bytom.
Neither of these cities is particularly attractive, but Katowice is the largest and has most to offer in terms of bars and restaurants so might be the preferred option to base yourself.
Stadion Slaski itself lies in the large and pleasant Slaski Park, which is great for a stroll on a summer's day. There is the odd local restaurant and a shopping centre to pick up some food, but on the whole not much around. You can find more places to eat and drink in either Chorzow or Katowice city centre.
There are a few hotels right near Stadion Slaski, including the well-rated Hotel Skaut and Hotel Diament. Click here for all hotels near Stadion Slaski. Otherwise, there are plenty more options in central Katowice and some in central Chorzow.
Photos of Stadion Slaski
Useful Internet links
Stadionslaski.pl – Official website of Stadion Slaski.
Jakdojade.pl – Public transport journey planner.