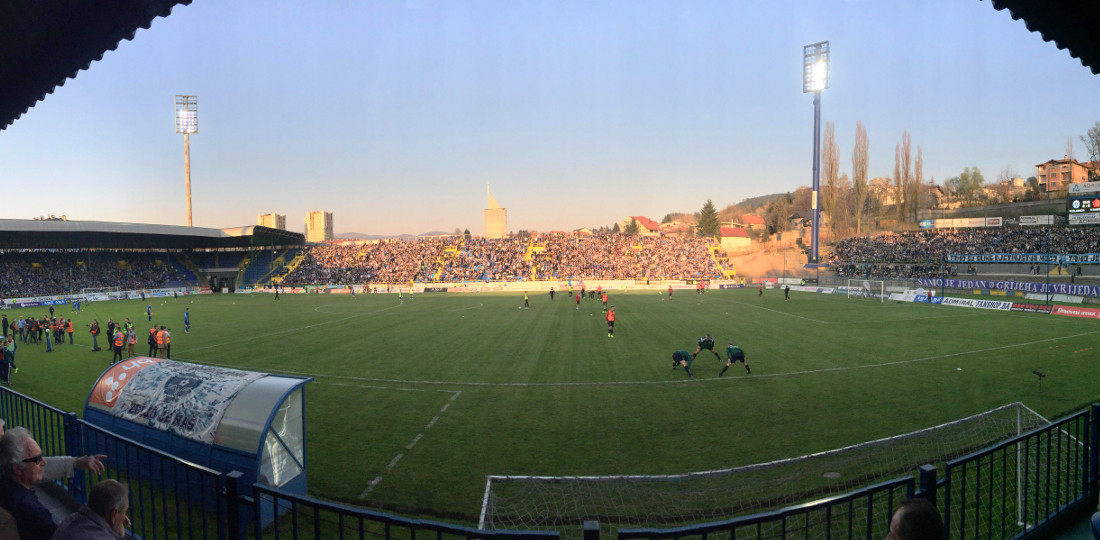 Key facts
Club: FK Zeljeznicar | Opening: 1953 | Capacity: 13,449 seats
History and description
Stadion Grbavica opened in 1953. In the previous three decades, Zeljeznicar had occupied various grounds, but in the late 1940s they decided to build their own ground.
The stadium officially opened on 13 September 1953 with a match between Zeljeznicar and Sibenik (4-1).
The original stadium had an athletics track, but this was removed in a large reconstruction project that started in 1968 and took until 1976 to be completed.
In 1986, a new covered north stand was built, but plans to redo the rest of the stadium in similar style were shelved.
During the Bosnian War in the 1990s, Stadion Grbavica found itself on the front lines and as a result sustained large damages, which included the burning down of wooden terraces and the mining of the premises. The stadium therefore wasn't used for football between 1992 and 1996.
In the early 2000s, Stadion Grbavica could hold about 20,000 spectators, but this was reduced to a little over 10,000 when the stadium got converted into an all-seater. In 2017, a new east stand was opened that could hold a little under 5,000 spectators, which raised capacity again to its current total.
How to get to Stadion Grbavica
Stadion Grbavica is located in the Grbavica area in the west of Sarajevo on the south bank of the river Miljacka. The stadium lies about 3 kilometres from Sarajevo's city centre and a little over 2 kilometres from Sarajevo's railway station.
The stadium is easily reached by various trams, which run on the main boulevard of the city, Zmaj od Bosne, on the north bank of the river at 10 minutes walking from the stadium. Catch either tram 2, 3, or 5 from Marsala Tita avenue in the city centre in western direction. Get off at stop Pofalici. You can also catch trams 4 and 6 from further down.
From the main railway station, it's less than 30 minutes walking to the stadium, or catch tram 4, which follows the same route as the others.
Address: Zvornička 27, 71000 Sarajevo
Zeljeznicar Tickets
Tickets for Zeljeznicar games can be bought at the stadium on the day of the match, either at the fan shop or at the ticket windows before the match. Despite having amongst the highest attendances in Bosnia, Zeljeznicar rarely sell out.
Expect to pay from 5.00 KM for a seat behind the goal to 25.00 KM for the best seats at the covered West Stand.
Photos of Stadion Grbavica
Relevant Internet links
Fkzeljeznicar.ba – Official website of FK Zeljeznicar.
Sarajevo-tourism.com – Sarajevo tourism information.
Gras.ba – Sarajevo public transport information.