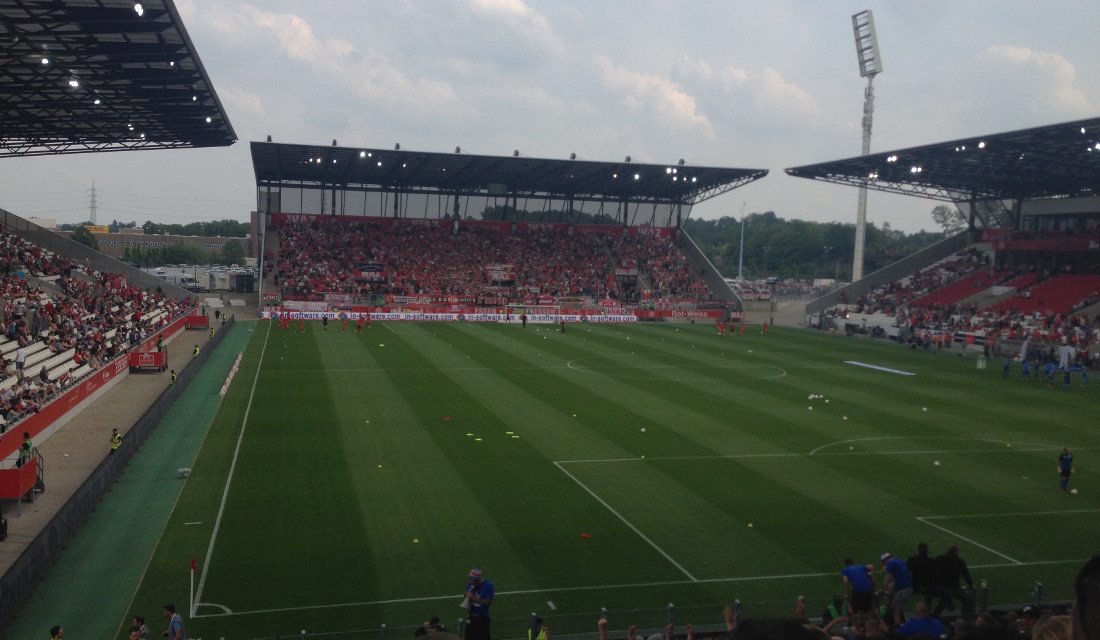 Key facts
Club: Rot-Weiss Essen | Opening: 2012 | Capacity: 20,650 (9,040 standing)
History and description
Stadion Essen replaced Essen's old Georg-Melches-Stadion, which had fallen into disrepair by the late 2000s.
Constuction of the new stadium, next to the old one, started in 2011 and three out of four stands were completed one year later. Stadion Essen opened on 12 August 2012 with a double header of R-W Essen's U19 team and SGS Essen's women's team
Following the opening of the new stadium, the old Georg-Melches-Stadion next door got demolished, which created space for the fourth stand to be built, which was completed one year later in the summer of 2013.
How to get to Stadion Essen
Stadion Essen is located in the north-west of Essen at roughly 4 kilometres from Essen's city centre and a little under 5 kilometres from Essen's main railway station.
The stadium lies a short 5-minute walk away from Essen-Bergeborbeck station, which is on S-Bahn (commuter rail) line S2. Line S2 connects the stadium with the city centres of Dortmund, Gelsenkirchen, and Duisburg, but not that of Essen.
From Essen Hbf, you can take bus SB16 to ZOB Dorsten. The journey takes about 15 minutes. Get off at stop Hafenstraße. Buses run twice an hour.
Address: Hafenstraße 97A, 45356 Essen
Rot-Weiss Essen Tickets
Tickets for Rot-Weiss Essen games can be bought online, at the RWE-Fanshop at Stadion Essen, or at any of the other sales points.
From these sales points, the Tourist Office at Am Hauptbahnhof 2 and the Kartenzentrale Galeria Kaufhof at the Kettwiger Str. 1A are located conveniently in Essen's city centre near the main railway station.
Tickets can also be bought at the ticket windows of the stadium from 90 minutes before the start of the match. Rot-Weiss Essen don't tend to sell out in the Regionalliga.
Expect to pay between €15.00 and €25.00 for a seat on one of the long sides or €9.00 for a ticket for the standing section behind the goal.
Photos of Stadion Essen
Relevant Internet links
Rot-weiss-essen.de – Official website of Rot-Weiss Essen.
Essen-tourismus.de – Essen tourist information.
Vrr.de – Ruhr area public transport journey planner.