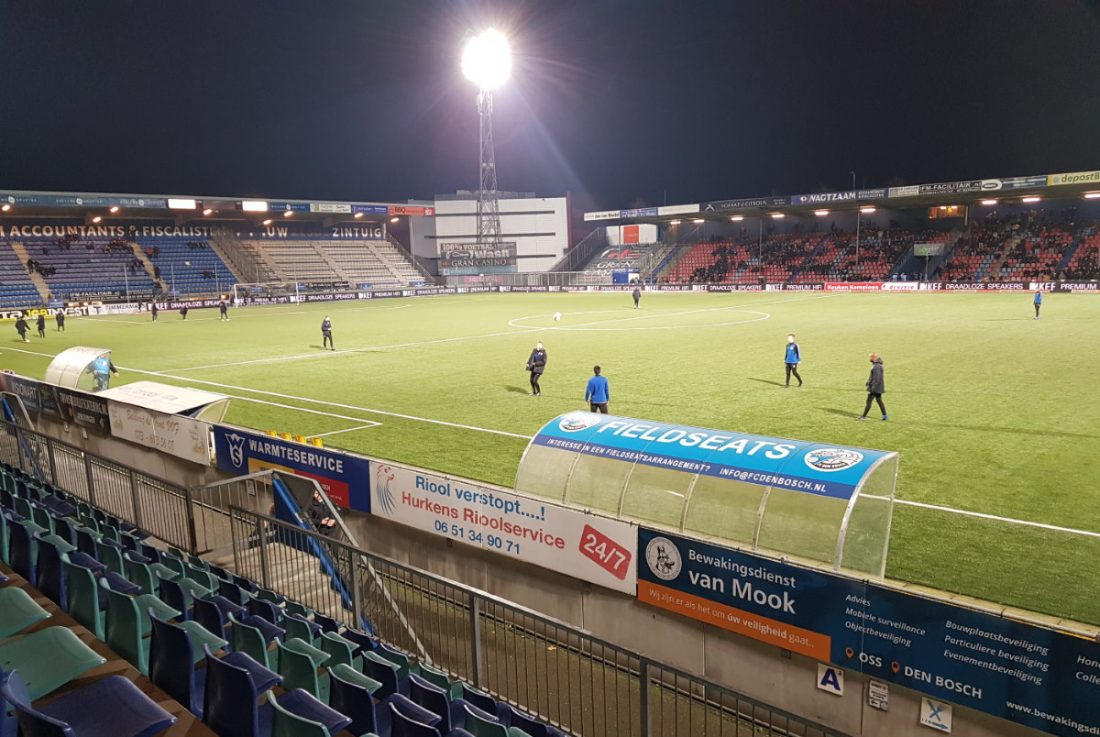 Key facts
Club: FC Den Bosch | Opening: 1951 | Capacity: 8,500 seats
History and description
Stadion De Vliert officially opened on 8 September 1951. It got built following the successes of local club BVV, who would later evolve into Den Bosch, and got named after the neighbourhood it was built in.
De Vliert could at that time hold 25,000 spectators and included an athletics track around the pitch. It was the third-largest stadium of the Netherlands after the Amsterdam Olympic Stadium and De Kuip.
In the 1970s, a roof was built on top of the stand opposite the main stand and red and blue seats were installed.
The stadium remained unchanged in the next decades and often lacked atmosphere due to the athletics track. In 1996, three out of four stands were demolished and the pitch was moved closer to the remaining stand. Opposite a new main stand was built, but due to a lack of funding no stands were built behind the goals. Capacity decreased to 4,500 seats.
It took until 2003 for two new stands behind both goals to be built raising capacity to 8,500. In recent years, the club has investigated tearing down the last old stand and replacing it with a new main stand, but a lack of finances has thus far prevented this.
How to get to Stadion De Vliert
Stadion De Vliert is located towards the north-east of Den Bosch ('s Hertogenbosch) at about 2.5 kilometres from Den Bosch's city centre. Den Bosch's main railway station lies a little further west at 3 kilometres from the stadium.
The walk from the city centre to the stadium takes about 30 minutes. Alternatively, catch a regional train to Nijmegen at the main railway station and get off at the first station 's Hertogenbosch Oost. It is a short 5-minute walk from the station to the stadium. Trains run at least every 30 minutes but more often during peak hours.
Bus 90 and 158 (from the main railway station) are alternatives. They drop you off right in front of the stadium.
Address: Victorialaan 21, 5213 JG 's-Hertogenbosch
Den Bosch Tickets
Tickets for FC Den Bosch games can be bought online, or at the club office at the stadium.
Tickets are also available from the ticket windows at the stadium before the start of the match. Den Bosch rarely sell out.
Den Bosch may require possession of a Den Bosch Fan Card for a number of high-profile matches.
Expect to pay from € 12.50 for a seat behind the goal to € 20.00 for a seat at the main stand.
Photos of Stadion De Vliert
Useful websites
Fcdenbosch.nl – Official website of FC Den Bosch.
Bezoekdenbosch.nl – Den Bosch tourist information.