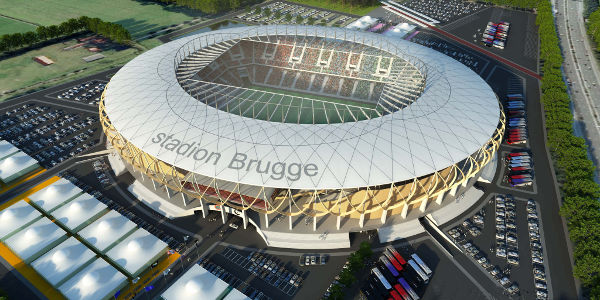 Key facts
Club: Club Brugge | Capacity: 40,000 seats | Scheduled opening: 2019 | Status: in planning
Description
Stadion Brugge is the planned new home of Club Brugge. Brugge have long looked to build a modern replacement for their current home, the Jan Breydel Stadion, and initial plans were part of the Holland/Belgium 2018 World Cup bid.
After that bid fell through in 2010, the club kept pursuing their plans, however these stalled due to disagreements with local authorities and general inaction. Only near the end of 2013 progress was made again with the selection of a new site and subsequent approval of the city of Bruges, though proceedings are still ongoing.
The proposed site of the stadium lies on the northern edge of the city of Bruges on the Blankenbergse Steenweg. Previous plans foresaw a stadium on the southern edge of the city, but these led to resistance and were finally axed.
Stadion Brugge is planned to have a capacity of 40,000, but definite plans and renderings have not been presented yet.
The project is expected to come at a cost of €90 million, which will be funded part by the club and part by the city. The club aims to move into their new home at the start of the 2019-20 season, which would mean a start of construction in 2017.
Cercle Brugge, the other occupant of the Jan Breydel Stadion, would initially build a new stadium alongside Stadion Brugge with a smaller capacity of 12,500 seats, but in the end opted to stay in their current home, which they plan to redevelop into a smaller stadium.