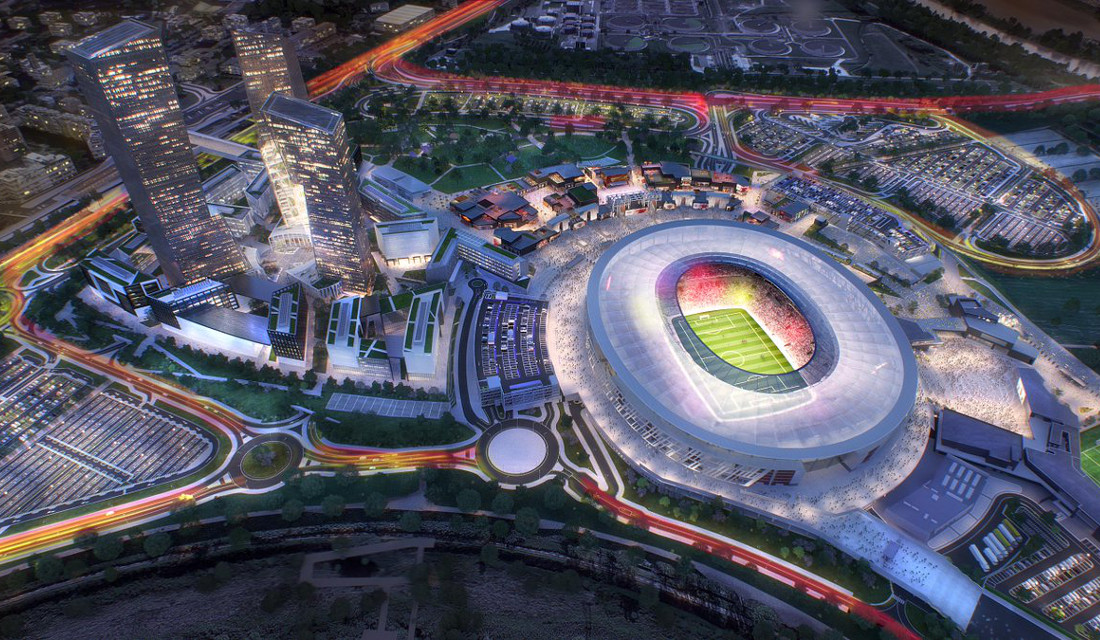 Key facts
Club: AS Roma | Capacity: 52,500 seats | Scheduled opening: N/A | Status: in planning
Description
Stadio della Roma is the proposed new stadium of AS Roma.
Roma had long sought to build a new stadium that can replace the too-large and aged Stadio Olimpico, but plans only became concrete in early 2012 when the club leaked news that it was actively working on designing a new stadium. Later that year, the club officially announced their intentions, and after a period of planning and negotiations, Roma officially presented their plans in March 2014.
The design of Stadio della Roma has been inspired by the Colosseum, which is reflected in the stone "scrim" that envelops the outside of the stadium. The 52,500 seats will be divided over three tiers, and the new Curva Sud will have place for 13,660 home fans. There will furthermore be a total of 7,930 club seats, 8 lounges, 50 suites, and 100 loge box seats. The capacity of the stadium can be extended to a maximum of 60,000 seats.
Stadio della Roma will be part of a larger complex that consists of shops, restaurants and bars, other entertainment facilities, and the team's training grounds. The stadium is furthermore expected to be used for large concerts.
Stadio della Roma will get built in the Tor di Valle area in the south of Rome along the river Tiber at about 9 kilometres from the city centre. It will get serviced by commuter trains and furthermore have over 7,000 parking places available.
Roma initially hoped to be able to start construction works in the second half of 2014, but that soon turned out to be unrealistic due to difficulties getting planning permission. The project hit a new snag in early 2017 when the major of Rome and the Lazio region came out against the project, though he later changed his mind following revision of the plans.
However, consultations are still ongoing and there is no set timetable for construction works to start at the moment.
Images of Stadio della Roma