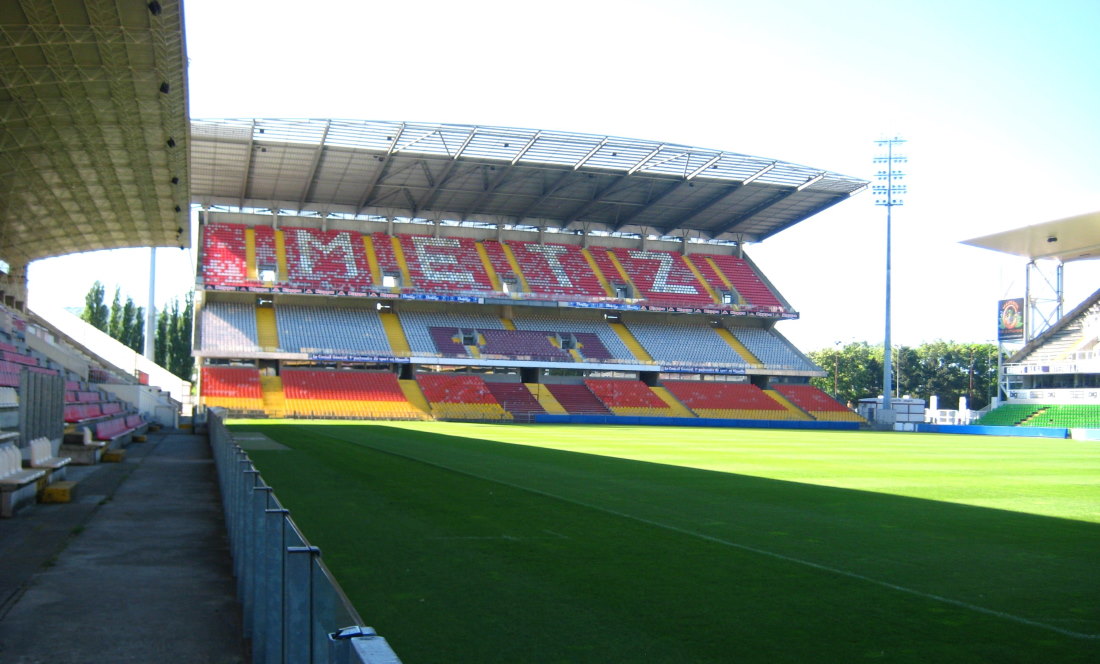 Key facts
Club: FC Metz | Opening: 1923 | Capacity: 24,985 seats
History and description
Stade Saint-Symphorien opened in 1923 and became the home ground of FC Metz in 1932 following the foundation of the club.
The stadium got gradually expanded in the 1950s and 60s, which included the construction of a new main stand in 1962. Its record attendance was set in 1991 when 28,766 spectators attended a match between Metz and Marseille.
Stade Saint-Symphorien had significantly aged by the late 1990s, and the club therefore embarked on a modernisation program, which included the construction of the characteristic three-tiered West Stand in 1999 and a new East Stand at the other end in 2001.
Following the selection of France as host for the 2016 European Championships, plans were presented to extensively renovate Stade Saint-Symphorien to make it eligible as a playing venue. However, plans fell apart due to a lack of funding and the city had to withdraw as a candidate host.
In 2018, new plans were presented for a more modest renovation of the stadium, which included the construction of two new stands. The first part, the construction of a new main stand, started in 2019 and is expected to be completed in 2020. The second part, a new stand behind one of the goals, will commence once the main stand is completed. This will raise capacity to 30,000 seats.
How to get to Stade Saint-Symphorien
Stade Saint-Symphorien is located just south east of Metz' city centre on the west bank of the river Moselle.
The walk from the city centre takes about 20 minutes, whereas that from the main rail station, which lies south of the centre and east of the stadium, can be done in 15 minutes.
The stadium is furthermore easy to reach by car as it lies right along the A31 motorway, which connects Metz with Nancy and Luxemburg.
Address: 68 Boulevard Saint-Symphorien, 57050 Metz
FC Metz Tickets
Tickets for FC Metz games can be bought online, at any of the Francebillet and Ticketmaster sales outlets, or at any of the club's sales points, which includes La Fédération des Commerçants at 3 Avenue Robert Schuman in Metz' city centre and the club shop at the stadium.
Tickets can furthermore be bought at the ticket windows of Stade Saint-Symphorien before the start of the match.
Expect to pay from €15.00 for a seat behind the goal to €45.00 for a seat at the main stand. Prices get increased for high profile matches to between €30.00 and €80.00 for Super Gala matches.
Useful Internet links
Fcmetz.com – Official website of FC Metz.
Tourisme-metz.com – Official website of the Metz Tourist Office.