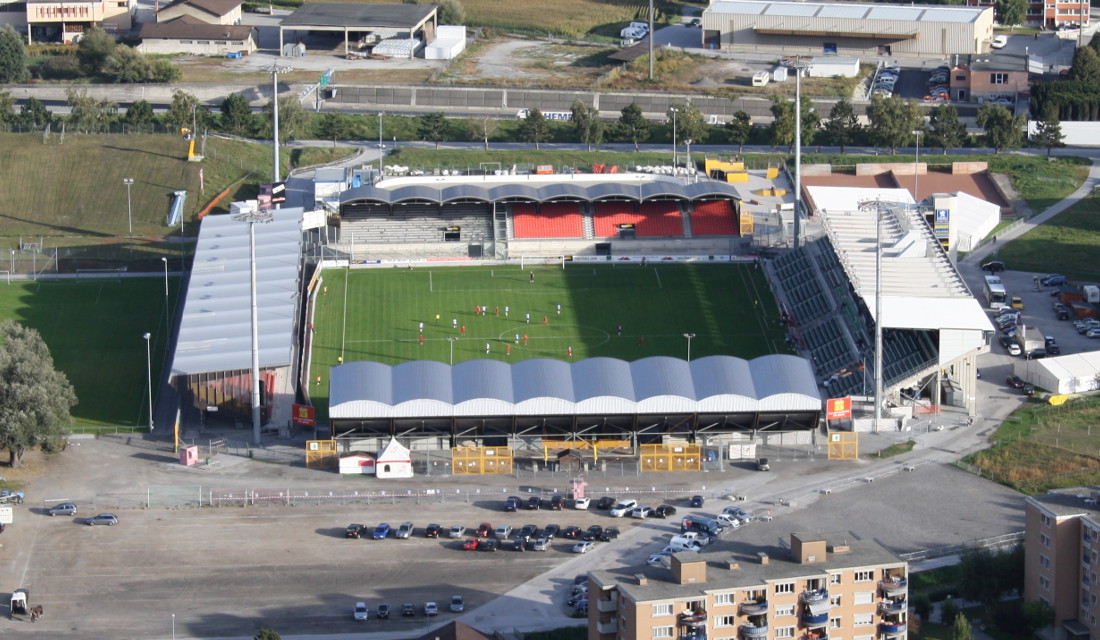 Key facts
Club: FC Sion | Opening: 1968 | Capacity: 14,283
History and description
Stade de Tourbillon opened on 11 August 1968. It replaced Sion's old Parc des Sports, a simple ground which had become too small after the club celebrated several successes from the late 1950s onwards.
The new stadium initially consisted of one large covered main stand, a smaller covered stand on the other side, and two small uncovered stands on both ends.
Stade de Tourbillon remained unchanged until 1986, when the club embarked on a gradual redevelopment program that would take until 1996 and included the construction of new covered stands.
In recent years, the stadium has undergone some minor refurbishments to keep it eligible to host European matches.
How to get to Stade de Tourbillon
Stade de Tourbillon is located in the east of the town of Sion, on the east bank of the river Rhone, at short distance of the town centre and main railway station. The walk from the centre takes about 15 minutes, and that from the main railway station a few minutes more.
Frequent direct trains connect Sion with Geneva in the west and Brig in the east. The journey from Geneva takes just under 2 hours, that from Brig a little over 30 minutes. From other major Swiss cities a change in Visp is required. Expect a journey between 1.5 and 2.5 hours.
Address: Rue des Echutes 38, 1950 Sion
Eat, drink, and sleep near Stade de Tourbillon
Stade de Tourbillon is located in a fairly quiet residential neighbourhood. There isn't much around in terms of eating and drinking, but Sion's charming town centre isn't too far away.
Sion is a small town and there are various hotels to choose from in its town centre, or choose for the nearby Ibis if you're looking for a roadside chain hotel at walking distance. There are furthermore multiple options in the nearby countryside if you're looking for something more scenis.
Click here to explore the hotels near Stade de Tourbillon and Sion.
Sion Tickets
Tickets for Sion games can be bought online, or at any of the Ticketcorner sales outlets.
Expect to pay from CHF 38.00 for a seat behind the goal to CHF 72.00 for the better seats at the main stand. A ticket for the terrace behind the goal costs CHF 23.00.
Photos of Stade de Tourbillon
Relevant Internet links
Fcsion.ch – Official website of FC Sion.
Siontourisme.ch – Sion tourism information.