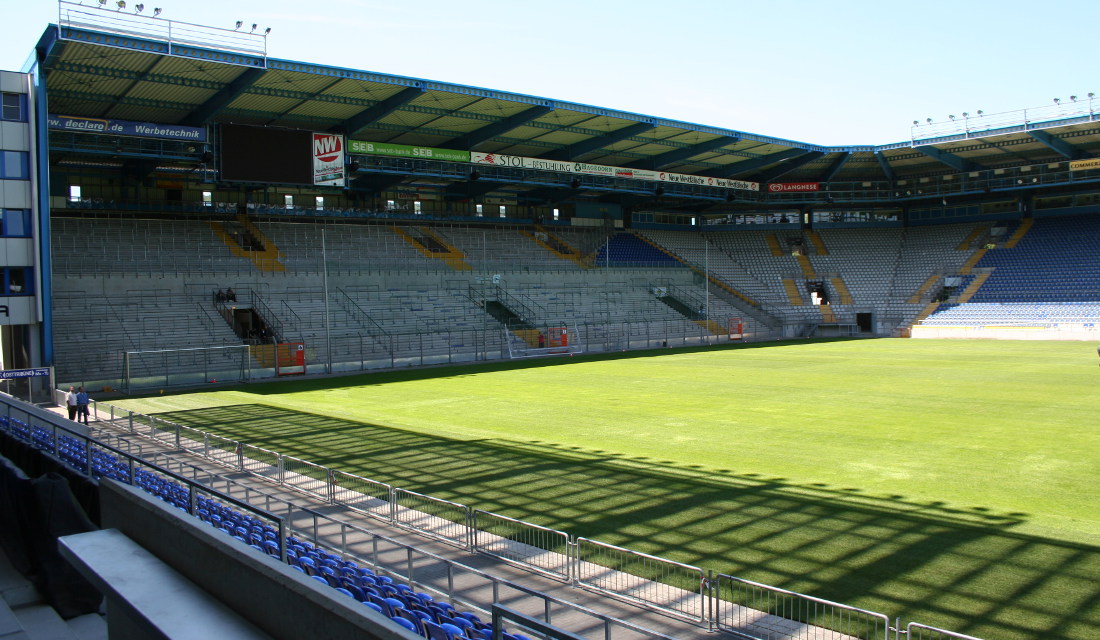 Key facts
Club: DSC Arminia Bielefeld | Opening: 1926 | Capacity: 26,515 (8,005 standing)
History and description
The SchücoArena, originally called Melanchthon Alm, officially opened on 1 May 1926 with a match between Arminia Bielefeld and Viktoria Hamburg (1-5).
The stadium initially only consisted of earth banking, and remained like this for the next three decades. In 1954, the earth banking finally got replaced with concrete stands, and capacity rose to about 20,000 places.
When Arminia started to flirt with promotion to the Bundesliga in the 1960s, first a new south stand got built, and when the club finally promoted in 1970, a new west stand and temporary structures on the other sides followed. Capacity increased to over 30,000 places.
In the following two decades, Arminia's fortunes declined again, and the "Alm" slowly fell into disrepair.
In the mid 1990s, Arminia's successes returned and plans were made for a complete redevelopment of the stadium. A new main and north stand opened in 1999, and a new south stand followed two years later. The project was completed in 2008 when a new east stand opened.
In 2004, the "Alm" was renamed SchücoArena following a sponsorship deal.
How to get to the SchucoArena
The SchücoArena is located in the east of the city of Bielefeld, about 1.5 kilometre from the city's old town and railway station. The walk from either will take 15 to 20 minutes.
Alternatively, one can catch light rail line 4 from Rathaus or the railway station. Take the train in the direction of Lohmannshof and get off at stop Rudolf-Oetker-Halle.  Trams run many times an hour and the journey only takes a few minutes.
Address: Melanchthonstraße 31a, 33615 Bielefeld
Arminia Bielefeld Tickets
Tickets for Arminia Bielefeld matches can be bought online, at the Fan- and Ticketshop at the SchucoArena, or at one of the other sales outlets, which include the Westfalen-Blatt news agent at the Oberntorwall 24 in the old town.
Tickets are also available on the gate from 90 minutes before the start of the match. Arminia presently rarely sell out.
The price of a seat is €26.00, whereas standing costs €12.00.
Photos of the SchucoArena
Relevant Internet links
Arminia-bielefeld.de – Official website of Arminia Bielefeld.
Bielefeld.de – Bielefeld tourist information.
Mobiel.de – Bielefeld public transport information.