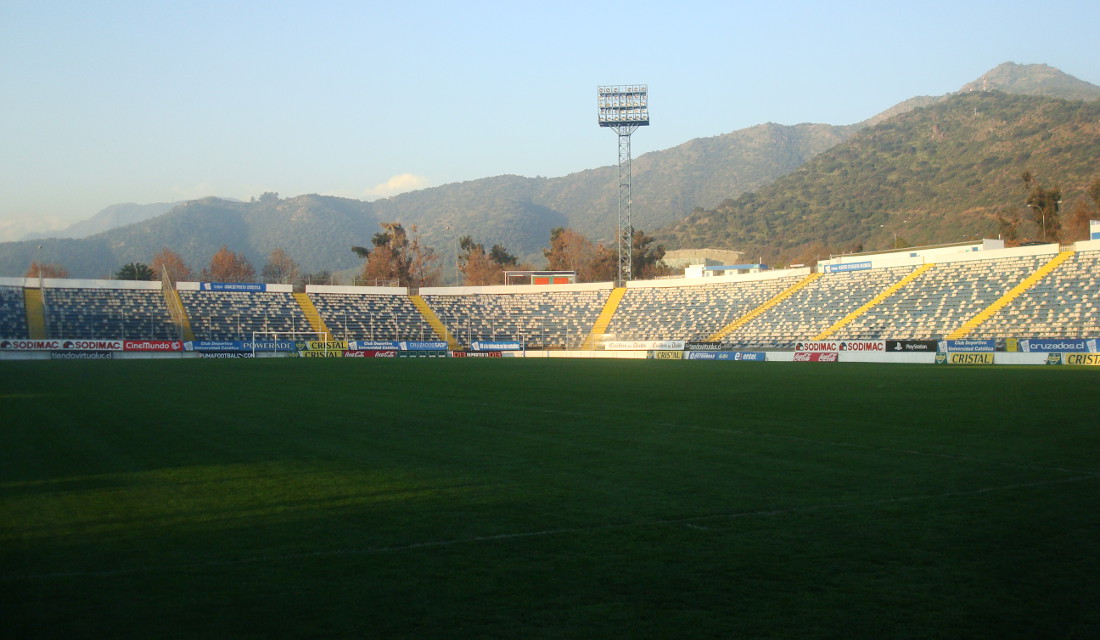 Key facts
Club: Club Deportivo Universidad Católica | Opening: 1988 | Capacity: 18,000 seats
History and description
Estadio San Carlos de Apoquindo was built to provide Universidad Católica with modern sports facilities that would be able to house the increasing number of fans of the club.
First plans were made in the early 1970s, and in 1972 the club bought a plot of land at the foot of the Andes mountain range. It took, however, until the 1980s for the first sports facilities to be built, and until the late 1980s for the football stadium to be completed.
Estadio Can Sarlos de Apoquindo officially opened on 4 September 1988. It underwent a refurbishment in early 2012, which included the installation of new seats, a renovation of the interior, and a new video board.
How to get to Estadio San Carlos de Apoquindo
Estadio San Carlos de Apoquindo is located at the foot of the Andes mountains in the far east of the city of Santiago. The distance to Santiago's historic city centre is about 14 kilometres, and that from the Providencia area only a little shorter.
The stadium can be reached with bus C02. The bus can be caught from metro station Escuela Militar, which is just east of the Providencia area on metro line 1 (red). Estadio San Carlos de Apoquindo is the last stop of the bus.
Bus C02 can also be caught from metro station Los Domínicos, the last station on metro line 1. One can also catch bus C02c here.
Bus 421 is an excellent alternative, which can also be taken in the historic centre and in Providencia at any of the stops of the red metro line. Take the bus in eastern direction toward San Carlos de Apoquindo. First taking the metro east and then changing to a bus will be quicker though.
Address: Camino La Flores 13,000, Las Condes, Santiago
Universidad Catolica Tickets
Tickets for Universidad Católica matches can be bought online.
Tickets can also be bought at the ticket windows of the stadium from two hours before the start of the match.
Ticket prices typically range from CH$ 6,000 for a seat behind the goal to CH$ 24,000 for a central seat at the main stand.
Photos of Estadio San Carlos de Apoquindo
Relevant Internet links
Lacatolica.cl – Official website of CD Universidad Católica.
Chile.travel – The Santiago section of the official Chilean tourism website.
Transantiago.cl – Santiago public transport information.