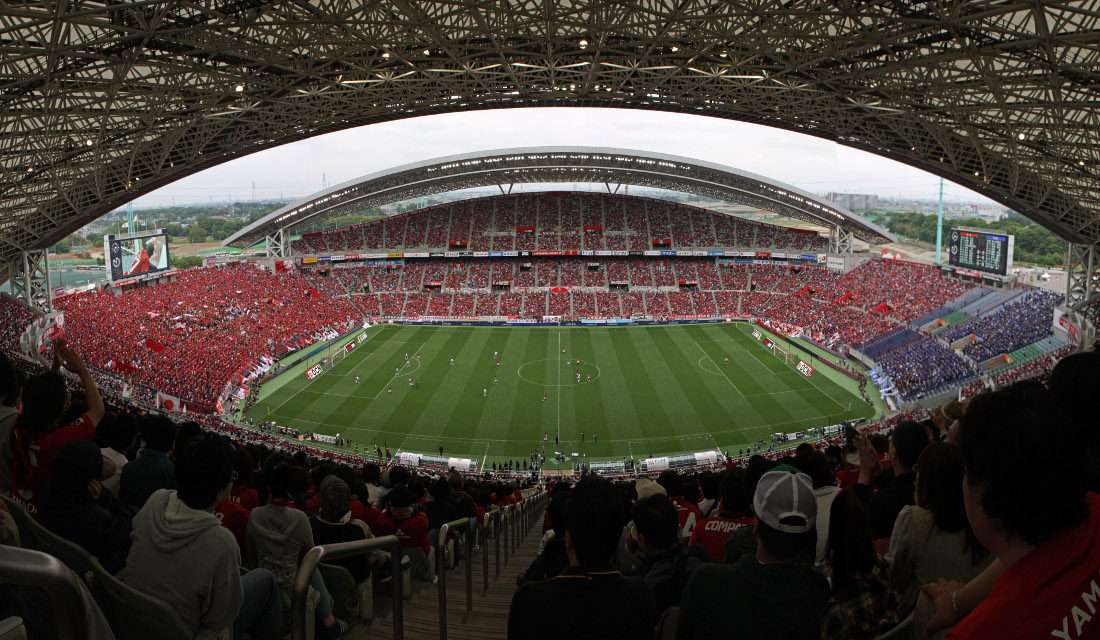 Key facts
Club: Urawa Red Diamonds | Opening: 2001 | Capacity: 63,700 seats
History and description
Saitama Stadium was built to serve as a venue for the 2002 World Cup. Plans for the new stadium were first made in the early 1990s on the condition that Japan would get to host the 2002 World Cup, which was confirmed in 1996.
Construction of the stadium started in 1998 and finished just over three years later. Saitama Stadium officially opened on 6 October 2001 and the first match, a league match between the Urawa Reds and Yokohama F Marinos, was played one week later.
During the 2002 World Cup, Saitama Stadium hosted three group matches and the semi-final between Brazil and Turkey (1-0).
Saitama Stadium is also one of the playing venues that is most used by the Japanese national team.
How to get to Saitama Stadium
Saitama Stadium 2002 is located in Midori-ku ward in the east of Saitama. Saitama itself lies about 25 kilometres north of central Tokyo. The stadium is situated in a light-urban area which is planned to be further developed in the next 20 years.
You can best reach the stadium by taking a train to Urawa Misono Station, which lies a 15-minute walk south-east of the stadium.
Urawa Misono Station is served by trains from the Saitama Rapid Railway. The Saitama Rapid Railway can be boarded at station Akabane Iwabuchi, which is the last stop on the Nanbuko line of the Tokyo metro. From Tokyo Station catch a KR Keihin-Tohoku line train to Oji and change to the Nanbuko line, or find another connection. The complete journey will take between 45 and 60 minutes.
On matchdays shuttle buses run from the train station to the stadium from three hours before the match. After the match you need to walk back to the station.
Address: 500 Nakanoda, Midori-ku, Saitama City, Saitama, 336-0972
Urawa Red Diamonds Tickets
Tickets for Urawa Red Diamonds games can be bought online (or through Pia, Eplus, or HMV), at the Red Voltage store at Naka-cho 2-4-1 in Urawa Ward (Saitama City), or at any 7-Eleven, FamilyMart, Pia, Ministop, Circle K, or Lawson convenient store.
Matchday tickets can also be bought on the day of the match at the gates of the stadium. Urawa Reds' attendances are the highest in the league, but due to the high capacity of the stadium it will rarely sell out.
Ticket prices typically start at Y$2000, with prices for reserved seating ranging between Y$2,400 and Y$4,800. Prices are Y$ 500 more expensive if bought on the day.
Photos of Saitama Stadium
Relevant Internet links
Urawa-reds.co.jp – Official website of Urawa Red Diamonds.
Stadium2002.com – Official website of Saitama Stadium 2002.
Sainokuni-kanko.jp – Saitama tourist information.